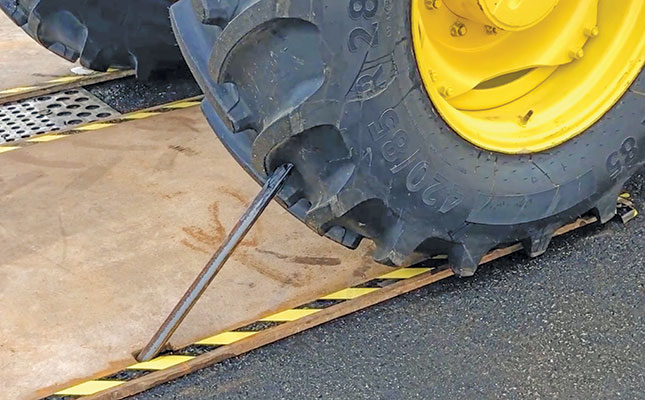 Transport work during harvesting is strenuous and demands constant attention, regardless of whether it involves loading on the land, driving on the road, or unloading at the farm.
The driver is under particular strain, however, when unloading harvested material in the silo, as this needs to be done over the widest possible area. This is important to enable the wagon load to be distributed quickly and compacted optimally to achieve good-quality silaging.
Even load distribution
With Krone ExactUnload, unloading the new GX roller belt wagon with the front wall running to the rear is controlled so that the transported material is distributed evenly over
a defined distance. The speed at which the tractor and trailer move within the speed window (up to 3,5km/h) is irrelevant.
This ensures that even inexperienced drivers can always achieve good distribution, and compaction vehicles have less material to redistribute, contributing to more uniform compaction and hence high silage quality.
The system also saves fuel and time, helps to prevent wheel slip of the distribution vehicle (thereby reducing loosening of the offloaded material), and results in additional silo capacity for quality compaction.
Finally, Krone ExactUnload is a boon for the driver. It offers maximum comfort and relief, and can also help to reduce driver errors and accidents, particularly during long harvest days and silo clamping.
Self-sealing tyre
A flat tyre always seems to occur at the wrong time and in the wrong place, and this is no less true of agricultural machinery. However, the adverse effects of a flat tyre in agriculture can be considerably worse than in many other industries, and damage caused by foreign objects driven into the tyre occurs far more frequently.
Moreover, due to the size and weight of the machines and tyres, changing a tyre in the field leads to a significant delay, resulting in time and performance losses during the short sowing and harvest windows.
These surpass the costs of changing the tyre, to say nothing of the possible risks stemming from changes in vehicle handling behaviour if a tyre bursts.
To solve the problem of a flat tyre in the field, Continental has introduced its Agro ContiSeal system. A viscous polymer on the inner side of the tyres seals the leak if the tread is penetrated by a nail or other sharp objects. And despite the damage, the vehicle can continue to be driven and the tyre repaired or exchanged later on. This increases vehicle availability at a crucial time, particularly in the case of specialised harvesting machines.
The Agro ContiSeal system from Continental marks a significant development in the area of agricultural tyres and makes a major contribution to ensuring the machines' reliability when it counts.