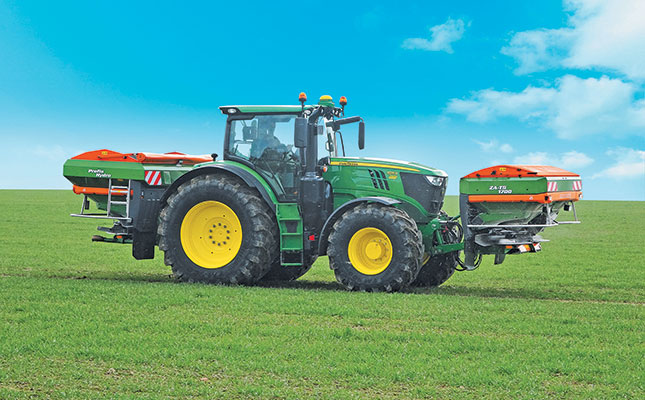 An operator who wishes to spread two different types of fertiliser in one pass, but at different application rates, can now mount an Amazone ZA-V or ZA-TS spreader on the front linkage.
Both work in conjunction with the rear-mounted spreader and both can be set for ideal lateral distribution.
The spreader fitted to the front of a tractor spreads the fertiliser ahead of the machine. In setting up the spread pattern, the operator has to think of the spread as a mirror image.
To assist in this regard, Amazone has developed in-house software for front spreaders where the spreading functions are displayed in reverse on the monitor screen.
In this way, even when side- or border-spreading, the operator can easily switch the spreader on or off on the correct side.
The first combination units are already in operation in South Africa.
Crosswinds
Amazone has also introduced WindControl for the ZA-TS mounted and ZG-TS trailed spreaders. WindControl expands the ArgusTwin spread pattern monitoring system.
With ArgusTwin, the spread is constantly monitored by 14 radar sensors.
In the event of deviation from the optimal pattern, an adjustment of the electrically-driven delivery system automatically corrects the lateral distribution. This can be done on each side individually, ensuring the best lateral distribution across the entire spread width.
WindControl also constantly monitors and compensates for the influence of the wind on the spread pattern.
A high-frequency sensor records wind speed and direction, and transfers the information to the machine's electronic control unit. Using this data, in conjunction with information from the ArgusTwin, the computer calculates a new setting for the delivery system and the spreading disc speed.
For sidewinds, the windward disc speed is increased and the delivery system advanced, while the disc speed on the leeward side is reduced and the delivery system retarded.
In this way, the system automatically compensates for the influence of the wind, ensuring
optimum lateral distribution.
Automatic sesing and alarm
WindControl provides a wider window of opportunity for accurate spreading. In addition, the operator is informed of the real-time direction and force of the wind, and whether or not the wind is gusting.
Should the system be unable to make the necessary compensation in a heavy wind or frequent gusts, the operator is informed via an automatic alarm.
The wind sensor automatically folds in or out when the spreading discs are switched on or off. It can also be deployed manually. In operating mode, the wind sensor protrudes
above the tractor so that measurements are not disturbed by turbulence.
When folded down, it remains clear of tree branches; in addition, it has a protective cover.
The system is currently being tested at various sites in Europe and will no doubt be available in South Africa in the future.
Joe Spencer is the mechanisation editor of Farmer's Weekly.