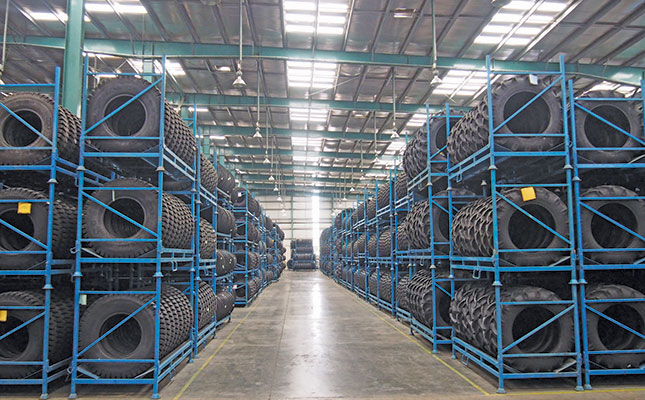 Tell us about your company
Balkrishna Industries Limited, commonly known as BKT Tires, was founded in 1987 in Mumbai, India, by the company's current chairperson and managing director, Arvind Poddar, and his family.
BKT focuses on developing and manufacturing off-highway tyres predominantly for the international agricultural, construction, industrial and mining sectors.
Currently, BKT has a market presence in 160 countries, and 65% of our US$900 million (about R12 billion) turnover in the 2017/2018 financial year was generated from the sale of agricultural tyres.
What trends have you noticed in agricultural tyre market requirements over the past decade?
For many decades, and irrespective of who the manufacturers were, agricultural tyres were commonly manufactured with the bias-ply pattern.
While they are durable and relatively inexpensive, bias-ply agricultural tyres generate a lot of undesirable heat if run at higher speeds, and their stiff sidewalls can give an uncomfortable ride for the vehicle driver.
This limits their suitability to predominantly slower infield work. More recently the development of radial-patterned agricultural tyres has allowed users far greater versatility with their farming machines.
While significantly more expensive than bias-ply agricultural tyres, radial agricultural tyres can be run at both low infield speeds and high on-road speeds, their flexible sidewalls give a more comfortable ride, and they can carry and haul heavier loads.
Radial agricultural tyres can also be run at significantly lower air pressure than bias-ply agricultural tyres. This results in improved traction, reduced soil compaction, and improved fuel consumption and operational efficiency.
Why, in that case, are bias-ply agricultural tyres still manufactured?
Many farmers in developing countries, such as India and South Africa, still use bias-ply agricultural tyres.
This is because their farms and lands are often small, their smaller tractors typically do fairly limited and light work, and they don't have to travel long distances at higher speeds.
Smaller-scale farmers also commonly have limited income, so they prefer to buy the cheaper bias-ply tyres instead of radial agricultural tyres.
However, in developed countries, such as the US and Australia, farm sizes and agricultural machinery can both be massive. These much larger farming operations typically place great emphasis on maximising operational efficiencies.
Tasks such as planting, spraying, harvesting and harvest haulage are carried out over large areas at the highest practical speeds, and while carrying and hauling heavy loads. On large farms, the machinery also travels long distances on dirt and tarred roads.
The multi-purpose characteristics of radial agricultural tyres are ideally suited to these farms.
What are some of the other characteristics of radial tyres?
What is important in a radial agricultural tyre is that while its sidewalls are flexible, the crown (the part of the tyre in contact with the ground at any given moment) is flat and rigid, while the remainder of the tyre's tread surface is curved.
This rigidity enables a radial agricultural tyre to maximise traction at low speeds and reduce heat build-up at high speeds. The lugs on a radial agricultural tyre are also typically spaced farther apart than on a bias-ply agricultural tyre to contribute towards this combination of rigidity and flexibility.
What differentiates one company's agricultural tyres from those of another?
The first aspect is the angle of the lugs on the tyres. This affects the traction characteristics of the tyres.
The second is the compounds, and their proportions and concentrations, used in the manufacture of the tyres. This typically affects the lifespan of a tyre.
With the development and widespread production of genetically modified crops cultivated in minimum- or no-till production management systems, agricultural tyre manufacturers are now also having to develop tyres that are more resilient to potential damage caused by the stubs of harvested crops.
In genetically modified maize crops especially, these stubs are often extremely hard and sharp, and can puncture agricultural tyres with low resistance to stub penetration.
Agricultural tyre manufacturers therefore compete to produce the most puncture-resistant, cost-effective and functional products.
What can be used to enhance one tyre brand over another?
A key factor is finding new raw materials and technologies that can be used in the manufacture of better agricultural tyres.
Then there are the specific requirements of agricultural tyre markets around the world. For example, tyre manufacturers are constantly improving their radial tyres using increased flexion (IF) and very high flexion (VF) technologies.
These allow agricultural tyres to function optimally at up to 40% lower air pressure than older variants. This helps to significantly reduce surface and subsurface soil compaction, which can have a major negative effect on soil health, crop growth and yield.
What trends in agricultural tyre demand have you noticed in sub-Saharan Africa? 
There has been a growing demand for more advanced tyres for use on sugar cane haulage machines and trailers that are used both infield and on-road.
With increasingly powerful tractors becoming available, sugar cane hauliers in sub- Saharan Africa want to hitch as many as four sugar cane trailers to each of these tractors so that more sugar cane can be transported per journey to the nearest sugar mill.
The tyres on these tractors must be able to withstand the extremely high demands placed on them by hauling such big loads both infield and on-road, and often for long round-trip distances. So these need to be highly durable, yet low-maintenance tyres.
Lloyd Phillips visited BKT Tires' research and development facility and tyre manufacturing plant in Bhuj, India, from 5 to 12 January 2019. His travel and accommodation expenses were paid for by BKT Tires.
Email Dilip Vaidya at [email protected], or phone him on +91 226 666 3800. Visit bkt-tires.com.