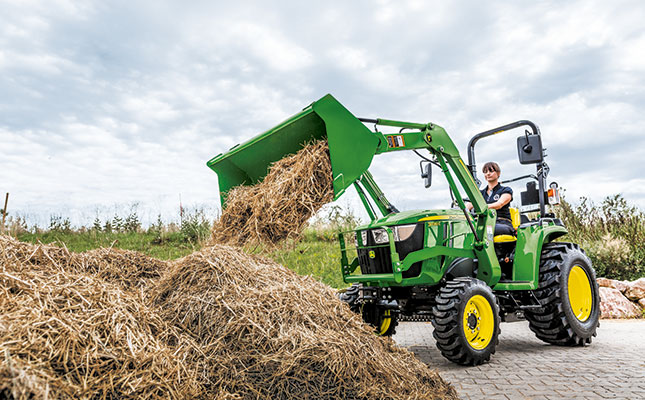 During the second week of September, Grain SA presented the first-ever online Nampo agricultural show, Nampo Virtual, which featured equipment and machinery displays by a large number of companies, as well as several webinars and information sessions featuring some of South Africa's foremost experts in the farming sector.
Among the exhibitors was a Nampo favourite, John Deere, whose offering included displays of a large range of its tractors and other farm machinery.
The company's exhibition line-up also included its range of turf and utility vehicles, which are aimed primarily at lifestyle farmers and owners of large estates. However, these vehicles will be of interest to any farmer who needs a quick, convenient mode of transport on the farm when performing smaller tasks.
Compact utility tractor
The cc (Photo above) comes with standard 4WD for maximum traction, and hydro transmission with Twin Touch pedals for ease of use. It has an engine capacity of 27kW and a 615kg lift capacity.
The model's easy-to-use hydrostatic transmission (HST) increases tractor performance. The safety features of the HST include: starting only when the range lever is in neutral; engine shuts off if the operator leaves the seat unless the range lever is in neutral; and engine shuts off if the operator leaves the seat and the PTO is engaged.
The tractor's excellent serviceability, with easy access to most regular service points, reduces operational costs and improves productivity.
Ride-on mowers
John Deere's ride-on mowers make quick work of the laborious task of mowing large lawns.
According to the company, its 100-Series (photo 2), which comes in five petrol models, takes the hassle out of yard work. Ranging in size from 13kW to 18,6kW, these 'lawn tractors' are a safe, comfortable and convenient solution to keeping lawns in top shape.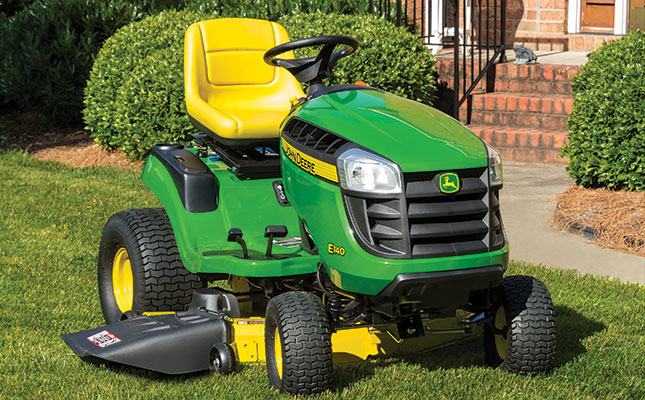 Electric power take-off (PTO), available on certain models, provides instant engagement of mower blades. The Easy Change 30-second oil change system (available only on certain models) makes changing the engine oil simple, quick and clean.
Utility vehicles
The John Deere Gator range comprises small, but strong and reliable 4WD machines that can be used to perform a number of tasks. The XUV835M Gator (see photo 3) seats three people and comes with an open or cab option.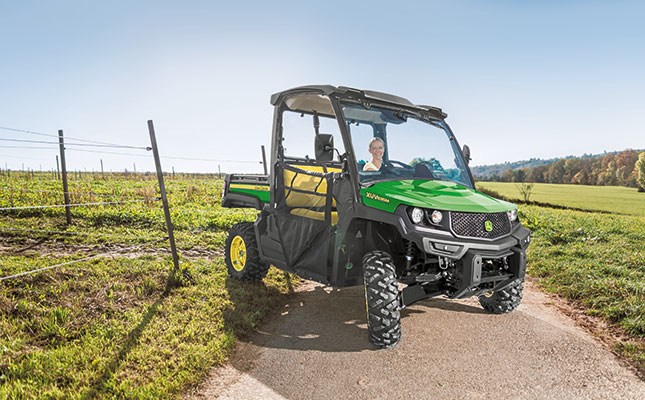 The vehicle offers on-demand 4×4, differential lock and a fully independent suspension. It has a 42,4ℓ fuel tank, a 680kg payload capacity and a 907kg towing capacity.
The slightly smaller HPX815E Gator (photo 4) has a precision-engineered drive system to optimise its acceleration, hauling, towing, and hill-climbing capabilities. It has an open station with various attachments to pick from.
As with the larger model, it offers on-demand 4×4 and differential lock driving systems. It has a front independent suspension and a 20,1ℓ fuel tank. The vehicle has a 635kg payload capacity and a 590kg towing capacity.
Both utility vehicles come in petrol or diesel models.