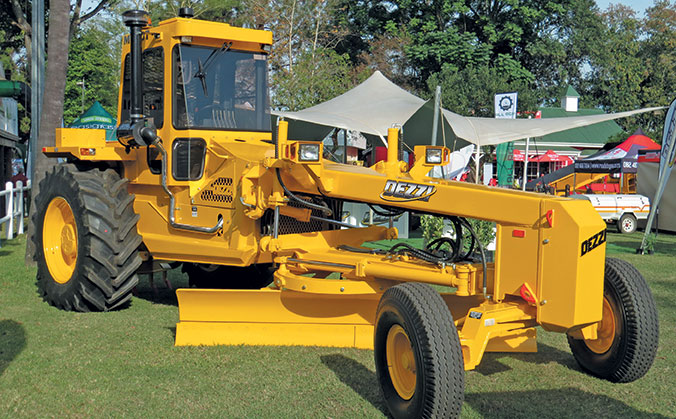 The MG80T is the latest version of the popular Dezzi motor grader. It's driven by the JCB 444 TC turbocharged engine, an increasingly popular power source for many machinery manufacturers.
This 75kW 4,4-litre motor develops 425Nm torque at only 1 300 rpm. The transmission is an ITL PS 720 constant mesh, full-power shift with modulation, four forward and four reverse gears, and a top road speed of 40km/h.
The 16mm blade is 3 050mm wide and, with the cutting edge, 490mm high. It rotates through 45° on either side. Blade lift is 280mm and blade dig 250mm. Bank angle slope is 17° on both sides. The 1 600mm-wide scarifier can dig to a depth of 350mm.
Backhoe loader
The Dezzi CMI 883 backhoe loader is a competitively priced machine with advanced specifications that make it a leader in its class. It is powered by the Perkins 1104C-44TA engine, noted for its fuel economy.
The transmission is the tried-and-tested ZF Powershift with four forward and four reverse gears. Top speed in fourth gear is 40km/h. The cab is exceptionally spacious and well-appointed.
Haulage tractors for cane and timber
Dezzi tractors have captured a significant share of the market for dedicated haulage tractors, Implements particularly in the cane and timber industries.
The H80TF, for example, is designed specifically for the timber industry with underbelly protection and steel protective grids on the lights.
It's powered by a 75kW JCB 444TC engine and has a four forward and four reverse ITL PS 720 transmission with a top speed of 40km/h.
Joe Spencer is the mechanisation editor of Farmer's Weekly.