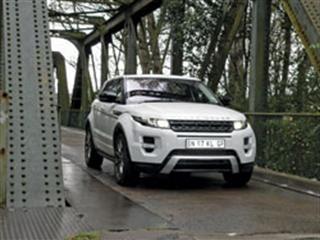 Don't be fooled by its trendy, stylish appearance. Whether it's in the city or on the open road, on tar or dirt, the Range Rover Evoque is tough, versatile and totally at home. I thoroughly enjoyed my week with the 2.2l diesel, 6-speed automatic and all-wheel drive Evoque SD4. It was especially fun being able to test the Evoque's power, drive responsiveness and roadholding on some of KwaZulu-Natal Midlands's most challenging roads – a test that this vehicle passed with flying colours. I can only imagine how thrilling it would be to take it onto a skid pan with no speed limits to experience its full potential.
The Evoque's SD4 engine is capable of producing 140kW at 3 500rpm and 420Nm of torque at 1 750rpm, providing potent power across the entire speed range. Range Rover maintains that the vehicle can achieve a top speed of 195km/h, and accelerate from zero to 100km/h in 8,5 seconds.
All this power and performance does not come at too heavy a price at the fuel pump, though. Thanks to advanced power-train technology, the Evoque reportedly generates the best fuel economy in the Range Rover stable. The SD4 automatic Evoque engine, fed by its 58l fuel tank, achieves an estimated 7,9l/100km in an urban environment, 5,7l/100km on the open road, and 6,5l/100km under mixed driving conditions. And it achieves all this while generating a respectable 174g/ km of carbon dioxide emissions.


The Evoque's various hi-tech controls are mostly easy to use and within easy reach of the driver.
The driving experience
James Bond would have felt at home behind the wheel of the Evoque. At first glance, there is no gearshift in sight. But switch the vehicle on, and the shift rises out of the centre console. While the automatic gearbox is highly responsive and reacts quickly to terrain changes, acceleration and braking, there is the added advantage of steering-mounted 'rally-style' paddle shift controls to enhance acceleration during tight overtaking and to allow a more hands-on approach to driving. At the push of a button, the Evoque's on-board computerised terrain response system can be set for various driving conditions, such as mud ruts, allowing the vehicle to compensate effectively and improve performance and safety.
Roadholding
Range Rover has made extensive use of lightweight aluminium chassis components in the Evoque. This has improved suspension performance by increasing stiffness and reducing unsprung weight, as well as cutting down on overall weight to improve fuel efficiency. This vehicle is the first in the Range Rover stable to be fitted with a new adaptive dynamics system featuring MagneRide technology, which contributes to its amazing cornering and general roadholding.
For improved safety and control, the Evoque also offers the following as standard: hill-start assist, hill-descent control, anti-lock braking, an electric parking brake, electronic power-assisted steering, and cruise control. Despite being designed principally as an on-road vehicle, the Evoque can easily handle all but the most poorly maintained dirt roads. The powerful all-disc braking system and stability control, complemented by latest- generation electronic safety systems, provides crisp, sharp stopping on different road surfaces.
The Evoque's 215mm front axle and 240mm rear axle clearances easily overcome typical road obstacles, and it has an impressive 500mm maximum wading depth for that visit to the farm during the rainy season. Added safety features include a high-strength safety cell, airbags, and advanced passenger restraint systems. Weighing in at a net 1,67t, the Evoque can carry a 500kg load, and tow a 750kg unbraked trailer or a 1,8t trailer with over-run brakes. With the rear seats set upright, the luggage compartment has a respectable 575l load-space volume that can be increased to 1 445l with the rear seats folded down.
Cosseted in luxury
Comfort for the Evoque's driver and four passengers is first class. The vehicle has keyless entry and a push-button ignition start. Both the driver's and front passenger's seats are electronically adjustable, the side- view mirrors fold away automatically when the ignition is switched off, and the interior rear-view mirror has auto-dim function.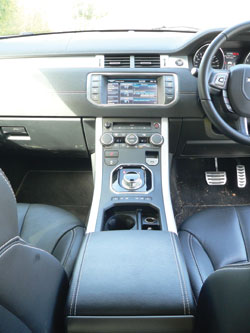 The centre consol offers cup-holders, access to a USB plug point, and a storage compartment for CDs.
There is climate control with air filtration and air quality-sensing for front and rear passengers, and a console-mounted touch-screen monitor for managing programmes such as the radio/CD player, built-in GPS, and built-in Bluetooth hands-free cellphone system.
And if the sumptuous interior begins to feel a tad artificial, the Evoque can easily rectify this – with an almost cabin-length panoramic glass roof that can be exposed or closed at the flick of a switch. Undoubtedly one of the most useful features offered by the Evoque is the electrically powered luggage compartment door.
It can be opened with a button in the driver's compartment or on the remote key, and be closed by a button on the luggage compartment door itself, making loading and offloading of baggage and parcels a cinch. A final practical detail is that there is a luggage cover to keep one's possessions out of the sun, and out of sight. The Range Rover Evoque is currently priced from R582 995.
Contact Jaguar Land Rover South Africa on 0860 110 090, email [email protected] or visit www.landrover.com/za/en/rr