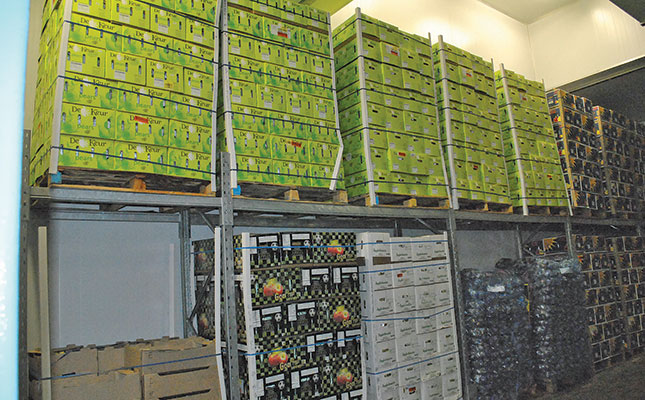 Why is cold chain management so important?
Careful cold chain management from the time of packaging in the exporting country to delivery in the importing country is vital for prolonging shelf life and ensuring the highest out-turn of produce.
The Perishable Products Export Control Board (PPECB) is the only organisation in South Africa that manages both quality and the cold chain of perishable export commodities.
The quality of produce cannot be divorced from the cold chain – it's an integrated process.
The cold chain involves three aspects: establishing and maintaining the correct temperature for the produce, certifying the equipment (cold storage facilities, refrigerated road motor transport, containers and vessels), and monitoring a shipment until it reaches its destination.
Do farmers realise the importance of cold chain management, or is it still neglected?
With the growing international demand for South African produce, farmers have realised that they need to ensure the quality of their produce, and thus pay close attention to cold chain management.
This helps them remain competitive in the international market and ensures that they are the preferred suppliers of perishable produce worldwide.
South African farmers have thus become more knowledgeable over the years and today understand the importance of and processes involved in cold chain management.
Proof of this is the fact that more inland cold storage facilities have been commissioned and more containers are now loaded on farms.
What percentage of produce is rejected due to poor cold chain or supply chain management every year?
About 8% of export shipments are rejected for not meeting temperature requirements prior to packing.
In addition, approximately 15% of the vessels, containers, cold storage facilities and refrigerated road transport equipment used for cold chain management are rejected annually.
This is mainly due to equipment not meeting minimum hygiene, structural or technical standards. By rejecting non-compliant equipment and vehicles in the value chain, the perishable industry saves billions of rands every year.
It has been reported that produce is often returned to the country of origin due to improper labelling. How big is this problem?
This is not the norm. PPECB verifies the labelling of all inspected produce against the standards and requirements for that particular product. Labelling mistakes can be avoided through increased education of exporters and producers to ensure greater understanding of the importing country's labelling requirements.
Improper labelling can result in financial losses as it may result in produce being rejected by the destination market. Fruit then has to be diverted to other markets, which is costly. Moreover, these markets may not be as profitable as the original market.
How has the new Safety of Life at Sea Convention (SOLAS), according to which the weight of containers has to be verified before being loaded onto ships, affected the supply chain?
Packhouses have adapted very well to the new SOLAS requirements, despite an initial capital outlay for scales and the introduction of additional procedures.
It has been about six months since these requirements were introduced and we believe they've been well integrated into the routine packing and loading processes.
What is the weakest link in cold chain management at the moment?
One area of concern is temperature spikes occurring when produce goes into cold storage. This results in optimal temperatures not being maintained throughout the value chain, and quality can be negatively affected.
Handlers should be trained to recognise the occurrence of temperature spikes and how to manage them, to ensure the situation is addressed appropriately and timeously.
It's imperative that fruit be cooled as soon as possible after harvesting, and temperature fluctuations be kept to a minimum during the exporting process.
Does congestion at harbours still present a major challenge?
Yes, particularly in the Port of Durban during peak season. Investment in infrastructure would be the only solution to this problem.
About 52% of South Africa's citrus, and most of its grain, are exported through the Port of Durban.
Silos, cold storage facilities and container depots are in close proximity to the port terminals, which creates bottlenecks. PPECB has created synergistic relationships with port operators and users to develop strategies to reduce port congestion.
In this way, the problems associated with congestion have improved over the years.
How has the development of new technology helped to improve cold chain management of perishables?
Advances in temperature data loggers allow exporters to remotely monitor their produce while it is en route to a destination. Exporters are able to identify and intervene immediately when temperature spikes occur, thus preventing losses.
PPECB also introduced Project Titan two years ago, which introduced automation to the inspection process. Inspectors are issued with tablets to capture inspection information.
When fully functional, the automation of inspection processes will reduce manual intervention and ensure the speedy capture of accurate information. The first phase of the project was dedicated to quality inspections, and this year we'll focus on the automation of the cold chain process.
How does the South African fruit supply chain compare with that of international markets? 
We're fairly competitive and advanced given that we're so far away from our main markets. This is proven by the growth in South African exports over the past years, which indicates that our produce is being increasingly well received on international markets.
International inspection bodies have also given positive feedback on the quality of South African perishable products.
What would you say is South Africa's greatest advantage over its competitors?
SA's well-developed and integrated export value chain. Inspections are well integrated with cold chain management, and role players from all areas of the value chain work together.
Do different markets pose different challenges?
Markets such as those in the EU and the Far East do have different import requirements. For example, China is regarded as a special market that requires additional inspections and measures related to temperature management.
Although the fruit industry is well educated about what is required by the various markets, role players must stay abreast of changes and new developments to ensure entrance of fruit to the various markets.
For example, the prescribed temperatures for export grapes to China used to be lower than ideal, which represented an unnecessary risk to fruit quality.
The protocol was changed in the latter part of 2016, making it more favourable for grape exports to this market.
What are the biggest changes that PPECB has made to help improve cold chain management?
Over the years, container loading has been moved away from coastal to inland areas. PPECB has decentralised its operations to accommodate this and ensured that competent, trained staff are available in the production areas where containers are loaded.
Staff numbers have also been increased to accommodate increased exports, from 386 employees eight years ago to 579 employees today.
What is your advice to farmers?
You can have superior quality produce that is approved by PPECB for exporting, but if your cold chain management is not efficient, your efforts will fall short and the quality of your produce will be compromised.
Remember that cold chain management is not an event; it's a process that must be consistently applied by all role players in the value chain.
For more information, phone PPECB on 021 930 1134, or visit ppecb.com.