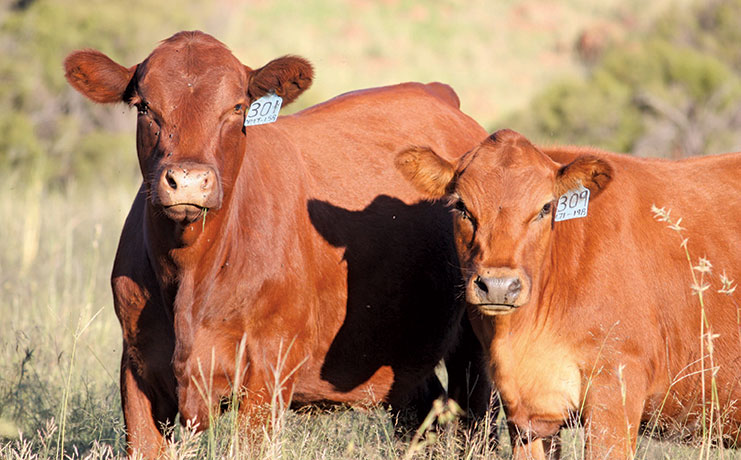 Martiens le Roux, who runs the Victorio Afrigus stud near Bethulie in the southern Free State, is convinced that the Afrigus has the potential to take beef cattle production to a new level, especially in the more extensive farming areas of South Africa.
The breed has been developed to withstand and even excel under the most taxing conditions.
It is still in its infancy, however, with a small number of breeders and breeding animals.
"A lot of promotion and development must still be done, but these hardy and adaptable animals have the potential to add markedly to profitability and sustainability," says Le Roux, who has 40 breeding animals.
The Afrigus is essentially a combination of the Angus and Afrikaner beef cattle breeds.
Other indigenous breeds, such as the Tuli, Bonsmara and Drakensberger, are also qualified for breeding the Afrigus in combination with the Angus. This combination results in a wide selection base for gene combinations suited to a host of different environments.
All the breeds involved in the development of the Afrigus are known for quality and tender meat.
"The objective is to combine the Angus with these African breeds to create a breed that's solid red or black, naturally polled, medium-framed and with low birthweights, as well as an even temperament, accelerated growth and hardiness," says Le Roux.
Getting started
Afrigus breeding in South Africa started in 2000 with the registration of the breed. The Victorio stud was formed in the same year, and the Afrigus Club was launched under the auspices of the Angus Breeders' Society. Le Roux was the chairperson of the founding committee.
His enthusiasm for the breed was awakened by the late Barry Gradwell, who ran a red Angus-Afrikaner crossbreeding concern near Bloemfontein.
According to Le Roux, the results were impressive and formed the basis of the Afrigus as it is today.
The Gradwell animals were smooth-coated and polled, and kept their condition even during tough times.
"Polled bulls of any breed consistently fetch higher prices than horned animals. South Africa is red cattle country, so the solid red of the Angus and Afrikaner is a bonus," says Le Roux.
The main aim of Afrigus breeders is to breed animals that consistently maintain a balance between the attributes of the two breeds.
This means enough of the Angus to ensure growth and fertility, and enough of the Afrikaner, or any of the other indigenous breeds, to ensure hardy, adaptable animals that are disease- and tick-resistant and can excel under extensive veld conditions.
The Afrigus production performance-testing policy has been designed accordingly.
Breeding quality stock
Le Roux stresses that it is the stud breeder's responsibility to provide seed stock that will add to the genetic integrity of the commercial breeder's herd.
It is his objective to put bulls on the market that add to calving ease and are well adapted, with improved growth.
"Feet and udder structure, temperament and, of course, fertility, are important. This can only be measured through a strict selection process and detailed performance recording," he says.
He sells his bulls mainly to breeders in a 250km radius of his farm, Poortjie, but some were recently sent to to Warden and Vrede.
It is the Afrigus cow that is principally responsible for genetic advantages The ideal Afrigus cow is feminine, highly fertile, produces enough milk, is well adapted to the environment and has a long reproductive life.
These animals are expected to be strong walkers and indiscriminate grazers, which is why selecting for sound feet and claws is so important.
"Afrigus cattle are found in all nine provinces and perform exceptionally well in terms of disease and tick-borne resistance. I've yet to lose one of my Afrigus cattle to gallsickness, which is endemic here," says Le Roux.
Production notes
Poortjie, where Le Roux keeps his Afrigus herd, has Karoo-type veld consisting of 50% grassland and 50% herbaceous Karoo shrubland. His stocking rate is 1MLU/33,3ha.
The average temperature in the area varies from below freezing in winter to the high 30s in summer.
The average annual rainfall is about 400mm, but during the devastating drought of the past five years, rainfall has declined dramatically. To mitigate the effects of this, Le Roux augmented the little available grazing with cactus pear cladodes. High in fibre and palatable, they produce a high-quality animal feed. He also used agave leaves.
The Afrigus weathered the drought admirably and even excelled. This, he emphasises, is why constitution and body condition are such important selection criteria. Under such stressful conditions, an animal with a weak constitution would weaken and start calving irregularly or stop calving altogether.
According to Le Roux, a breeder who selects for constitution will find that all the other requirements and selection criteria fall into place automatically. Any cattle breed can perform well with ample food, but it takes a special breed, such as the Afrigus, to perform optimally on the veld with only a salt lick. This is the practice followed with the Victorio stud. Through such stringent selection, poorer performers are easily identified and culled.
Proven performance
Together with Lexie Gradwell, an Afrigus breeder from Bloemfontein, Le Roux conducted an official growth test on 25 bulls in 2008. The average daily gain (ADG) was 1,82kg.
One of his bulls, A 07 087 Victorio Buffel, achieved an ADG of 2,42kg. The average Victorio calving weight for the past 10 years has been 31kg. According to Le Roux, he has not once during the past 19 years encountered any calving problems.
Sixty percent of Le Roux's initial F1 bulls were Angus-Afrikaner crosses, and the rest were Angus-Bonsmara combinations. He steadfastly remains on a 50/50 combination to retain the top characteristics of both breeds.
Although he currently prefers to use his own bulls, during the first four or five years he used an F2 bull from Lexie Gradwell and bulls from Frannie Marais from Lady Grey. Le Roux prefers medium-framed, early-maturing bulls.
An affordable breed
A bonus is that Afrigus bulls are affordable for commercial breeders; Le Roux realised an average price of R36 000 at his 2018 sale. He says it is the stud breeder's duty to produce bulls that breed functional, long-lived mothers with acceptable breeding values.
"Buyers should also concentrate on bulls that sire animals that do not skip calving periods and can retain body condition. A good indication is that the price of a new bull should be equivalent to the price of three to five slaughter cows or five weaners."
The Victorio bulls are tested annually for vibriosis and trichomoniasis, and tested every second year for brucellosis and tuberculosis. The herd has been clean of these diseases since the advent of the stud.
According to Le Roux, this is crucial, as more and more commercial buyers are demanding an official bill of health before buying a bull.
A promising future
Despite being a young breed with comparatively little data, Afrigus has produced impressive figures.
The average birthweight at 1 March 2017 was 30,1kg, whereas the national average for all cattle breeds in South Africa is 35kg. The average Afrigus weaner weight at the same time was 245kg, while the national average for all breeds was 225,1kg.
The Afrigus weight at 12 months was 312,9kg compared with the national average of 289,4kg.
"This shows that the Afrigus is the ideal breed to counteract the low national weaning percentage of about 65%," says Le Roux.
Email Martiens le Roux at [email protected], or call 082 772 9472.