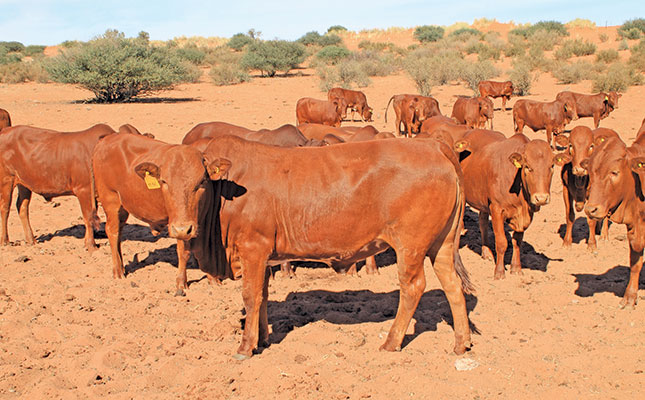 The Blaauw family's Salztal Afrikaner stud has over decades proved the breed's worth as a truly African beef cattle breed.
The herd is run on the vast and remote semi-arid sandy savanna area of Aroab in the Karas region of southern Namibia, on the edge of the Kalahari Desert, and the animals have shown their ability to perform under these extremely challenging production conditions.
Jan Blaauw says their animals have demonstrated the breed's efficiency even during regular periods of drought. The objective of their stud is to exploit the breed's competitive advantage of being hardy and superbly adapted to Africa's farming conditions.
Blaauw, who owns and manages the stud with his sons Manie and Jan Jr, is the fifth generation to farm on the 13 523ha family farm, Salztal, and has been on the farm for the past 40 years. He bred Afrikaners commercially until 2012, when he decided to embark on stud breeding.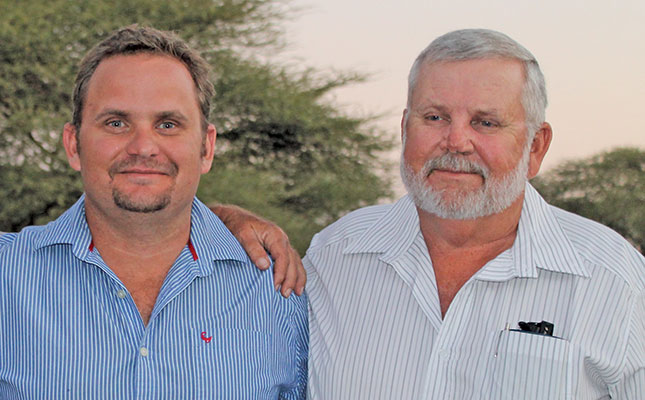 "My father, Manie Sr, also bred Afrikaners for many years. I decided to go into stud breeding to add value to our farming business," Blaauw says.
Making a comeback
In the early days of commercial cattle farming in Southern Africa, the Afrikaner was the most popular and important breed, and contributed its genetics to many synthetic breeds. But its supremacy did not last forever.
"The introduction of cattle breeds from other parts of the world and the development of synthetic breeds subsequently led to a steady decline in its popularity," says Blaauw.
However, given the challenges facing farmers these days, he is convinced that the breed could again play a central role in the beef industry, due to a shift in focus in beef cattle production towards adaptability and productivity.
"The Afrikaner is as competitive a contender in the beef cattle arena today as it was in its glory days. It's our aim to see it regain its rightful place in the beef cattle breeding sector of Southern Africa."
According to Blaauw, little is known about the origins of the Afrikaner breed, but it is thought to have descended from wild cattle on the Steppes of Central Asia.
About 2 000 years ago, it crossed into North Africa and gradually migrated southwards over the centuries, with only the animals best adapted to arid desert conditions, extreme heat, tropical diseases and internal and external parasites finally reaching the southernmost parts of the continent.
In 1896, the breed was almost exterminated by the rinderpest epidemic, and thousands more Afrikaner cattle were killed or destroyed during the South African War (1899-1902).
As a result, various breeds were imported, mainly from Britain and Europe, to build up the region's depleted cattle numbers.
Turning bush into beef
According to Blaauw, the breed's history underscores the role it could play in the future of beef cattle production in Southern Africa's extensive farming conditions.
"Despite the devastating drought ravishing large parts of Namibia at the moment, our cattle are faring well on the veld. So far, there has been no need for additional feed, except the normal winter and summer licks. But if conditions continue to deteriorate, we'll have to start producing boskos (bush feed) soon as supplementary feed," he says.
Boskos has been a godsend to livestock farmers in Namibia. Bush encroachment is a major problem in many parts of the country, but the leaves, branches and seeds of the encroaching bushes can be used as a valuable feed source.
To produce it, the trees and bushes are harvested and shredded into a fine fibre. This is mixed with ingredients such as molasses, salt, maize meal and camel thorn (Acacia erioloba) pods, and fed to the cattle. Although this feed is manufactured commercially in Namibia, most livestock producers prefer to make their own on-farm.
Surviving the drought
Blaauw has lived through two periods of extreme drought: from 1980 to 1984, and from 2016 until the present. In between these periods, occasional droughts also occurred, but the current drought is the worst he has ever experienced. During the past year, the Blaauws' farm received only 80mm in isolated showers.
"It was gruelling, but we were relatively lucky; some of our neighbours had much less. Very few other cattle breeds could have withstood these conditions as well as our Afrikaners have," he says.
The Blaauws farm on Salztal as well as on 8 000ha of leased land. Salztal is divided into 36 camps, and water is supplied from 14 boreholes, of which 10 supply brackish water. The leased land has 12 camps and seven boreholes, four with brackish water. The licks in the camps with brackish water have a lower salt content.
The Salztal herd comprises about 150 cows and the stocking rate is 24ha/LSU. The grazing consists of mixed sweet- and sourveld.
Amongst the more prominent grasses are large bushman grass (Stipagrostis ciliata), silky bushman grass (S. uniplumis) and Kalahari dune grass (S. amabilis). The woody component comprises, among others, black thorn (Acacia mellifera subsp. detinens), shepherd's tree (Boscia albitrunca), sweet thorn (A. karroo) and rattle pod (Catophractes alexandri). Isolated camel thorn trees also occur.
Grazing includes herbaceous shrubs such as brakganna (Suaeda fruticosa) and wool bush (Leucosphaera bainesii). The Blaauws aim to achieve top performance from the veld and also select animals directly from the veld. Selection criteria such as fertility, adaptability, walking ability and conformation form the basis of their breeding objectives.
Walking ability
Exceptional walking ability and strong, hard hooves are non-negotiables, and the cattle must be able to cope with the often-steep Kalahari sand dunes and long distances to and from watering holes.
According to Blaauw, their Afrikaners are indiscriminate grazers and often resort to browsing, which is particularly important in times of drought. The breed's high mobility enables it to traverse many kilometres through the Kalahari sand to optimally utilise all available grazing.
"We cannot afford stud animals that we have to pamper. To ensure they'll be able to perform well in a commercial breeding environment, stud animals must be treated as if they were commercial cattle," says Blaauw.
He adds that the Salztal Afrikaners are not only low-maintenance animals, but also exhibit good resistance to diseases and internal and external parasites.
Given the very extensive terrain, the cows must have exceptional mothering abilities and be good milk producers. The Afrikaner cow is fiercely protective of her calf, and is also known for ease of calving and longevity; cows up to 15 years old comfortably raise calves.
The stud maintains an average birthweight of between 30kg and 36kg and an inter-calving period of about 400 days. The average weaner weight is between 220kg and 240kg.
Reproduction
The Afrikaner's good temperament and strong maternal and herding instincts are some of the reasons the Blaauws choose to farm them. Bulls run with the cows throughout the year to ensure optimal productivity.
Any cow that fails to wean a calf every year is culled.
Commercial breeders are their most important clients, says Blaauw, which is why their objective is to breed weaners that can hold their own in the feedlot industry. It also explains their dedication to breeding highly productive animals to ensure top beef production per hectare.
"Attributes such as muscling and meat quality are becoming increasingly important selection criteria," he says. "I have no doubt that the Afrikaner is a genetic treasure chest for sustainable and profitable beef production in Southern Africa."
Email the Blaauw family at [email protected], or phone them on 00264 81 608 7806.