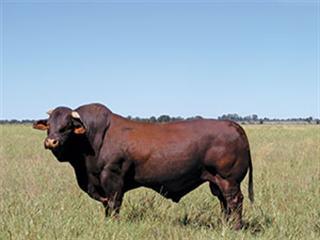 The Droughtmaster was first developed in Queensland, Australia, from Bos taurus and Bos indicus genetics. These cattle were bred to withstand drought, ticks, heat, eye cancer and other challenges inhibiting production and profitability in beef enterprises. This is according to Johan van der Nest, who introduced what is claimed to be the first Droughtmaster genetics to South Africa in the 1990s, after encountering the breed during a visit to Australia.
"I was impressed by its qualities. Showing a strong Bos indicus base, the Droughtmaster is sleek- coated and the bulls are exceptionally muscular. A low-maintenance digestive system, another Bos indicus characteristic, contributes to its efficient feed conversion and economic value," he says. Johan also liked the animals' solid colouring, varying from yellow-gold to dark red.
Questioned about the need for yet another beef breed in South Africa considering the wide variety of outstanding breeds already available, Johan has a good answer: "Change is the key to mankind's survival. It is life's one constant. It makes no sense to argue that because we have many local cattle breeds, we must not explore new avenues. Introducing the Droughtmaster will benefit the entire beef value chain. The Droughtmaster produces high-yielding, quality beef carcasses, with an excellent dressing percentage.

Johan with a newborn calf. Droughtmasters are known to deliver calves with low birth weight and do not suffer from calving difficulties.
"I continually seek excellence. Stud and commercial cattlemen can't afford to maintain the status quo, given economic realities, with increasing input costs and dwindling profits." The only way to make sure that the industry remains profitable in the long-term is to introduce the best genetics possible and to improve management systems, says Johan. "Commercial cattlemen in South Africa will survive by cutting costs, generating higher prices and running functionally efficient cattle such as the Droughtmaster."
A highly competitive breed
This hardy, fertile breed ensures high profit per hectare. Droughtmaster is very competitive and will thrive even when nutrition is restricted. The breed performs well on veld and in the feedlot. SA Droughtmaster Club's technical advisor Ian Currin says the breed is suitable for the entire Southern African sub-continent. Cows calve once a year even under adverse conditions and are known to be good milk producers. Droughtmaster cows deliver small calves of between 30kg and 40kg. The calves wean at about seven months at 50% of the mother's bodyweight. The breed generally has an excellent temperament.
Building a solid foundation
The South African Droughtmaster Club was established in 2012 in terms of the Animal Improvement Act. It currently has 42 members, 32 of whom are also stud breeders of other breeds. Members are distributed throughout South Africa, including the Northern and Eastern Cape. Plans are afoot to establish a breeders' society. The Droughtmaster Club is currently in negotiations to register the breed in South Africa.
Johan explains that the challenge for this young breed is to maintain high breeding standards and selection criteria, and guard against importing sub-standard genetics. "We must protect the standard of our animals. This breed is set to become a major player in Southern Africa and introducing poor genetics will do harm in the long run. We must be particularly vigilant against poor genetics from Australia. We plan to introduce measures to control imports. None will be allowed until the Droughtmaster Breeders' Society has been formed."
Johan and his wife Chrisna's Considerata Droughtmaster Stud is the foundation herd of the breed in South Africa. Johan received government permission via the Beefmaster Breeders' Society to import Droughtmaster genetics in the 1990s when he began to introduce Droughtmaster to Beefmaster herds. His breeding objective is a medium-framed animal (? Bos indicus and ? Bos taurus) with clean bottom lines. In 1999 fellow breeder Kobus van der Westhuizen, assisted by Johan, imported 26 registered heifers and two bulls, which formed an important part of the South African nucleus herd.
Embryo transfers
Considerata is the only stud currently large enough to supply genetic material to the open market. However, a number of other breeders have acquired Considerata genetics during the last two years and are running embryo transfer programmes. "We run an extensive embryo programme combining the best South African and Australian bloodlines," explains Chrisna. "Last year we distributed more than 500 embryos countrywide on a share base with other Droughtmaster breeders.

Droughtmasters vary in colour from yellow-gold to dark red.
"The demand for Droughtmaster outstrips supply. Considerata has held five annual production sales since 2008. We realised exceptional prices at the latest sale, with bulls averaging R73 000 and one bull selling for R220 000. A number of Considerata cows recently sold out- of-hand for R100 000 each. This demonstrates the appreciation of local cattlemen for the Droughtmaster. In our last four production sales, 70% of buyers were repeat commercial buyers."
Multi-farm breeding centre
Kaalplaas is the operational hub of the Van der Nests' stud herd, which is run on several farms. The annual average rainfall is 450 mm. The herd consists of 300 breeding cows plus replacement and weaner heifers. There are 120 yearling and 18-month-old bulls. The breeding herd ratio is one bull to approximately 30 females run as single sire herds. Grazing is run as a four camp system, varying from 20ha to 70ha and following a two-week grazing rotation.
The grazing consists of 70 % veld and 30% blue buffalo grass (Cenchrus ciliaris) pasture. Carrying capacity is about 7ha/MLU on veld and 4ha/MLU on pasture. A phosphate lick is supplied in summer and a protein lick in winter. Animals are inoculated according to prescribed requirements. "We breed no-nonsense, common-sense cattle that need little hands-on management," explains Johan. "The Droughtmaster dam is highly fertile, and a good mother with ample milk to rear a heavy weaner at about 300 kg in our area, although this differs from area to area.
"Because of the low birth weight, calving problems are virtually non-existent. These are just two of the factors that make the Droughtmaster such a good choice for small- and large-scale cattlemen. "It thrives under extensive conditions and its hardiness and adaptability cuts down on labour, a growing input cost. "In addition, the Droughtmaster's strong hybrid vigour and prepotency makes it the ideal choice for communal and emerging farmers wanting to upgrade their herds."
Contact Johan van der Nest on 082 574 4220 or email [email protected]