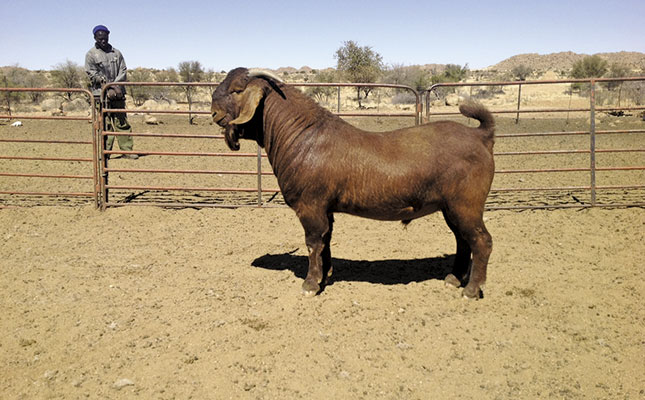 For the past six years, Namibian farmer Piet Coetzee has been crowned the Namibian Smallstock Breeder of the Year. In his operation, the Piet Coetzee Farming business, he runs six smallstock and two beef cattle studs. The smallstock component consists of a pure Kaokoveld Damara sheep stud, a red Damara stud, a Van Rooy stud, a Veldmaster stud, a Boer Goat stud and a Kalahari Red goat stud – 1 200 breeding ewes in all.
The cattle component comprises a Charolais and a Charbray stud as well as an 80-strong commercial cattle herd. Piet, his wife Ogies, and their sons Zirk and Xico, also own the Namboer auction house. Together with his family, Piet has been farming on the 3 500ha farm Petrusberg, 170km south of Windhoek in the Rehoboth district, for 11 years.
View Standerton Show 2014 gallery.
"We believe in adding value at all possible levels in our farming business," he says. "That's why we decided on stud breeding. Our mission is to breed and provide the best possible quality genetic material to both the stud and commercial livestock breeders of Southern Africa. We decided on these breeds because of the demand for them."
Petrusberg is, however, relatively small by Namibian standards, Piet explains, so it is essential to realise maximum income per hectare. "Stud breeding means increased income. For instance, slaughtering cattle are sold for R8 000 each, while prices of R30 000 to R50 000 for a stud bull and R20 000 for a stud cow are not uncommon," he explains.
"Commercial smallstock earmarked for slaughter prices hover around R800 each while stud rams go for as high as between R10 000 and R70 000, and stud ewes for R7 500 on average. An added bonus is that top-quality and carefully selected stud animals' progeny will continue to create wealth for the breeder."
Piet Coetzee
Grazing camps
The sweetveld grazing on the hardeveld (hard veld) consists of, among others, silky bushman grass (Stipagrostis uniplumis) and small bushman grass (Stipagrostis obtusa). The woody component includes shepherd's tree (Boscia albitrunca), wait-a-bit (Ziziphus mucronata) and camel thorn (Acacia erioloba).
Average annual rainfall is 250mm while the veld is interspersed with rocky outcrops and the typical Namibian dry river beds, locally known as omurambas. Water is supplied by six boreholes and four earth dams. Petrusberg is divided into 25 camps, excluding an 800ha game camp. The camp sizes fluctuate between 90ha and 160ha, each with its own watering point. They are reached via a 50m passage and the camps are individually numbered.
Piet says the camp system is fundamental to his management programme. Approximately 30 breeding goats and 30 breeding sheep, each with a breeding ram, are kept in each camp.
Correct pairing
One of the most important breeding objectives on Petrusberg is correct pairing. The smaller breeding herds make it easier to decide which ewes and rams are suited to each other, and to determine the rams' performance. The rams are kept with the ewes for the entire year. Ewes in lamb are  kept in the passage and returned to the camp two weeks after lambing. The feeding and water troughs are kept on the passage side of the camps for convenient control.
"A bonus is that the animals congregate around the troughs during the hottest part of the day, which makes it much easier to check them," Piet explains. "Ewes in lamb are then removed from the camps in time and sick animals are detected timeously. I've also designed the workers' quarters so that they have to follow the passage to each other's homes – the workers are constantly moving between the camps, even after hours," he explains.
The Charolais and Charbray studs are kept on the farm belonging to Ogies's father, Nico Pretorius, in the Omitara district, 100km east of Windhoek. Each stud consists of 60 cows, 20 first-calf heifers and 20 heifers. Piet and his father-in-law follow a three-way cross-breeding system with his commercial cattle.
Charolais bulls are used on Brahman, Simbra and Brahman x Braunvieh females. This combination produces highly fertile animals with good conformation that annually wean heavy weaners, Piet says. The weaners are highly sought after by abattoirs and feedlots.
The commercial herd is kept on Petrusberg. Average weaner weight is 280kg. The stud cattle are bred to excel in the extensive Namibian farming conditions and ensure optimum meat production per hectare. "The main aim of beef cattle breeding in Namibia is rapid turnover," he explains. "We breed top-performing animals in order to produce heavy slaughter animals in the shortest period possible from the veld.
"The quality of the breeding bulls consequently plays a decisive role in the success or failure of a commercial beef cattle production system. That's why we breed highly adaptable, hardy animals that don't need to be fussed over."