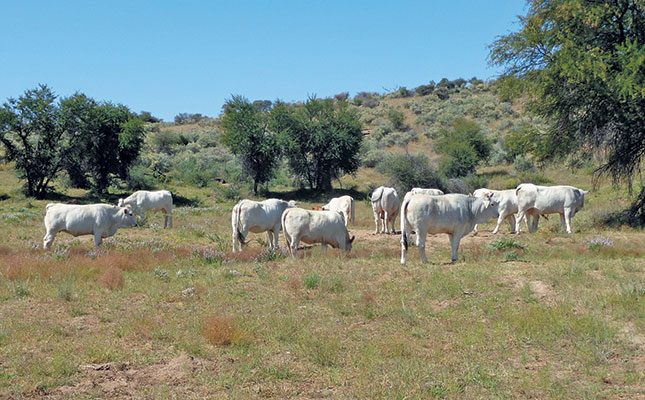 Andreas Wiese and Babette Stöck came across the Romagnola breed virtually by accident after they started farming on the Stöck family farm, Ongeama (4 500ha), in 2006. Babette is the fourth generation to farm on Ongeama, some 60km east of Windhoek.
"We wanted to increase the kilograms of meat produced per hectare and were on the lookout for a larger-framed and hardy breed adaptable to the extensive farming conditions in Namibia," she recalls.
Then in 2010, she heard about a new large, white cattle breed in South Africa, which sparked an intensive search on the Internet. The couple eventually came across an article about a Romagnola auction in South Africa in the Farmer's Weekly, which combined with their extensive research, clinched the deal.
Background
Ongeama is situated in Namibia's Khomas region, which is characterised by rolling hills. Grazing consists of, among others, silky Bushman grass (Stipagrostis uniplumis) and black-footed signal grass (Brachiaria nigropedata).
The woody component includes bastard umbrella thorn (Acacia luederitzii) and brandy bush (Grewia flava). The couple initially produced Charbrais weaners by crossbreeding Charolais with Brahman cattle.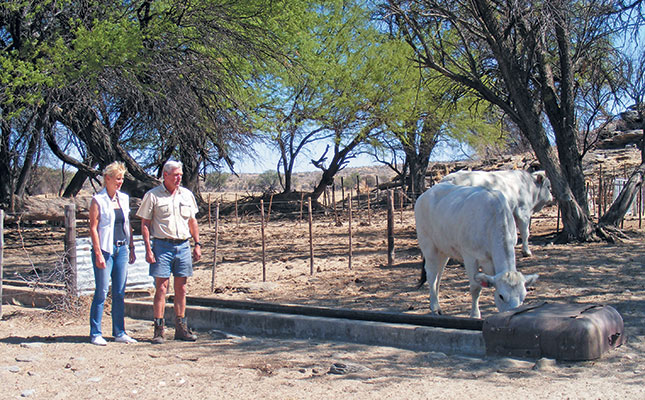 "The decreasing profitability of livestock production in Namibia forced us to find a new means of increasing production per hectare to ensure long-term sustainability and profitability," Babette says.
Andreas adds that breed choices available in Namibia did not meet their requirements for increased weaning weights. Most bulls on the local market are medium- to smaller-framed.
"In October 2010, we decided on the spur of the moment to attend a Romagnola auction on Armando Balocco's Rosengarten Farm near Hekpoort in South Africa," Babette recalls.
"We were bowled over when we first laid eyes on the Romagnola cattle, and imported two bulls and three heifers. The large-framed breed met our requirements, which included exceptional walking ability, good pigmentation, a high slaughter percentage, high weaner weights and friendly demeanour."
The Ongeama Romagnola stud has subsequently been registered with the Namibian Stud Breeders' Association.
Andreas and Babette say they owe the success of their stud to date to Armando, who was the first Romagnola breeder in South Africa. He has become the couple's mentor, supporter and friend.
Higher stocking rate
According to Andreas, Ongeama's hilly terrain with mountainous grazing and little bush encroachment allow for a slightly higher than average stocking rate for the area. They normally stock at 1MLU/10ha, but due to the drought, the stocking rate has changed dramatically over the past four years. However, the couple will revert to 1MLU/10ha once the veld has had enough time to recuperate when the drought is broken.
However, the couple will revert to 1MLU/10ha once the veld has had enough time to recuperate when the drought is broken.
A higher weaning weight means that calves can be weaned earlier, thus allowing a cow ample time to regain condition before delivering her next calf, he says.
Charbrais crosses on Ongeama are weaned at an average weight of between 230kg and 260kg (bulls and heifers) at eight months. In Europe, purebred Romagnolas can be weaned at a weight of nearly 400kg. However, Namibia's extensive farming conditions do not allow such high weaning weights, but 300kg and more are now possible with the Romagnola crossbred genetics.
Calving ease is one of the traits the couple looked for. Namibian beef cattle producers are wary of large-framed breeds due to the notion that large frames could cause calving problems. However, Romagnola calves are very slender with small heads and long bodies that comfortably move through the birth canal. A Romagnola bull can even be used to open heifers and the average birth weight for pure-bred Romagnola calves is 42kg.
"A big bonus of the breed is that newborn calves are very alert and can get up and walk almost immediately after birth," she says.
This is an added bonus on Ongeama as it makes the calves less susceptible to predation by leopard and jackal. The Romagnola breed originated from the now-extinct Auerochs cattle (Bos primigenius), which had their origin on the steppes of Eastern and Central Europe, Babette explains.
They carry both the Bos taurus and Bos indicus gene, and, for centuries, the breed was used as draught animals, resulting in a well-developed and strong bone structure and musculoskeletal system. Their hard hooves can cope with any terrain and carry the Romagnola's weight with ease.
Over centuries, Romagnolas evolved from draught animals to a beef cattle breed, with heavy muscling particularly over the loin, rump and through the lower thighs. Romagnola bulls are among the largest beef breed bulls.
"We took a calculated gamble on the Romagnolas, but it turned out to be the best decision we've ever taken," says Andreas.
"We now run a two-pronged business: we use the Romagnola bulls in our terminal cross-breeding programme, and we run our stud. The existing Charolais and Brahman animals are crossbred with Romagnola bulls. One of our objectives is to sell slaughter-ready Romagnola-cross weaners at the earliest possible age."
Marketing results
In 2013, the couple put some of the crossbred weaners on auction and achieved the highest price of the day. The Romagnola crosses were also voted the top weaners produced from the veld at the auction.
In November 2013, Ongeama Romagnola hosted its first Romagnola promotion day, during which their first Namibian-bred Romagnola bull, Ongeama Armando (12 002 OR), sold for R51 000. At the 2014 Gobabis Show, the Ongeama stud sire, Rosan Madiba (08 0046 AB), was awarded the Senior Reserve Interbreed Champion title.
In 2015, the couple entered two Romagnola-cross oxen in the Windhoek Farmers' Association's slaughter ox competition. The 18-month and 20-month old oxen were raised on the veld without additional feed, and weighed 500kg and 506kg respectively. The oxen had not cut any teeth at the time and were classified as A2s, with an average slaughter weight of 260kg.
"We proved that it's possible to slaughter oxen at a very young age, reducing the time needed for them to remain on the farm, from between 28 and 34 months to between 18 and 20 months, increasing our turnover dramatically. Our next goal was to market oxen from the veld at between 12 and 14 months.
"Our [ultimate] goal was marketing at an even younger age of between 12 and 14 months," Andreas says.
That goal was reached when they entered two 13-month-old Romagnola-cross oxen in the 2015 Windhoek Agricultural Show slaughter ox competition. At only 13 months, the oxen were the youngest entrants, weighing an average of 480kg. Both oxen were rounded off on the veld for three months prior to the competition.
"The value the Romagnola has added to our business is obvious," Babette adds. "It resulted in an increased turnover rate of slaughter oxen, adding significantly to our profitability. Ongeama is a relatively small farm and because we can market oxen at an earlier age we don't have to increase stocking rates."
The Romagnola crosses can easily reach an average weight of 280kg at seven months, increasing the average weaning weight by up to 25kg per weaner.
In July 2014, Andreas and Babette started a feeding trial consisting of 20 weaner oxen averaging 295kg between the ages of seven and eight months. They wanted to determine whether it was possible to get the oxen slaughter-ready at 11 to 12 months.
The animals were kept on the veld and given a daily supplemental ration equivalent to 1% of body weight. The trial was a great success: the oxen were slaughtered four months after weaning at an average slaughter weight of 228kg.
First production sale
In October 2014, the couple bought a new stud sire, Massimo (CFC 10 0001), at an auction in Vryburg for R90 000, along with four heifers. In April last year, Ongeama Romagnola's first production sale took place, and six bulls were sold for an average of R58 000 each.
The stud now has three bulls, 16 cows, eight heifers and seven young bulls. The couple think this breed will be instrumental in ensuring long-term sustainable and profitable livestock production in Namibia, by increasing weaner weights and speeding up the marketing process.
The breed's adaptability, accelerated growth and hardiness make it ideal for the harsh farming conditions in that country.
"But beware, they're exceptional animals and breeding them will eventually evolve into a consuming passion!" Babette says.
Email Babette Stöck and Andreas Wiese at [email protected], or phone 00264 62 540045.