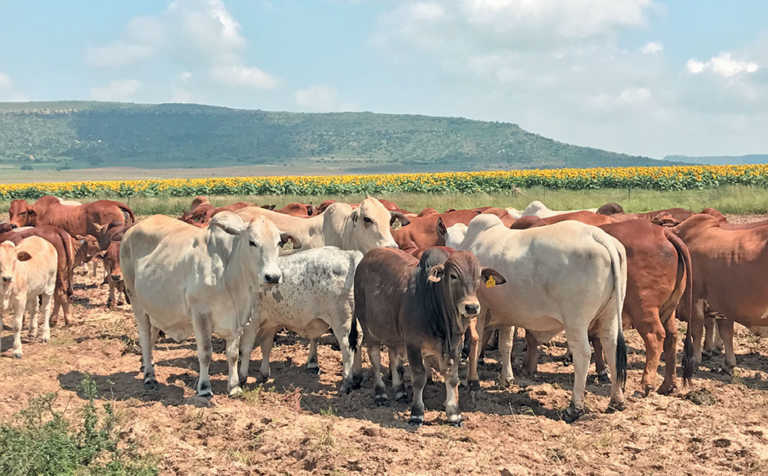 The decision to start a Boran stud was not taken lightly. But after extensive local research and a visit to the breed's homeland in Kenya, Quentin and Marisa de Bruyn decided it made "perfect business sense".
The couple was impressed by the Boran's resistance to insect- and tick-borne diseases, as well as its ability to adapt to extensive farming conditions.
Its dark skin pigmentation and strong eyebrows also protect its eyes from the sun, dust and infection. The Boran also efficiently converts roughage into meat, and can be successfully grown out and rounded off on the veld.
READ 5 signs your cattle are on heat
According to Quentin, these qualities make the Boran "the ultimate contender in the organic grass-fed beef industry".
Initially, the couple ran an Angus beef cattle herd. This breed's excellent meat quality, high weaning weights and exceptional growth makes it highly sought-after by feedlotters.
Crossing Boran bulls and Angus cows would thus combine the positive attributes of both breeds, while eliminating some of their weaknesses.
Quentin, the fourth generation to farm on Vastrap, situated in the foothills of the Maluti Mountains in eastern Free State, says the predominantly Bos indicus Boran is ideal for crossbreeding with any other leading beef cattle breed in South Africa.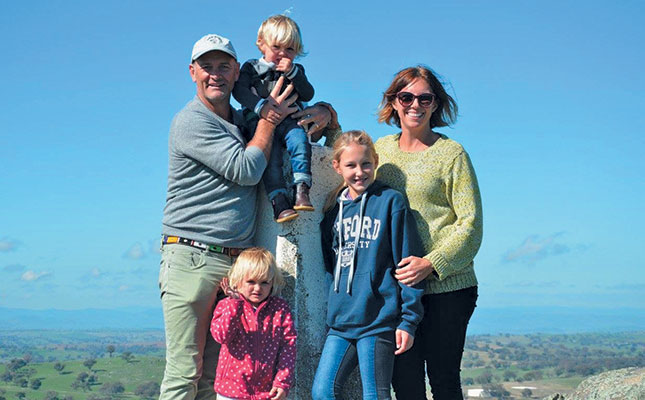 "We are so convinced of the Boran's qualities that we expect that, as the benefits of crossbreeding with Boran become more widely known, a marked increase in the demand for Boran bulls will follow."
Therefore, instead of trying to create a new composite breed, the couple decided to make use of hybrid vigour in a continuous Boran-Angus crossbreeding programme.
In the beginning
The De Bruyns purchased their first three Boran bulls in July 2010, and established an up-breeding (appendix) programme, using these bulls on 100 commercial Angus cows.
They bought their first foundation stud cow, TLM 02 43, in September of that year, and another cow, MHB 05 08, in January 2011.
The couple relied heavily on embryo flushing to build up their Boran herd. To this day, between six and 10 of their best Boran cows are flushed every year, yielding 30 to 50 embryo calves annually.
Believing that quality genetic prototypes are all-important, Quentin and Marisa bought the Mollshoop Boran stud in November 2011.
READ Angus bull sold for a record R140 000
"This gave Vastrap Boran a prominent role in the South African Boran industry," Marisa says.
A Vastrap female, whether commercial or stud, is selected on the duration of her intercalving period, and ideally produces at least one calf every 12 months, and her own wean index, as well as the cow:calf weaning weight ratio.
Each heifer is thus selected for fertility, milk and conversion efficiency under the farm's production system and environment.
Feedlots
Smaller-framed African breeds, such as the Boran, usually have improved fertility, lower susceptibility to insect-borne diseases, and require markedly lower input costs.
On the other hand, feedlots prefer calves from larger-framed animals, such as the Angus, which are particularly efficient at converting maize into beef.
"The feedlot industry dominates a significant part of the SA beef industry, despite increasing consumer demand for organic grass-fed beef," says Quentin. "For this reason, we have to produce animals with feedlots in mind."
Vastrap's crossbreeding programme has thus been accordingly designed around feedlot requirements.
As a point of departure, Quentin and Marisa included female animals that were 75% Boran, and 25% Angus in their commercial crossbred herd. These female cattle were then crossbred with Angus bulls, and produced weaners that were 62,5% Angus, and thus acceptable to feedlots.
According to Marisa, these crossbred cattle are hardier than the pure Angus, while the Boran genetics also eliminate problems such susceptibility to insect- and tick-borne diseases.
Higher stocking rate
Quentin describes the F2 Boran-Angus crosses as stocky animals, short in the leg, but with great capacity. As they are smaller than purebred Angus cattle, a higher stocking rate is possible.
An F2 Boran female bred to an Angus bull should produce a weaner with a high percentage of its dam's body weight. Together with a higher stocking rate, this results in more beef produced per hectare.
By 2018, Quentin and Marisa will have produced their first calves from the F2 crosses, which have been mated to Angus bulls. The Vastrap Boran herd currently consists of 10 bulls, 130 cows and 60 replacement heifers, while the Angus herd consists of eight bulls, 200 cows and 50 replacement heifers.
The commercial crossbred herd consists of 10 Boran bulls, 250 cows and 90 replacement heifers. The heifers retained from this particular crossbreeding programme will be selected for size to limit the size of the breeding animals.
"Using purebred Boran and Angus bulls will retain hybrid vigour, but produce calves with a high weaning weight relative to their dams' weight," explains Quentin.
Vastrap participated in a Boran crossbreed weaner trial with Sparta Beef in 2015. The Vastrap group of 108 weaners averaged 223kg, and included 20 females, averaging a price of R4 577,65.
"The average feed conversion rate during backgrounding and the feedlot phase was above the feedlot's average," explains Quentin. "During the backgrounding phase, the Borans achieved an average daily gain of 1,46kg, and a feed conversion ratio of 1kg of live mass gained per 4,36kg dry mass feed consumed."
At more than 58% of live weight, the slaughter percentage is also impressive.
Grazing
The 3 000ha farm consists of a mixture of sweet- and sourveld. The grasslands of the vlei areas and mountain tops are less palatable, and only utilised during spring and summer.
The farm is stocked close to capacity at about 4ha/MLU. The relatively high stocking rate maximises profitability, and enables Quentin to quickly identify weak animals that do not perform under pressure.
Some 200ha is planted to weeping lovegrass and Smuts finger grass, and pastures are cut and baled for use in late winter and early spring.
Camps
The land is divided into camps of no more than 100ha each. Every camp has its own watering point.
Cows and heifers receive a P6 (50% salt, 50% phosphate) summer lick with added sulphur and Calorie 3000. A Dundee lick is given in winter.
To provide effective and well-adapted bulls to the commercial sector, all bulls are put through a Phase D veld test. After further rigorous phenotypical selection, the best bulls are selected for the annual Vastrap Production Sale.
"As the bulls are sold at three years old, they are well-adapted to commercial farming conditions from the outset," says Quentin.
The commercial cattle are run in groups of 100, and the stud animals in groups of 30 to 50.
An intensive grazing system carries a relatively large number of cattle in each camp. They are moved to a fresh camp when all the grazing has been utilised and only returned after proper regrowth.
The Vastrap crop rotation schedule, which includes wheat, sunflower and maize, complements the grazing system. "Harvested sunflower lands become available in May, maize stover in July and August and wheat in December, just when the calves' milk demand is at a peak."
Email Quentin and Marisa de Bruyn at [email protected].