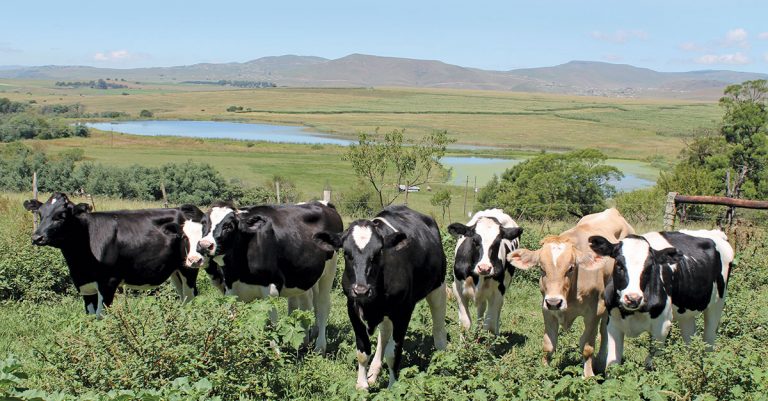 Conference is a 200ha dairy farm in the Creighton district, named after the nearby confluence of the uMzimkulu and the Nkonza rivers. The symbolism of the farm's name extends to the unity between its owners, husband-and-wife team Bryon and Ronelda Orpwood, who have joined forces to turn their business around.
Dairyman Byron has managed the family-owned farm since 1991 and was born and raised on a dairy farm. But Ronelda, a town girl from Pietermaritzburg, only turned her attention to dairy farming in 2006.
The business was experiencing difficulties, heifer rearing was not optimally managed and milk production was lower than the Orpwoods were aiming for.
"We were buying good semen but losing about 15% of our calves and only calving down heifers at three years, which added a huge financial burden to the farm," recalls Byron.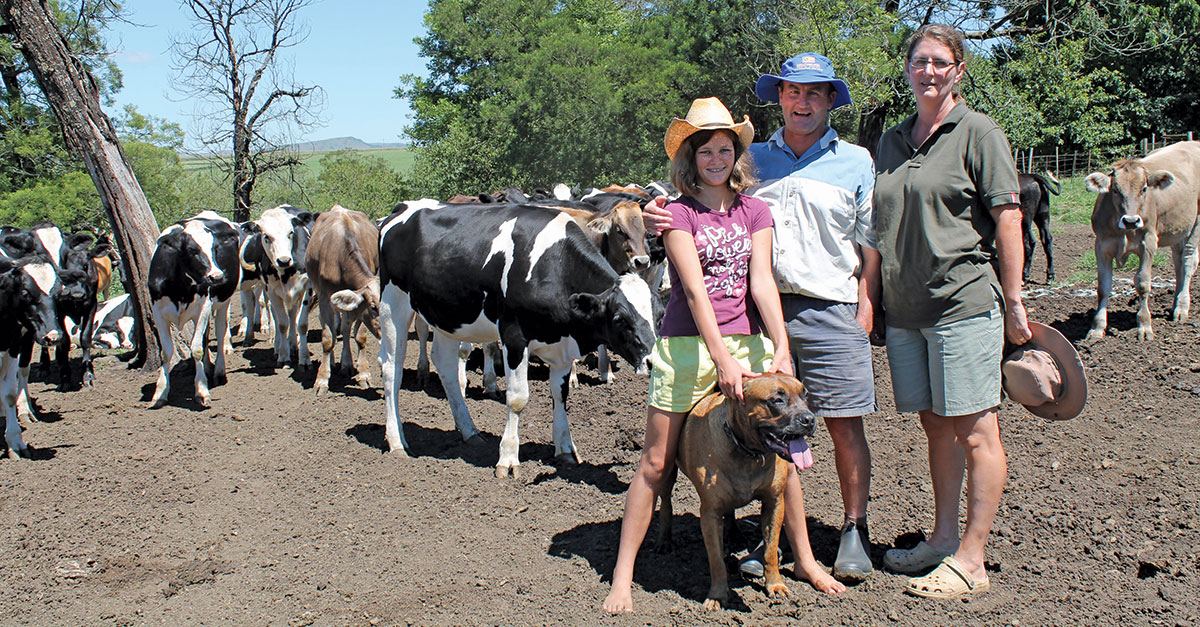 The dairy operation is medium-sized by today's standards, with 440 cows in milk, 49 heifers in calf, 56 young heifers and 50 calves under the age of six weeks. With no land available to expand, and input costs rising steadily, the Orpwoods had to maximise production. Leaving Byron to focus on milking, pastures and irrigation, Ronelda took over bull selection and calf rearing.
With help from Meadow Feeds' technical advisor Ian Waddilove and Howick veterinarian Dr Graham Carr, the Orpwoods focused on getting their heifers ready for AI by 14 months. Paul Meade of World Wide Sires classified every cow in the herd as A, B or C. Only the best cows were used to breed replacements, and heifers that had not conceived by 20 months were culled.
The results were impressive. "Genetics and improved heifer rearing has given our production a huge boost. Our average annual lactation is now 6 000l compared to the 3 900l we averaged six years ago. We buy semen from World Wide Sires, keep only heifers from our A and B cows and cull or breed the C cows to beef. We are fully stocked and not growing our herd, so we are able to select only the best heifers," says Ronelda.
Heifers conceive at 14 or 15 months and calve at two years. Before the focused breeding and calf rearing programme was implemented, heifers were calving at three years. "For the first time this year, we had 100% cycling in the heifer group and an AI conception success rate of 85%. If a heifer does not cycle, I have not done my job properly," says Ronelda.
The Orpwoods keep about 80 replacement heifers every year. Primarily to meet the demands of the milk buyers, they run a split calving season. In the past season, heifers were bred over a 60-day period.Stragglers are picked up with a beef bull and any further AI is done with beef semen.
Early months
Calf rearing starts on the day the calf is born. Either Ronelda or Byron attend calf feeding every day to monitor the condition of their calf group.
"The quicker we pick up and treat an illness, the quicker the calf can recover. Sick calves don't eat properly and don't put on weight as they should. I like to be present at feeding but I also have a diligent, watchful calf team that helps me to monitor. Nobody should lose a calf, unless it is to an incurable disease," says Ronelda.
She weighs the calves regularly to check weight gain. "They weigh between 38kg and 45kg at birth. We prefer a calf to have doubled its birth weight (to at least 80kg) when it is weaned at two months. Heifers must weigh 330kg to 350kg at 14 months when they are inseminated."
Very few calves are pulled. "We don't pull calves because of size, we only pull a calf if it presents in the breach position. We select our semen carefully so that we don't have problems with calves that are too big for their mothers to deliver unassisted. Cows must be able to calve on their own," says Ronelda.
Fodder flow
Cows are run exclusively on pasture and receive no maize silage. Conference has 130ha under irrigated perennial ryegrass pasture oversown with kikuyu, and 35ha of dryland kikuyu. "Our average yield is about 14t/ ha/annum and we produce enough to meet our needs," says Byron. Excess ryegrass and kikuyu is baled and wrapped for winter feed. Dry cows and heifers get through winter on wrapped bales, protein-mineral energy supplement Master 20 and hominy chop.
"Lactating cows graze on ryegrass with 5kg dairy meal/ day, topped up with wrapped bales in winter if the pasture gets too thin." Despite the Orpwood dairy herd's increase in productivity, a low milk price and increasing input costs pose a threat to the enterprise.
"Our milk price (R3,48/l) is not keeping up with the increasing cost of fuel, electricity and wages. We earn less now than we were two years ago. It's getting harder and harder to survive. Many dairymen are making a loss with the milk price where it is and in this area alone, we have three dairies closing down," says Byron.
The Orpwoods would like to expand, but high land prices and the limited availability of land have prevented this.
"We are thinking about diversifying into beef, but until then we will focus on maximising productivity from our dairy herd and pasture. We breed from good cows, keep only the best heifers and rear them properly. We have set a benchmark and we want to maintain it. We strive to have awesome cows," Ronelda concludes.
Email Byron and Ronelda Orpwood at [email protected]