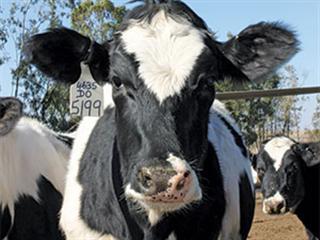 When Kobus Hendriks' father died in 1986 he had to decide whether he would take over the family dairy on Bronkhorstfontein farm near Heilbron or continue practising as a full-time vet. "I thought I would retire and start farming, but I work harder than I ever did as a vet," he jokes. Hard work has a way of paying off and today the Spitsvuur Holstein dairy herd owned by Inovula has an average milk production of 40l/cow/day with top performers milking as much as 78l/ day. The butterfat content averages 3,7% and all the milk is sold to Clover.
The company is also a level 3 BBBEE contributor, an achievement that Kobus is very proud of. Despite the challenges the dairy industry is facing, Kobus believes that with dedication, and a love for what you do, dairy can be a lucrative business.
"One person with passion is better than 40 people who are just interested," he says. As the in-house vet, Kobus does the embryo transfers which is a substantial cost saving to the enterprise. "Artificial insemination (AI), embryo transfers and genomic testing have been major advances in dairy farming and I'm doing all three. I can select the best animals from my highly scored herd without having to hire a geneticist."
Production
The Spitsvuur herd has 522 cows in milk and a total herd size of 1 100 female animals. Bull calves are not slaughtered at birth but grown out with the heifers and sold directly to the abattoir when they reach target weight. According to Kobus, there is a growing trend for buyers to take milk from dairy farms where bull calves are not slaughtered at birth presumably due to consumer resistance. He keeps the high-scoring genomically tested bulls on the farm for semen collection.
"I have the infrastructure and the feed to grow out bull calves not destined for stud. The herd is fed with a total mixed ration (TMR) so my overheads for preparing these bulls for slaughter are less than those of a feedlot. Holsteins have a good feed conversion ratio." The herd has an inter-calving period (ICP) of 420 days. Kobus believes that the optimum ICP is 400 to 410 days, not 365 as is commonly held. "This is especially true for high yielding cows."

Elias Thabela, junior dairy manager; Tlalane Mokoena, assistant admin and human resources manager; Christo Els, technical manager; Rika Oosthuizen, partner; Dr Kobus Hendriks; Odette Snyman, admin, human resources and accounting manager; Flip Snyman, farm manager and Storm McCarthy, assistant dairy manager.
The herd is artificially inseminated and embryos are transferred every three months. Calving is year-round to ensure a continuous milk flow. Only 10% of the semen used is imported from the USA, the rest is taken from Spitsvuur's own bulls. The farm runs 250 Angus cows and heifers that serve as surrogate carriers for Holstein embryos. Kobus flushes embryos from top-performing Holstein cows and transfer them into Angus cows, a breed known to have strong maternal qualities.
Holstein heifers are inseminated at 400kg or when they are about 13 months old. Cows are dried off 42 to 52 days before calving. The herd currently averages 2,5 lactations per cow because Kobus culls heavily to select the best performing animals. Calves are taken away from their mothers at birth and placed in single pens for the first two months after which they are transferred to group pens.
Colostrum is collected from mature cows and stockpiled so that calves can be tubed with high quality colostrum within an hour of birth. Colostrum is fed for the first four days to make sure that the calf gets the antibodies to support a functional immune system. Calf meal is fed a few days after birth. Kobus says there is a strong correlation between the growth of the heifer calf and the amount of milk she will produce in the second and third lactation.
Feeding
The farm produces a third of the grain component used in the feed. Silage is all home-grown. Cultivated lands are made up of 324ha maize, 11ha Smuts fingergrass, 170ha Eragrostis curvula, 50ha oats, 26ha Eragrostis tef, 89ha feed sorghum and 82ha soya beans. Kobus is cutting down on the Eragrostis and replacing it with feed sorghum as the yield and nutritional value of sorghum is higher.
"I would say that 80% of the success of a dairy depends on cow feeding programmes and 20% is dependent on genetics. You can have good genes but if you don't feed your cows well they won't reach their potential." A believer in feeding a scientifically balanced, easily digested and metabolised diet, Kobus says, "all the ingredients must be optimally worked out.
"The pH must be controlled and the feed measured continuously to get the rumen microbiota functioning optimally." Kobus constantly strives to reduce the use of antibiotics by using preventive measures rather than by treating symptoms. "Manure solids are spread on the lands so that minerals are recycled into the plants which are then fed to the cattle as fodder, grain or silage.
"By using manure on the lands I save on fertiliser costs as I only need to add minerals that are not contained in sufficient amounts in the manure. This is all determined through soil analysis." Slurry is filtered through a wetland which acts as a water purifier. "We are in the process of repopulating the wetland vegetation to get it working optimally as it was drained in the past and dried out.
Once the water levels are back to normal we should be able to filter higher volumes through it which will ensure a greater supply of clean water for the farm."
Superior genetics
The Spitsvuur herd is genomically tested to identify superior genes. Kobus believes that this will provide the greatest advance since the advent of frozen semen. "Genomics is a tool which increases the accuracy of predicting an animal's genetic merit. Without it you have to work on the herd's historic information so you are always behind. Genomics makes it possible for us to rank the animals according to economic merit and select accordingly. We select for milk production, fat and protein percentages (40%), longevity, high fertility, low somatic cell counts and smaller cows with good udders, feet and legs (60%)."
Kobus says that South Africa's national dairy herd has faced many challenges with infertile cows. "For too long farmers focused on milk production and other important traits were neglected." However with genomic testing Kobus has been able to work through the problem. "We have benchmarked all our tested animals – a total of 750 – with over a million Holsteins tested at Igenity. The results showed that we have a 5% to 10% advantage on all the traits.
"We use semen from the top 10 to 20 ranked bulls in 90% of our herd, because we believe that the expression of these genes in the South African environment will help us to achieve our goal of breeding highly adapted, more profitable animals."
Contact Dr Kobus Hendriks at [email protected]