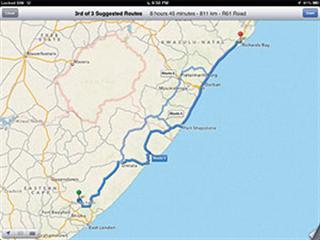 Google Maps has revolutionised online mapping. Simply click on 'Maps" on the toolbar or go to www.maps.google.co.za. You can choose a satellite view with a map overlay or a straightforward map. Google Maps is particularly useful if you're planning a trip. Click 'Get directions' on the top left-hand side of your screen, and two blocks will appear – 'A' and 'B'. One is your starting point and the other your destination. Fill these in. Under the destination block you can, if you wish, click 'Show options' and select to avoid motorways or toll roads.
Click 'Get directions' and the route will instantly appear on the map. You can then alter it as you please by hovering your mouse over the route. A white button will appear with the text 'Drag to change route'. This allows you to select an alternative. Each route is accompanied by the distance and travelling time. I needed to plan a route from home to Richards Bay, KwaZulu-Natal.
The map gave me three alternatives – Mthatha, Kokstad, Port Shepstone, Richards Bay, 805km; Mthatha, Kokstad, Pietermaritzburg, Richards Bay, 820km; Mthatha, Port St Johns, Port Shepstone, Richards Bay, 811km. If planning a route to a farm, simply find the farm on the map. Once you have found the destination by right-clicking your mouse, you'll be given two options: 1) directions to here; and 2) directions from here. These will allow you to create a route.
Contact Greg Miles at [email protected] with 'Online Farmer' in the subject line.