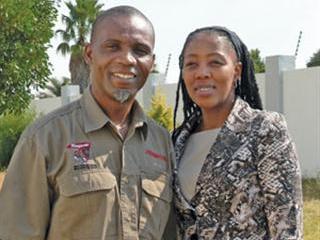 To emerging cattle farmers, the technicalities of feeding, breeding and culling often seem bewildering – and the options endless. Many of these farmers would benefit by adopting Muzi Dhlomo's approach: keep it as simple as possible and stick to what has been proven to work. It's a method that has worked well for him, despite restrictions posed by a land claim and a lack of government support.
Muzi, a businessman from Midrand in Gauteng, and his wife Mmakeng started farming with cattle in 2010. The two already owned a human resource solution company, a plumbing business, and a guest house and conference centre, but Muzi could not resist the opportunity to begin farming too, as it was the fulfilment of a long-held dream. He had grown up in Swaziland where he spent much of his early childhood helping to tend his grandfather's cattle before returning to Soweto, his birthplace, at 14.
Muzi began by buying a few Brahman and Simmentaler cattle – with the idea of breeding Simbra – and running them on a 600ha farm near Beestekraal, close to Vaalkop Dam north of Brits. This property had been leased by his late father-in-law.
A few months later, a far bigger opportunity presented itself. He was invited to a Pinzgauer breeders' farmers' day by Mitch van den Bos of Bosheuvel Pinzgauer Stud in Muldersdrift north of Johannesburg, who is also the chairperson of the Bosheuvel Pinsgauer study group of which Muzi is a member.
The Jodema Pinzgauer Stud comprises 18 breeding cows and three bulls. Most of the cows were pregnant when he bought them.
"Just seeing the animals there, I knew that I wanted to start my own stud," Muzi recalls. He bought two pregnant heifers from Paul Bester, manager of ZZ2's Bertie van Zyl Pinzgauer Stud and chairperson of the SA Pinzgauer Association, and placed them on the farm. This was the start of the Jodema Pinzgauer Stud. Over the next two years, Muzi increased the herd to its present size of 18 registered heifers, and also bought three young Pinzgauer bulls.
These he has kept on the grounds of the Jodema Guest House in Midrand, however, so that he can "keep a closer eye on them". The land in Midrand is also useful as a holding camp. Whenever Muzi purchases new cattle, he takes them there for assessment and treatment before transporting them to the farm. "We treat them for heartwater because the farm is in a heartwater area," he explains.
Why pinzgauer?
"The Pinzgauer has outperformed many other breeds in terms of meat content and quality, and its meat is preferred by upmarket retailers such as Woolworths," says Muzi. He also praises the Pinzgauer's average daily gain (ADG), which according to him is about 2kg, as well as its feed conversion ratio (FCR) of about 5,3. Pinzgauers, says Muzi, are also renowned for their high fertility and early maturity – heifers start calving at about two-and-a-half years.
Simplicity
Muzi believes that as a beginner, he needs to keep things as basic as possible and "work with what has been tried and tested by respected breeders". In his case, he follows the advice of Paul and Mitch. "Oom Paul has been in the game for a very long time and manages over 7 000 head of cattle, so you can't go wrong with his formula," he explains.
Muzi spent two days on the ZZ2 farm in Mooketsi "just learning how they do it there". Here he was shown how to mix simple and economical feed. Muzi feeds only his bulls, using a mix of bran, Procon 33, molasses and SB 100. His heifers graze pasture, supplemented by a small quantity of hay in winter. He also provides winter licks.
Two in one
Muzi runs his stud and commercial cattle as one herd. "It's possible to run the two herds as one if you know what you're doing," he insists. The 600ha farm is subdivided into six camps which are rotated for feeding purposes. Muzi keeps the bulls away from the cows until the breeding season in October. The stud and commercial herds are then separated into different camps. He has not put his bulls to the Pinzgauer herd yet as many of the heifers arrived pregnant and have only just calved.
Muzi keeps three young bulls on Jodema Estates, where he can look after them closely. At two years of age, this is the oldest of the bulls.
Support system
Although Muzi admits he learned most of what he knows about cattle breeding from Paul and Mitch, he stresses the need to read up on the subject, join study groups, belong to agricultural organisations and attend farmers' days. Muzi is also helped a great deal in his enterprise by his wife. Mmakeng's late father was a prosperous cattle farmer, so she is no stranger to the demands of the business.
Under Claim
Muzi discovered recently that their farm was under claim – a situation that has created much uncertainty. "This is holding me back," he explains. "To increase my stock, I need to invest about R500 000 in infrastructure, but with the claim hanging over my head, I can't do that. What if someone kicks me out tomorrow?" He is, however, spending more than R40 000 on electrical infrastructure so that he will soon be able to use borehole water. "This is a gamble I have to take," he says. "At the moment we're using Magalies municipal water, pumped out of Vaalkop Dam, which is too expensive."
Non-existent state support
As a beginner farmer, Muzi's chief complaint is the almost complete lack of government support. "The people entrusted with implementing support are the problem," he explains. "They don't know how to do it." He adds that farmers need various kinds of support. "For example, some have capital for production as well as farming know-how, but no land, while others lack both capital and know-how," he explains. "These are different situations, but the government applies an umbrella solution. I've knocked on many government doors and my requests have fallen on deaf ears.
"You can't bring in a train driver to teach truck drivers. This is what's happening in government. Politicians head up departments in sectors they know nothing about." Another problem, according to Muzi, is that land prices are too high, making it almost impossible for a new farmer to buy on the open market. "I would even be prepared to share the land costs with government," he says. All of this explains why agricultural development is stagnant, Muzi believes. "The black community, with 75% of the population, accounts for less than 10% of the commercial farming sector," he concludes.
Contact Muzi Dhlomo on 011 805 2472.
Contact Paul Bester on 083 627 6899 or email [email protected].