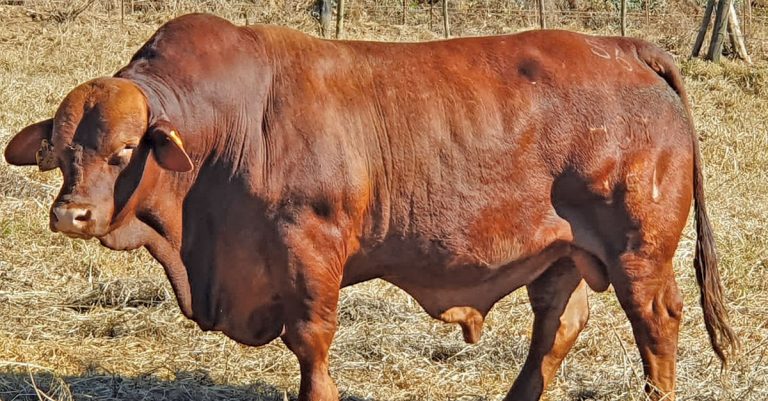 If you meet Don McHardy on his farm near Dargle in the scenic KwaZulu-Natal Midlands, there are two things about him that you will not forget. The first is his unassuming way of talking about what he has achieved, and the second is the care and respect he shows for his animals.
He is a Midlands local, having grown up in Mooi River, and while his grandfather farmed, and his father owned a feed store, there was no farm for McHardy to inherit. In fact, it wasn't until fairly recently that he was able to buy his own farm.
But his career of working with animals goes back to the early 1990s when, during his time serving in the army, he was trained as a farrier, an occupation that complemented one of his other great passions: playing polo.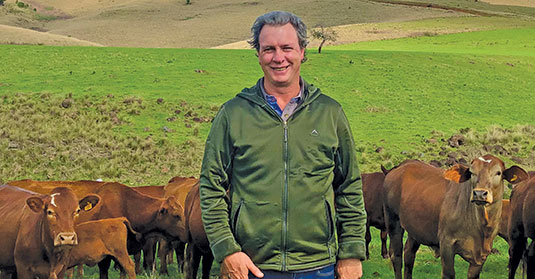 He furthered his studies as a farrier in the UK, and today, even though he now works full-time as a farmer, he still runs a clinic specialising in hoof care for cattle and horses.
Cattle used to be a sideline business, which he operated by leasing land. Then, nine years ago, he had the opportunity to buy the 750ha farm that he now owns.
He describes himself as an impatient perfectionist and it shows in the way that he has been able to transform a run-down farm, which was overgrown with alien vegetation, into a lush, well- organised farm, in perfect working operation in only a few years.
A perfect fit
McHardy is mostly known for his Reeba Red Brahman stud, and he also runs a large commercial beef herd bred from a three-way cross between red Brahman, Simmentaler and Sussex. It was only three years ago that he bought his first Droughtmaster bull.
"It was not a planned purchase; I went to a friend's grey Brahman and Droughtmaster sale just to see what the breed looks like. There was a small bull that just caught my eye, and I decided on that day that if the bull went for a good price, I would buy it just to experiment with in my own herd."
The friend that he bought the bull from is Linde du Plessis, who owns the Brandwater Africa Droughtmaster stud, and the bull HOT 15 156, which McHardy ended up buying for R40 000, remains one of the top stud sires on his farm.
"When I bought that first bull, I had already been looking for a three-way cross, synthetic breed that would be a good combination with my red Brahman stud, my commercial herd and my breeding philosophy."
His Reeba Africa Droughtmaster stud has grown to include 40 stud cows, and he has started using Droughtmaster genetics in his commercial herd with good results. He wants to ultimately crisscross between Droughtmaster and red Brahman in his commercial operation.
Grazing management
The area enjoys high rainfall and the predominant veld type in the region is sourveld.
According to McHardy, the farm has a high carrying capacity for six months of the year, and for the rest of the year he relies on foggaged kikuyu, perennial pasture and hay bales.
Generally, he is able to maintain a stocking rate of 1 LSU/ha. The grazing areas on the farm consist of 59% veld, 40% pasture and kikuyu, and 1% Eragrostis, which is harvested and baled for hay.
His camp system, says McHardy, is a work in progress. The camps vary in size from 1ha to 120ha, but more fencing is being put up as money becomes available to further divide the camps.
Cattle are kept in a camp for a maximum of one week; after this, the camp is given a minimum rest period of one month, and each camp is given an entire season's rest every fourth year.
The animals receive licks throughout the year to supplement protein, phosphorus and other minerals, as well as trace minerals.
Breeding and selection
The breeding season for cows runs from October to December, and for heifers it runs from April to May. McHardy makes use of artificial insemination (AI) as well as natural breeding. All the female animals undergo AI, and are then put to the bulls to facilitate conception in any cows that failed to conceive through AI.
Usually, the conception rate achieved through AI is about 80%.
Heifers are bred for the first time at 20 months. After this, they need to produce a quality calf every year to be retained in the herd.
His first round of selection starts on the day a calf is born. If, at this stage, a calf displays any obvious deformities, or if it is too big or weak, it is classed as a commercial animal.
A strict selection process that lasts about two years follows this, during which McHardy carefully tracks each animal's progression.
One of his selection criteria is that calves should not weigh more than 34kg. When calves are too large, he explains, it creates difficulties in the herd, for example, the calves require extra assistance and it is harder to get the cow back into calf.
Birthweights for heifer calves range between 25kg and 30kg and bull calves usually weigh between 28kg and 33kg.
The next round of selection takes place when the calves are four months old. At this time, based on visual inspection, each animal is given a score out of three with one being the worst and three being the best.
The bull calves need to display strong heads and forearm and jump muscling, ensuring good mobility, strength and fertility. Heifers have to be feminine with a pretty head and a clear wedge shape.
At this stage, a minimum of 50% of all the bull calves born go to the commercial herd to be marketed primarily to feedlots, regardless of their lineage.
Calves are weaned at seven months old. Bull calves usually weigh around 323kg, and heifers around 289kg at weaning.
Instead of using the typical cow-to-calf weight ratio at weaning as a criterion for selection, McHardy deducts the calf's birthweight from its weaning weight and compares this to the dam's weight when selecting at weaning.
Weight at seven months must thus be at least 50% of the dam's weight. The next round of selection is conducted by the environment; animals that struggle to perform during winter are not retained in the breeding herds.
Bulls are put through a pasture-based growth test at two years old. During this time, the only supplemental feeding they receive is a 6% phosphate summer lick. The animals in this group have to achieve a minimum daily gain of 1,6kg. McHardy says the top performance by an animal recorded during such a growth test was a daily gain of 3,3kg.
Ultimately, out of all the bull calves born in a season, only the top 10% will make it through final selection. For heifers, their final selection is based on the quality of their first calves.
Growing popularity
McHardy believes there is a bright future for Droughtmasters in South Africa, especially to be used for crossbreeding in commercial beef operations.
At the moment, he says, there is a near insatiable demand for red cattle, and the demand for good-quality red, smooth-coated female animals, in particular, cannot be adequately met. Droughtmasters have also gained popularity because of their fertility, longevity and simplicity.
"Droughtmasters are easy to farm and simple farming is profitable farming!"
Phone Don McHardy on 082 338 5800.
Visit the Africa Droughtmaster Cattle Breeders' Society at droughtmasterafrica.co.za.