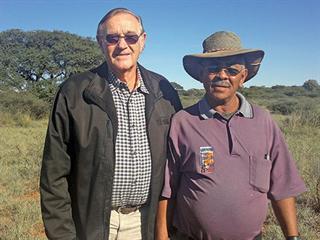 Responsible land stewardship is the key to success in cattle farming, says Jannie Struis, central region (Northern Cape and Free State) winner of the Agricultural Writers' New Entrant to Commercial Farming award.
"If you don't love farming or your land, you shouldn't be a farmer. The land doesn't belong to us. It belongs to our children," he stresses.
Jannie's 58 Bonsmara cows and two bulls are currently run on 1 200ha leased municipal land, which forms part of the Thembelihle (Hopetown, Northern Cape) town commonage. Other small-scale farmers lease different parts of the commonage.
Since starting out four years ago, Jannie has had the support of a knowledgeable mentor, Johan van der Walt, who is also a farmer in the Hopetown district.
"I used to work with Jannie's father, Piet Struis," Johan says. "It's wonderful to see Piet's son developing as a farmer right in front of me."
Jannie approached Johan when he was retrenched from the mine where he worked. He was keen to start farming, but was determined to do it without any government support. Instead, he used his pension payout and borrowed money. Although lacking a formal agricultural background, he had grown up on a farm and had a love for the land.
Veld management is key
At present, Jannie farms only cattle. "I 'd like to farm sheep as well, but not on the same land I'm currently farming," he explains.
"It's not a good idea to graze sheep and cattle on the same veld. It would put too much strain on the veld and complicate grazing management.
It is clear that Jannie's land is in a far better condition than that of many of his neighbours, who are also emerging farmers leasing land from the municipality. The latter has only patches of grass sparsely scattered across bare, red soil. Johan blames this on the fact that there are too many cattle on these farms and that there is no grazing management in place.
The area has an official carrying capacity of 20ha/ MLU, but the neighbours' lands carry far more than this.
"If soil and veld is not managed properly, it has a devastating effect on the land in the long run," explains Johan. "When you rest veld for a year, you'll have vigorous growth in the above-ground parts of the grass. This will in turn feed root development. Proper root development is crucial for effective regrowth."
Johan advised Jannie to use a four-camp system, as this is the most suitable system for his requirements. The veld in one camp is left to rest for a year, while cattle are rotated every two months between the other three camps.
Phone Johan van der Walt on 083 700 9636 or email him at jvdw@ mtnloaded. co.za.