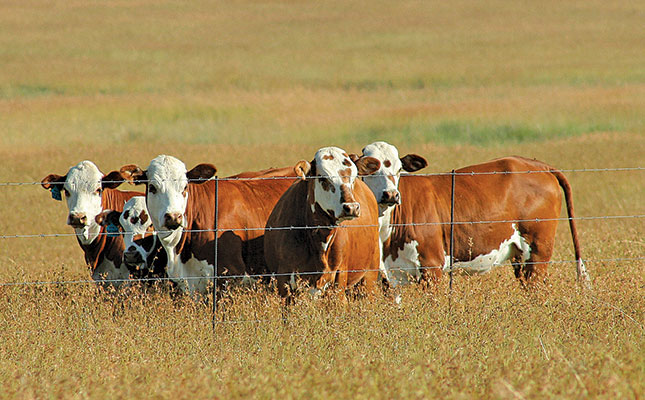 Professors Reuben Mapletoft, Cliff Lamb and Michael McGowan all agree on one thing: fixed-time artificial insemination (FTAI) is an invaluable tool to help beef cattle farmers manage production and boost profitability.
FTAI is readily available to the beef industry. What all three speakers find strange, though, is that despite evidence of its potential, uptake of FTAI by beef cattle farmers remains slow in many parts of the world.
What is FTAI?
As the name implies, FTAI relates to the timing of artificial insemination (AI). The method makes use of oestrus synchronisation to artificially inseminate cattle at a set time.
Lamb, from the Department of Animal Science at Texas A&M University in the US, says that FTAI can assist in optimising management and improving efficiencies, and can even enable greater weaning percentages and weights.
He explains that the most important benchmark in a beef operation is the percentage of heifers that achieve an early first calving.
"Those females which became pregnant in the first 21 days of their first breeding season produced on average 0,75 more calves over their lifespan than heifers that only became pregnant later," he says.
Mapletoft, of the Department of Large Animal Sciences at the University of Saskatchewan, Canada, says accurate oestrus detection remains one of the biggest impediments to success with AI.
According to Lamb, research shows that up to 20% of cows are mistakenly detected as being on heat when they are not, with oestrus detection rates in the dairy industry often lower than 40%.
"In other words, if you go and check oestrus and the cows are all cycling, you'll probably pick up only about 40% of those that are on heat."
He adds that with FTAI, the aim is to ultimately achieve synchronised cycling in a herd, but all animals are inseminated whether oestrus is detected or not, thus eliminating oestrus detection efficiency as a possible contributor to reduced pregnancy rates.
Mapletoft emphasises, however, that the ultimate success of oestrus synchronisation and FTAI programmes centres on the concept of controlling follicular wave dynamics and ovulation.
He explains that FTAI requires synchronous growth of a dominant follicle coupled with synchronous ovulation at a predetermined time. This is done with hormone treatments such as estradiol (which synchronises growth of a new ovulatory follicle and then ovulation) and a progestin device (which extends the luteal phase of the oestrous cycle).
Another option is the gonadotropin-releasing hormone (GnRH)/porcine luteinising hormone (pLH), which can also be used to synchronise growth of a new ovulatory follicle and subsequently the timing of ovulation.
All the speakers highlight that many other factors can affect the success of an FTAI programme, including the body condition of the cows, effective pre-synchronisation planning, nutrition and management.
Shorter breeding season
Lamb emphasises the value of FTAI as a reproductive management tool by sharing experiences with a trial herd at the University of Florida that he worked with from 2006. He recalls that before they started, the breeding season was 120 days, which he considered too long.
The 300-head cow-calf operation comprised about 50% Angus/Simmentaler-type cows and 50% Brangus and Braford cows.
"In a beef cattle operation, getting a cow pregnant is more economically important than any other thing you can select for," he says.
From the beginning, every action they took was aimed at ensuring conception. This included a set of rules for the cows, one of which was not making excuses for individual animals considered phenotypically correct or valuable.
Every female had to calve for the first time by the age of 24 months and thereafter had to calve every year. The production rules were that the cow had to provide sufficient resources for the calf and maintain condition.
They also eliminated cows that displayed a bad temperament, explaining that stress and disposition may have a negative impact on fertility.
The researchers applied these and several other rules, and in 2008 started the FTAI process. They began by performing AI on the heifers, followed by the cows one week later.
However, due to the late breeding season of the prior year, late cows necessitated a second and third round of AI.
The following breeding season, the researchers were still working on three cow groups but reduced the length of the season.
By year three, they were down to just two cow groups. By year four, according to Lamb, every cow was eligible to be artificially inseminated on the first day of the breeding season.
"We cut the length of the breeding season in half over four years, from 120 days to about 62 days."
Data revealed that overall pregnancy rates increased by 10% in this operation, from 80% to 85% in 2006 and 2007, before introducing FTAI, to 93% in 2013. Lamb adds that they also recorded increases in the value derived per calf of about US$87 (R1 200) from 2006 to 2008, with the change in value per calf increasing to US$169 (R2 300) by 2013.
Cost-effective
McGowan, from the School of Veterinary Science at the University of Queensland in Australia, evaluated the economic return from use of FTAI in a genetic improvement programme.
He believes that FTAI is a cost-effective method of producing genetically superior replacement bulls and heifers, adding that the rate of genetic improvement is greater with FTAI than with natural mating.
McGowan says the technique can also significantly increase the rate of change in selected traits, such as when changing from a primarily horned to a polled genotype.
In addition, because synchronised cows conceive over a short period, they calve over a short period, which greatly helps application of best-practice management.
He shared insights into a research project spanning several years in which the cost of producing a calf via natural mating and FTAI was compared. Three groups were compared:
Group one (G1) was a herd of 200 Brahman cows paired to purchased bulls, all animals of average ratings in terms of the Jap Ox Index (see box);
Group two (G2) was a herd of 40 cows put to a single bull ranked in the top 10% of the index;
Group 3 (G3), the FTAI herd, comprised 200 cows synchronised and inseminated with semen from bulls in the top 10% of the index.
Bulls produced from genetically elite sires in the first year would then be used for mating in the third year.
In estimating the return on investment, the team also accounted for genetic gain, with no genetic gain measured for G1 and no bulls retained from this group for breeding in year three.
Both G2 and G3 exhibited calf genetic improvement (CGI), based on the equation [(Sire Jap Ox Index) – ($20)]/2 = CGI. Two bulls were retained from G2 and five sires from G3.
The cost per calf (CPC) calculation looked at the cost per bull used, or alternatively ovulation and semen costs. It also factored in the number of bulls used, total bull costs, labour costs and mating costs.
The CPC for G3 remained consistent, averaging nearly A$47 (about R470) in year one and year three. This group produced 142 calves in both years, all progeny by average genetic merit bulls.
The interesting data came from G2 and G3. In the first production year, G2 produced 28 calves considered progeny of a bull of high genetic merit at a CPC in year one of just over A$370 (R3 700).
By year three, the size of the G2 breeding herd doubled to 80 cows. The resultant CPC dropped to just over A$10 (R100) in the third production year with a total of 57 calves produced.
However, G3, the FTAI herd, ended year three producing 142 calves at a CPC rate of only A$4,35 (R43), less than half the cost for G2 and one-tenth the cost of the CPC for G1.
The global perspective
According to Mapletoft, in line with global trends, Canadian dairy farmers had embraced AI, with roughly 80% of cattle in the industry there inseminated artificially, as opposed to covering by a live bull.
In the beef industry, this figure was only 5%. Mapletoft says that these figures have not changed substantially over the last four decades.
McGowan provides a similar statistic, saying that a study into the use of AI by beef producers in northern Australia revealed that in 2010, fewer than 1% of commercial producers were using it.
"That has changed dramatically but it's still low compared with the situation in New Zealand and Argentina, for example," he says.
Mapletoft says it was reported recently that the use of AI in South American beef herds is near 10%, primarily because of the use of FTAI.
According to Prof Edward Webb, deputy dean of research and postgraduate studies at the Faculty of Natural and Agricultural Sciences at the University of Pretoria, 92% of AI being done in South Africa is in the dairy industry.
"The beef industry is not adopting AI and I don't understand why," he says.
At the other end of the scale is the South American country of Brazil, which is estimated to be using AI on approximately 15 million beef cattle per year. South Africa has only about 12 million cattle in total.
Lamb uses Brazil as the poster child of a country that has embraced FTAI.
He recalls that he was part of the team that first introduced FTAI in Brazil in 2001 and says the country has adopted the technology "at a phenomenal rate".
Brazil is not only using synchronisation and AI to achieve genetic improvement, but is also using it as a reproductive management tool.
He adds that where most beef producers have excuses on why FTAI won't work for them, Brazil has realised that they need excuses on why they need to do it.
Email Prof Cliff Lamb of the Department of Animal Science at Texas A&M University in the US at [email protected];
Email Prof Reuben Mapletoft of the Department of Large Animal Sciences at the University of Saskatchewan, Canada, at [email protected]; and
Email Prof Michael McGowan from the School of Veterinary Science at the University of Queensland in Australia at [email protected].