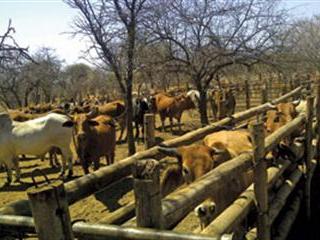 "Pooling resources and working together has proved to be much better for us than going it alone," says Thabang Mosane, a member of a group of nine communal farmers who farm on 1 400ha of communal land in Mmakgabetlwane village, 60km north-east of Brits, North West. These informal farmers run their cattle in a single herd, split costs and share resources. They run 300 cattle on the land sectioned into 600ha and 800ha.
Mmakgabetlwane is an underdeveloped village, lacking the infrastructure necessary for a robust economy. It has no proper road linking it to centres such as Brits and Mabopane and during the rainy season it is virtually a no-go zone. Without bulk water supply, it depends on boreholes for water. Thabang explains that they formed their group while farming near the village of Vaalboschloot, several kilometres away. "When we applied for permission to use land at Vaalboschloot, they put us all in one big camp," he says.
"The camped land in Vaalboschloot fell under the jurisdiction of the old Bophuthatswana Land Trust. When it was disbanded under the new government the village's tribal authority took over," adds Gideon Mosane. "We were kicked out, after farming there for more than 30 years, when it was transferred to the Vaalboschloot community." They moved to Mmakgabetlwane in 2006 where they were allocated the 1 400ha they currently farm on.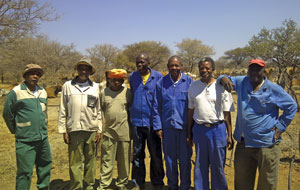 Some of the group's members (from left): Thabang Mosane, Johannes Rampa, Rasebonwang Mosane, Petrus Makgopela, Leonard Tlhoale, Lucas Matjane and Gideon Mosane. Absent are Victor Matabane and Rodney Lebeloane.
Solving problems together
Since forming the group the men have found it easier to solve problems and overcome farming challenges. "We don't have disease-driven mortalities," says Lucas Matjane, group member. "In the past, we had disease problems caused by one farmer not vaccinating or treating his cattle," he explains. "This affected even those farmers who did vaccinate." Now, they run their livestock separately from other village herds and keep it disease-free.
The most common diseases are lumpy skin and quarter evil, both of which can have serious economic consequences for stock farmers. "Animals get pinkeye (infectious bovine conjunctivitis) as well, especially in the summer," says Gideon. As part of their herd health management plan they buy drugs and vaccines as a group. Members contribute the same amount irrespective of how many cattle they own. "We set a date for vaccinations and we all participate," Lucas says.
"Branding, ear marking and castration is also done co-operatively. Animals are identified by unique tattoos and ear notches that are different for each member." Herd sires run with the cows and all young bulls are castrated. "We all contribute money to buy good bulls and no member runs his own bulls," says Lucas. In this way the group selects for desirable traits and improves the herd. Separating the herd from other local herds means that inferior bulls don't mate with the herd cows. "We cannot produce quality, profitable weaners from calves with inferior genetics."
Stock improvement
Gideon says that because they started with different mixed breed cattle, they had to agree on a joint breeding strategy. "Our goal is to supply the best beef cattle that are most suited to this area. The bulls are jointly owned, so we all had to agree on the breeds we wanted to introduce." They chose Brahman, Bonsmara and Limousin. Limousin and Bonsmara provide a good quality carcass and Bonsmara and Brahman are breeds tolerant of the hot, often dry North West climate.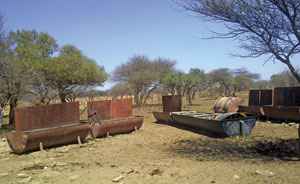 There are three kraals with water troughs constructed by group members who say that lack of infrastructure is one of their biggest challenges.
There is no specific calving or breeding season and bulls run in the herd year-round. Without a fenced bull camp seasonal breeding is not possible. The group markets its weaners at the Onderstepoort auction near Pretoria, each member selecting from his own animals those he wishes to market. "We have an agreement with a transporter and share the transport costs," says Lucas.
Infrastructure
Financially constrained, the group has to improvise and innovate. Their primary challenges are fencing and water supply. Fences are often broken or stolen, necessitating constant repair and replacement. "Drug junkies steal the steel poles to sell as scrap," says Gideon. "So we cut poles from the bush and use second-hand fencing poles." Because of veld fires they do not buy wooden poles. "With little rain and poor grass growth this year, veld fires didn't trouble us much."
"We use the community borehole for our water supply," adds Lucas. "This is not ideal as our growing herd can put the village water supply under pressure." Recently, the farmers sank their own borehole which operated for three weeks before the hole caved in. "We have called our service provider but he has ignored us," says Thabang. "After spending more than R68 000 we have had to go back to using the village borehole."
Since moving onto the land, the group has constructed three kraals, each with drinking troughs and tanks for water storage. "There is no electricity supply so we use a diesel engine to pump water into the storage tanks," says Gideon.
No free advice
The group is disappointed with the government support. "We, and other farmers in this area, get no support from government," says Petrus Makgopela. "We have enquired about government farmer development programmes without getting anywhere. "I applied to join the North West Nguni Cattle Project through the department of agriculture in Brits many months ago, but have had no response."
According to Gideon and Thabang, extension officers are seen on the farm once in a blue moon. "We hardly see them here, unless we have a crisis and need help urgently. Some of them demand payment for their services. We may have to pay R100 or R200, but there are some who demand up to R1 000. We thought government extension officers were paid to render free services to farmers, but we have been paying ever since we started," Petrus adds.
North West's agriculture department says that while the department has a responsibility to provide farmer support, some veterinary services have a cost recovery component which is as per the approved tariff list. Bonolo Mohlakoana, spokesperson for the department's communication services, assured Farmer's Weekly that an internal investigation would be conducted to establish the facts around this allegation.
"At this stage the department is unable to indicate whether the cost charged by the implicated animal health technicians was in line with the cost recovery list or not, hence the need for an investigation into the matter." The group's future plan is to develop the land and separate it into camps with watering points. Petrus says this will reduce the pressure on the animals. "They have to walk long distances between grazing and watering points. We could certainly use a bit of government support."
Contact Thabang Mosane on 083 565 8452.