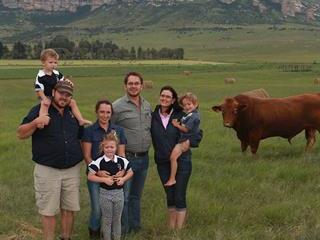 Brothers Jan and Bertie van Niekerk and their respective wives Marizelle and Annie run two commercial and two stud cattle herds near the small town of Verkykerskop in the Free State. Jan and Marizelle farm on Magpela, while Bertie and Annie farm on Nox. Together the farms comprise about 6 000ha.
Jan and Bertie's father Cornelius Klaris passed away in 2011, leaving his sons a commercial beef herd of Afrikaner x South Devon cattle and a flock of Merino wool sheep. Cornelius, an advocate, ran his herd part-time. He had taken over his own father's Afrikaner herd (started in 1952) and introduced the South Devon breed in 1990. The Afrikaner contributes maternal ability, a large frame, longevity, hardiness and parasite resistance, while the South Devon contributes milk, meat and high fertility.
In addition, Cornelius left his daughters-in-law a beef cattle stud each, with Marizelle breeding South Devon cattle and Annie breeding Afrikaners.
The commercial herds
Cornelius left no debt, but his sons had to pay estate and capital gains tax. In order to pay these off, the brothers decided to farm together for five years and grow the cattle herd. Those five years expired this year, with the brothers reaching the animal numbers they wanted, and the business was split 50/50.

Breeding methods
Although now running their own herds, Jan and Bertie adhere to the same production methods, and bull selection prior to the breeding season is crucial for both. If a cow produces a calf that appears to be 5/8 Afrikaner and 3/8 South Devon, she is placed in a breeding herd with a South Devon bull. If a calf appears to be 5/8 South Devon and 3/8 Afrikaner, the cow is placed in a breeding herd served by an Afrikaner bull. Pure-bred bulls are utilised primarily to maintain crossbreed strength.
Breeding herds consist of about 70 cows and three bulls. They are closed herds and only self-bred bulls are utilised. The main breeding season takes place from July to September and calves are marketed in April. During the secondary season, cows go to the bull in late April and calf in February or March. Calves are marketed in December.
"A cow that fails to conceive is immediately ear-notched," Bertie explains. "Should she fail a second time, she receives a second notch and is immediately sold for slaughter."
Six weeks after a bull is removed from a herd, a vet conducts an internal examination to establish pregnancy.
"A cow has one opportunity to skip, but any heifer that fails to conceive on her first exposure to a bull is sold," says Jan.
The brothers only retain heifers from older cows; they say that a cow that has remained on a farm for 10 years has proven her fertility. They also never keep the first calf of a heifer, and only have records proving fertility from the second calf. They are currently expanding their herds and retaining 80% of their heifers.
Feeding methods
Veld on Magpela and Nox consists of red grass (Themeda triandra), which is used as the main summer forage, and yellow thatching grass (Hyperthelia dissoluta) is used as winter forage. The carrying capacity is between 3ha/ LSU and 4ha/ LSU, with the brothers working on the latter to save veld.
Cows are dosed annually against internal parasites and dipped as necessary. Animals in both the commercial and stud herds are vaccinated against gas gangrene, brucellosis and pasteurella at weaning.
Jan has planted 40ha of green fodder consisting of oats and ryegrass, as well as 17ha of maize to be used as fodder for the cattle, sheep and stud bulls. Bertie has not planted anything at present as the cattle enterprise has only just been divided. This winter, the brothers will share fodder, and Bertie will begin planting during the coming season. He has, however, planted 4ha of green feed and 1ha of Japanese radish for the sheep.
Selling commercially
The Van Niekerks sell most of their commercial weaners at BKB auctions, but they also supply Sparta. In addition, they supply weaners to KwaZul-Natal (KZN) farmers to rear as long weaners.
They have not experienced problems with feedlots discriminating against their Afrikaner cross weaners. The breed's relatively quick fat gain, a trait that ensures quick post-calf recovery, is a potentially undesirable trait at the feedlot.
But, pure Afrikaners can be market-ready at 102 days, while other breeds are ready at between 120 and 130 days on average.
The stud herds
Marizelle and Annie both come from farming families, but neither had any independent farming experience before receiving the studs from Cornelius.
"We were thrown in the deep end," Marizelle recalls. "But we have the support of our husbands."
When she started, Marizelle was determined to attain the attributes that make a good stud better. "I went to successful breeders and asked them what they did and which bulls they suggest I use."
She also wanted to change the phenomenon of calving problems resulting from large-framed South Devon cattle. She now selects and breeds for a medium frame, ensuring calving ease. She is the only female breeder in the South Devon society, while Annie is one of many female Afrikaner breeders. Annie relies heavily on sheep and cattle adviser Johnny Cawood for advice, and attributes much of her stud's success to his knowledge and assistance.
All stud animals are Stud Proper, and Marizelle and Annie use Logix for record-keeping.
The sisters-in-law have a generous agreement with their husbands: they do not pay rent and have access to free labour and feed as needed. However, they are responsible for any additional costs such as stud fees and artificial insemination costs. In return, the brothers have access to the stud herds' bulls.
Two calves from the late Cornelius Klaris' commercial Afrikaner x South Devon herd. The calf on the left is 5/8 Afrikaner and 3/8 South Devon, while the calf on the right is 5/8 South Devon and 3/8 Afrikaner. Note the difference in head shape. Maintaining the desired balance means putting an Afrikaner bull to cows whose calves show more South Devon traits, and a South Devon bull to cows whose calves are more Afrikaner in appearance.
Both studs breed bulls to sell to other stud breeders as well as to commercial farmers for herd improvement. Bulls are replaced as needed to reduce the risk of disease and introduce new genetics.
Neither Marizelle nor Annie favour polled animals. According to Annie, there is a market for Afrikaner cows with horns, while Marizelle has found that, in her South Devon herd, polled animals generally have less well-muscled hindquarters. This problem is being eliminated through breeding, however.
Feeding methods
The veld in the Verkykerskop area cannot sustain large-framed animals, and consequently both the South Devons and Afrikaners are medium-framed. "The veld we have here is some of the sourest in the country," says Annie. "An animal adapted here will thrive anywhere else."
According to Marizelle, both she and Annie want to breed veld-adapted bulls.
"We don't feed them from an early age. If we overfeed a bull, it falls apart when a farmer from a harsher environment buys it.
A bull must adapt and gain weight irrespective of what part of the country it goes to," she explains.
Annie and Marizelle have sold their cattle as far afield as Clocolan, Bethlehem, the Eastern Cape, KZN, Mpumalanga and Gauteng, and their bulls have adapted well to all areas and climates.
"We go back to the farm we sold to, to see what our bulls look like. We stay in touch with the buyer telephonically and establish what the inter-calving period (ICP) was and how many cows fell pregnant," Marizelle says.
Stud bulls feed on about 60ha of Eragrostis pasture. They also receive a maximum of 1,2%/ body weight Phase D bull ration meal daily. This is based on Voermol's Phase D mix and collectively consists of four 50kg bags of SB 100, three 40kg bags of molasses meal, two 50kg bags of cotton oilcake and 12 50kg of bags milled maize. Bulls also receive 1kg of Supermol production lick daily to assist with growth during summer.
South Devon stud
Marizelle has won the South Devon breed society award for the best ICP for two consecutive years. She has also won the award for best BLUP bull. Both the president and vice-president of the South Devon society often purchase her bulls.
"South Devon cattle are extremely fertile," she explains. "We have had cases of weaner bull calves impregnating their sisters just before weaning. When we see a bull calf mounting heifers, we immediately wean and separate them."
She wants to improve the stud's ICP and her cows' milk production, because this determines weaning weights. She also wants to produce bulls with more meat, because she often sells bulls to commercial farmers who are focused on "weight, weight, weight".
Good temperament is important and all 'pushy' bulls are sold.
Marizelle has used artificial insemination twice, using semen imported from Australia. She inseminated 30 cows during her first year and 20 the following year, using semen from the bulls Davelle Awesome and Gedara Poll Zion. However, she prefers natural service as it is cheaper and has a higher conception rate.
Afrikaner Stud
A pure genetic line is important to Annie and she does not allow infusion, with some farmers correcting what they perceive as "faults in the Afrikaner". Annie wants to focus on lineage breeding, using only two strong bloodlines. She recently purchased a bull from the late Hannes de Klerk's old Patriot stud; these animals were bred from the late Steven Radley's Afrikaner stud. She has also bought a bull from Dr Pieter de Kok of Thabazimbi.
"I want to grow my cow herd numbers, but select the right cows to improve the herd. I also want to break the stigma that Afrikaners have no hindquarters," Annie says.
Three years ago Annie attained the highest price on average for her Afrikaner bulls on auction among Afrikaner breed society members. She has tapped from KD0565, also from the late Hannes de Klerk's stud. These genetics are scarce. Annie takes any opportunity to advertise and showcase her animals and plans to take hand-tamed animals to the Royal Show.
Phone Marizelle van Niekerk on 082 829 2687 or Bertie van Niekerk on 083 982 8324.