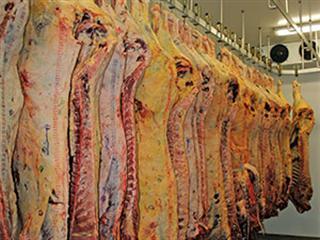 Way back in 1984 South Africa had only four annual beef carcass competitions. Since then, thanks to determined promotion and marketing by the SA Meat Industry Company (Samic), this has grown to 27 competitions. There are also 44 for lamb, three for goat meat and two for pork. There are also two beef, five lamb and three pork competitions for the developing livestock sector.
"It is estimated that around 810 commercial and 54 emergent producers currently take part in these annual carcass competitions, managed by Samic, nationwide, " says executive director, Rudi van der Westhuizen. Through the carcass competitions, Samic promotes red meat production, encourages the production of high quality red meat that meets market requirements, demonstrates the meat classification system and its advantages to red meat producers, and shows producers that desired carcass characteristics are visible on live animals.
"The red meat industry has underestimated the importance and value of our carcass competitions. The continued international emphasis on meat quality ties in with the competitions' aims to produce carcasses that satisfy market specifications and consumer requirements," says Rudi. The competition cycle starts on 1 July and ends on 30 June.
Regional competitions held across the country are accessible to all red meat producers. Finalists from the regionals go forward to the national competition. While each regional competition is hosted by the host event organisers, such as the annual Royal Show in Pietermaritzburg, Samic manages the judging and the results.
Carcasses for consumers
Dirk Zandeberg is a respected Samic-employed judge of several regional carcass competitions. He explains that carcass judging criteria include carcass conformation, carcass fat measurements, carcass fat grading and carcass weight. These criteria are collectively scored to give a total out of 100. Extensive judging sub-categories fall under each of the listed criteria. Sub-categories are adjusted for the breed.
"Red meat farmers produce animals that meet requirements for consumer needs and for profitability," explains Dirk. "Consumers typically want meat with a lower fat content and carcasses graded Class 2 fat content are ideal. Fatter animals are less profitable for producers, wasting grazing and feed and achieving lower prices. "A better conformation on livestock means more meat and heavier carcasses, and therefore a premium price for the producer. "Butcheries and meat processors also benefit from the higher meat-to-bone ratio of a good carcass."
Finishing for quality carcasses
Ulrich Muller, a technical manager at Voermol Feeds, says that a farmer aiming to produce a top quality carcass should feed his animals a well-balanced diet like those typically used in commercial feedlot operations. "A producer should not start on-farm fattening too early or the animals will get over-fat. Fattening should not start too late because this will lead to health problems in the animals," he says. "The producer must choose a quality steer with the right conformation that can convert feed well and produce a top grade carcass falling within the prescribed weight limits.
"My first choice is a complete feed. This reduces risk as every mouthful is balanced. Complete feed gives more control over diet. It takes between 100 and 120 days to fatten a beef animal properly." The same rules apply for top quality lamb carcasses, says Ulrich. "My first choice here is also a complete feed for the reasons I have already described. One needs about 70 days to fatten a lamb for slaughter."
Handling and transport
Ulrich recommends that animals should not be tightly packed onto a vehicle for transport from the farm to the competition venue, and from the competition venue to the abattoir. Loading and offloading facilities should enable smooth, low-stress animal flow. "Poor loading, transporting, and offloading facilities stress the animals and increase the risk of undesirable carcass bruising," says Ulrich.

Carcass evaluation
Mark Barlow, also of Voermol Feeds, explains that because there are so many important factors to producing a top quality carcass, red meat producers would be well-advised to attend the three-day Livestock Judging and Carcass Evaluation Course presented by the SA Livestock Judging Association and Samic in September every year. During the course, farmers learn to evaluate carcass quality on the hoof.
Dirk believes detailed records are important for livestock farmers to know how efficient their meat production processes are. Records help to inform farmers and direct them towards the best possible outcomes. "Comparisons with top breeders and producers can show you how well your production methods work and where you can improve it," says Dirk.
"Livestock producers must be able to evaluate the-on-the-hoof characteristics of an animal that will impact the carcass quality. Then they can make the necessary improvements for best profitability and consumer satisfaction." Rudi points out that in the 2011/12 carcass competition year, 6 820 beef, lamb, goat and pork carcasses were entered by established producers, and 441 beef, lamb, goat and pork carcasses were entered by developing farmers.
Rudi continues, "The quality of the entries received in the 2011/2012 cycle has been of the highest since the start of the competition 28 years ago. The summary of the results (see Table 1) supports this statement. However, there are still opportunities for increased participation by developing farmers. "Despite unfavourable economic conditions worldwide, red meat in South Africa continues to be favoured by all our consumers and the Samic Carcass Competition can take some credit for this."
Contact Rudi van der Westhuizen on 012 361 4545 or email www.samic.co.za
For more information on the SA Livestock Judging Association's and Samic's three-day Livestock Judging and Carcass Evaluation Course, contact Mark Barlow at [email protected]