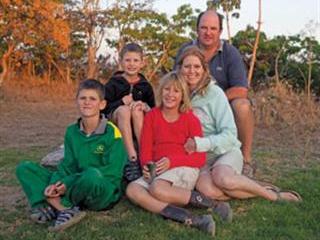 A tent. A farming family with three small children. Miles of untouched African bushveld. And weeks of waiting while a humble homestead is built from the foundation up. It's a scenario that one would associate with the pioneers of the 19th and early 20th centuries. Yet this was the way Mark and Nicky Myatt-Taylor were living in the southern highlands of Tanzania in East Africa in 2005. And from these small beginnings has sprung the base of the thriving Selous Farming Limited (SFL) business.
From 1992 to 2005, Mark and Nicky were employed as managers of a mixed farming operation on the slopes of Mount Kenya. They also had their own small Woragus Boran stud, not only to generate additional income, but to satisfy Mark's passion to work with this African breed that he describes to anyone within earshot as the hardiest of its type in the world.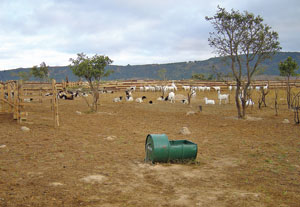 In the early days, Mark and Alistair used whatever materials they had available to establish drinking troughs as swiftly as possible. Dorper sheep and Somali goats are in the background.
The couple had always yearned for their own farm, and their research showed that affordable land and agribusiness opportunities were available in Tanzania. At the time, for example, the country had no Boran, Santa Gertrudis or Dorper sheep stud. And in the southern rural parts, even basic protein food products, such as eggs, milk, beef, chicken and lamb, were in short supply.
In 2005, therefore, in partnership with Mark's South African-based brother, David Gadney, and retired Tanzanian politician, Dr Ben Moshi, the Myatt-Taylors bought two properties in Tanzania: 1 481ha of undeveloped bushveld in the Ifunda area of Tanzania's Iringa Province, and the 1 410ha Ludodolelo farm in the high-altitude Makete district 250km from Ifunda. The undeveloped Ifunda property would become the base of the business and the family's home. At this stage, the couple already had two children, Paige (5) and Tom (2), and Nicky was pregnant with Oli.
The move
The planned enterprises of what would become SFL were commercial white maize for the local Iringa market, French bean seed for Starke Ayres and commercial wheat for the market in Dar es Salaam 550km away. Boran and Santa Gertrudis beef and Dorper sheep studs would supply production stock to Tanzania's livestock farmers, with the beef studs operating under the name Woragus in trust for Mark and Nicky's children.
"When we moved from Mount Kenya to Ifunda, we had 300 registered Boran, 20 registered Santa Gertrudis and 100 registered Dorper," recalls Mark. These had to be conveyed over dangerous, poorly maintained roads with roadblocks manned by "difficult police officers". It's a 1 500km trip – one way – and there is a tedious border crossing to negotiate each time.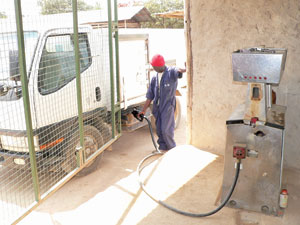 SFL driver Wilbert Mfugale fills one of the operation's trucks from Ifunda farm's 9 000l tank. The nearest town with diesel pumps is 50km away.
"It took 14 trips of 60 hours each for our 30t truck to bring all of the livestock to Ifunda," says Mark. "It also took two truckloads to bring all of our household goods and three truckloads to bring the farm equipment. The entire move took three months and cost hundreds of thousands of US dollars, which depleted our savings."
Nicky explains that, despite these challenges, they looked forward eagerly to their new life as true pioneers. They would have the excitement of carving their farm out of virgin bushveld; there was absolutely no infrastructure – no fences, no piped water and no buildings. A disturbing incident occurred early during the move. "We had left the Dorpers with a trusted Kenyan employee, Julius Kangoita, while we returned to Kenya for another load," says Mark.
"Julius had two Boerboels, a tent, supplies, and a shotgun for protection. The very first night that he was on the property alone he was raided by stock thieves, but he successfully frightened them off with a few well-placed shots. I was very proud of him." To complicate matters even more, Nicky gave birth to Oli in Nairobi in the middle of the move.
Breaking ground
On 29 May 2005, on his 33rd birthday, Mark and Nicky's late brother Alistair broke ground on Ifunda farm. Nicky was in Nairobi with Paige, Tom and newborn Oli at the time, but as soon as Oli had received his six-week vaccinations, she and the children moved into a tent on Ifunda.
The first order of business for Mark, Alistair and SFL's employees was to set up the two centre pivot irrigation systems, the first covering 64ha and the second 28ha. Water for irrigation would come from a nearby river and its surrounding swamps. In his first six months on Ifunda, Alistair cleared 330ha of bushveld with a Caterpillar D6 bulldozer to make way for crop lands and other farm infrastructure.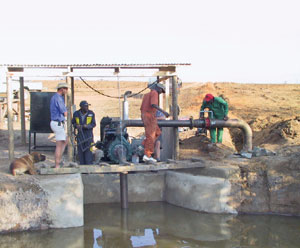 Nicky's late brother, Alistair (far left), oversees the installation of the generator-powered pump for providing water to Ifunda farm's new 64ha centre pivot irrigation system in 2005. Courtesy of Selous Farming Ltd
Set up six months apart, each centre pivot required its own pump station and irrigation dam, all of which were built by Mark and his team. They also erected 9km of nine-strand electric fencing around the farm and 10km of internal livestock fencing and electrified fencing around the workshop area and homesteads.
Settling down
According to Mark, it took the cattle six months and the sheep a year to adapt to their new environment, which was vastly different to the slopes of Mount Kenya. While no cattle died during this time, they struggled to regain their previous condition. However, more than 50 Dorpers died during the first 12 months as a result of heartwater transmitted by African bont ticks.
Livestock handling equipment, such as scales, a spray race and an embryo neck clamp, were imported from Tal-Tec in Brits, South Africa, a 14-day trip by road.
To supply their livestock with water, Mark, Alistair and the SFL staff built 16 troughs, some ingeniously designed to use fresh spring water straight from the source. In November 2007, tragedy struck the family when Alistair was killed in a motorcycle accident on the farm. Mark had lost not only his brother-in-law, but an invaluable team member, and the loss was keenly felt. He and Nicky nonetheless pressed on and in seven years have managed to create a successful mixed farming business.
Coping with isolation
Farming in the middle of nowhere has required adaptation, ingenuity and not a little patience. The Myatt-Taylors lived in a tent for a month while waiting for their small house to be built. Since then, they have gradually expanded their home into a comfortable dwelling. At the same time, the challenges of living far from amenities have had to be met, one by one.
Providing power was one of their first considerations. Electricity was needed for the homesteads, centre pivots, workshops and on-farm abattoir, and Mark installed several diesel-powered generators for this purpose. To save on fuel costs, the generator powering the homesteads and workshop is switched off every night from 9pm until 6am, and batteries provide limited power for this period.
Education was among their chief priorities. Nicky home-schooled all three children until they were old enough to board at Pembroke House in Gilgil, Kenya. Since then, however, the couple have taken every possible opportunity to spend time with the children, not only transporting them to and from school, but visiting them during term time. This involves either flying or driving – a 3 000km round-trip on poor roads.
The lack of medical facilities nearby proved another challenge. "Our medical aid includes 'medivac' cover," explains Nicky. "If any of us is injured or falls ill, we'll be collected by air ambulance from the farm's grass airstrip and flown to hospital in Kenya or in South Africa. At various times, Mark, Oli and I have had to be medivaced to hospital." Providing veterinary care for their livestock is no easy matter either.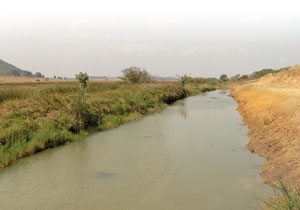 A canal, constructed by Mark, leads water from the nearby river to provide water for the centre pivots.
"There are no vets in our area," says Mark. "So I have to be my own vet, although I'm helped considerably by one of my employees, Joshua Likundi, who looks after the animals' health and also takes care of the artificial insemination. Most of our veterinary pharmaceuticals have to be ordered from a supplier 1 000km away in Arusha in northern Tanzania."
Mark has to adopt a similar approach to spare parts for his equipment. With the nearest tractor dealership in Dar es Salaam, it can take weeks for orders to arrive, so he keeps an on-site stock of essentials such as oil filters. He has also installed a 9 000l tank and pump for diesel and stores drums of lubricating oils. The Myatt-Taylors buy their domestic and personal essentials every few months from Dar es Salaam.
With the bad state of the roads, they prefer to drive the 50km to Iringa and catch the daily flight to Dar es Salaam in a 12-passenger Cessna Caravan, which is often fully booked.
Feeding the family
The Myatt-Taylors are largely self-sufficient in food. Fruit and vegetables are grown in the garden and orchards, while their livestock and the on-farm abattoir provide fresh beef, lamb, chicken, eggs and milk. The farm even has a hammer mill to grind wheat for fresh home-made bread. "Nonetheless, we have to visit the shops for all the 'essential luxuries' – kids' cereals, Marmite, chocolate, and of course, wine," laughs Nicky.
It's clear that they revel in their lifestyle and take deep pleasure at the success they have achieved. "We find it satisfying to know that we built this farm up from absolutely nothing," says Mark. "And it's a joy that our kids love it here. It's a safe environment for them, too." Both he and Nicky admit, however, that the travelling can prove tedious.
"We're often very busy on the farm and can never just drop everything and go if there's an emergency with one of the kids at boarding school. Our trips have to be planned," explains Nicky. Despite Ifunda's isolation, loneliness is not a problem. "We enjoy each other's company, which makes a big difference," says Mark. "But we still have an open invitation to any of our friends who happen to be passing by to spend a few nights with us."
The farming operation of Selous Farming Limited will be explored in next week's issue.
Contact Mark Myatt-Taylor on +255 784 281 224, or email [email protected]