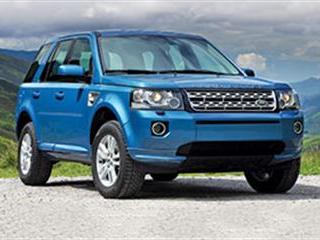 For much of the time, returning a vehicle after reviewing it is a straightforward affair. The job has been done, the various boxes ticked – or not – and one simply drives it back to the manufacturer. On rare occasions, though, returning the car is a wrench; the week has passed all too quickly. The Land Rover Freelander 2 HSE falls squarely into the second category.
Admittedly, much of the vehicle's appeal to my wife and me stemmed from the fact that the luxury and power of this vehicle are a far cry from our everyday driving experience. But I'm fairly confident that even regular drivers of top-end vehicles would find it difficult to fault the Freelander 2. Land Rover states that its Freelander 2 is designed for "town or country".
I could not agree more.
At the heart of this beauty is the new 2,0l, four-cylinder Si4 turbocharged petrol engine, capable of 177kW of power at 5 500rpm and 340Nm of torque at 1 750rpm. It powers the six-speed automatic, permanent all-wheel-drive luxury HSE variant so competently that I was able to drive across vastly differing terrains in the KwaZulu-Natal Midlands.
Hi-tech gadgetry on board
The Freelander 2 is a marvel of modern motoring technology. It has numerous gizmos and gadgets that you can control from your driving or passenger position. Some are solely for your comfort; the remainder are for your safe and efficient travel. For example, all the latest Freelander 2 models come with Land Rover's remarkable terrain response system that allows the driver, at the simple push of a button, to select one of four programmes for different driving conditions: general driving, grass/gravel/snow, mud and ruts, and sand.

The dash-mounted touchscreen can be used as a GPS, on-board audio and hands-free cellphone control tool, and to project images from the reversing camera.
The on-board computer immediately adjusts the vehicle's powertrain and traction control to maintain optimal power and handling performance. Complementing the terrain response system are the Freelander 2's array of stability control features that Land Rover describes as "designed to enhance traction by reducing engine torque and applying a unique braking force to each individual wheel where driving conditions dictate".
These features include an anti-lock braking system, electronic brake-force distribution, emergency brake assist, cornering brake control, electronic traction control, dynamic stability control, and roll stability control. For particularly steep and slippery descents, the Freelander 2 is fitted with hill descent control. And it also takes care of the upslope: the helpful gradient release control prevents your rolling back or stalling as you drive off.
Enhancing these safety features are seven airbags in the five-seater interior, front and rear park-assist, and a dashboard-mounted screen that projects images from the reversing camera and doubles as a touch screen for numerous audio system and on-board GPS controls. There are also steering-mounted controls for cruise control, audio control and hands-free cellphone connectivity.
For the comfort of passengers, the Freelander 2 HSE includes features such as climate control, an electric panoramic sunroof, 3 x 12V power access points, a rear centre armrest with cup holders, and stadium seating – the rear occupants sit 5cm higher than those in front for a better view.
Spacious to boot
The Freelander 2 comes into its own on the family holiday. On-board loading capacity is impressive, especially given that the boot space does not look particularly big from the outside. With the rear seats up, the Freelander 2's load space has a 755l capacity, but with the rear seats folded down, this increases dramatically to 1 670l.
The Freelander 2 can easily tow an unbraked trailer of up to 750kg and braked trailer of up to 2 000kg. To assist the driver with towing tasks, the vehicle comes with a trailer stability assist system. If your holiday destination is off the beaten track, rest assured that you can safely drive your refined-looking Freelander 2 in many areas that lesser fellow sports utility vehicles would balk at.
The Freelander 2 has a 31° approach angle and its front axle can clear obstacles up to 21cm high. Its departure angle is 34° and its rear axle can clear obstacles up to 26,5cm high. The ramp breakover angle is 23°. A maximum wading depth of 50cm will easily get you through rain-filled ditches.The Freelander 2's 2,0l Si4 engine can accelerate to 100km/h in an exhilarating 8,8 seconds, and achieve a 200km/h top speed. Fuel capacity is 70l and Land Rover claims an average 7,5l/100km consumption on the open road, 13,5l/100km in urban driving conditions, and 9,6l/100km combined.

Choose your model
Land Rover's newest range of Freelander 2s starts with the entry level S-model priced from R433 500. Then comes the SE-model, priced from R496 500, the Dynamic model, from R500 400, and finally the top-of-the-range HSE, from R545 500. All of these models come in both diesel and petrol, and new owners can have their Freelander 2 model of choice kitted out with a selection of optional extras available to each particular model. All new Land Rovers come with a 36-month or 100 000km warranty and roadside assistance programme.
Contact 0860 110 090, or email [email protected]. Alternatively, visit www.landrover.com/za/en/lr.