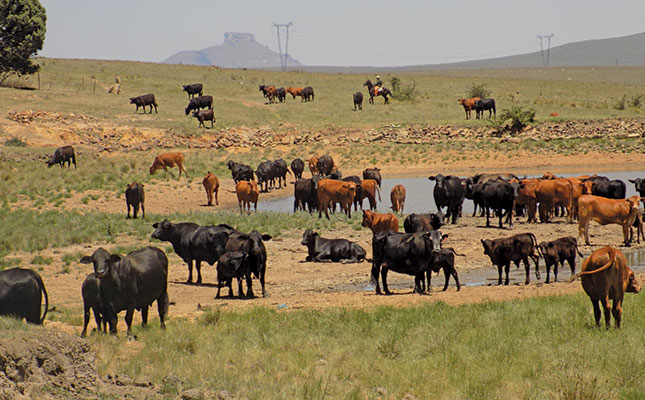 Dr Elsie Campher's father, Jannie Campher (93), is one of the founding fathers of the Brangus breed in South Africa. She is committed to continuing his hard work by reviving the stud, which was founded in the 1960s, but lapsed in 2003.
READ Better veld management a boon for livestock farmers
Her objective is to breed cattle according to his breeding values, which include ongoing selection for fertility, efficiency and adaptability, as well as the use of veld-tested bulls that are officially branded and certified by the Veld Bull-Ram Organisation of Southern Africa (VBRSA).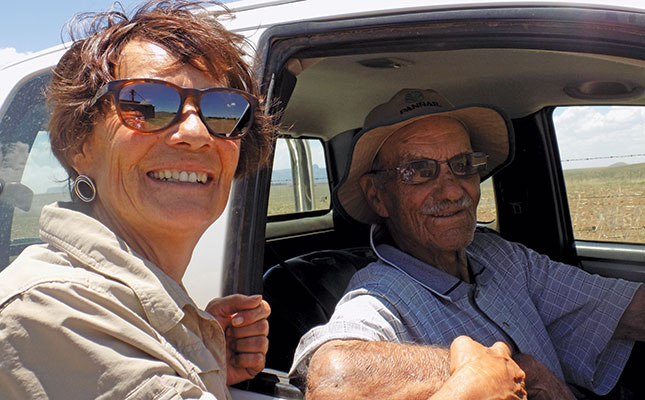 Campher, who obtained her PhD in organisational development, re-established the stud herd in 2015. The Helpmekaar Stud is run on a 2 200ha farm in Harrismith, near Kerkenberg, in the Free State.
Outstanding genetics
Campher describes the Brangus cow as the ninth wonder of the world. "A Brangus cow does not merely adapt, but actually thrives in the most challenging of environments. Her superior maternal ability results in calves with exceptional weaning weights. The increased weight is what makes money for the cattleman."
Helpmekaar Brangus cows are required to produce and wean a calf weighing at least 50% of its mother's weight every year. Campher's stud animals weigh an average of 33kg at birth, and weigh around 220kg to 260kg at weaning.
John Rafferty, breed director of the Brangus Cattle Breeders' Society of South Africa, says the Helpmekaar cows represent outstanding genetics, and that it is good news for the industry that the stud is being revived.
However, Rafferty says that as the stud had been dormant for a while, the registration status of all the stud animals must be accumulated and corrected. With the assistance of DNA parentage tests to verify the pedigree accuracy for eventual Stud Book inclusion, all dormant data of the stud is now being added to the current Brangus registration base.
The stud consists of 280 cows, with 336 cows on the calf book, made up of animals that have yet to be inspected by the society for registration.
Testing on the veld
VBRSA bulls form the basis of the herd. They are evaluated for traits such as growth, temperament, muscling and scrotum size during the veld testing period, which lasts between 120 and 150 days.
A specific value is attached to every trait and eventually expressed as an economic index.
Fifty-five Helpmekaar bulls have been put through the test so far.
"These economic indices are clear and proven indications of the potential genetic contribution a bull can make to my stud-breeding business. It also enables me to do selective breeding by introducing bulls that meet my herd's specific breeding requirements at a given time," says Campher.
READ Better results with a single-breed herd on the Highveld
"The herd is kept on the veld. Hardy, veld-adapted bulls and offspring are of the essence for our extensive farming conditions."
The stud heifers are also put through veld testing.
Heifers are evaluated on growth, temperament, condition and muscling.
"They are also tested for feminity. This includes matters such as udder placement, a feminine head and conformation. The females are tested for the same period as the bulls. The more information gained, the more accurate data is collected," she explains.
Beef cattle bulls and sheep rams marketed as VBRSA-tested must be officially branded and certified, says Dr Hannes Dreyer, managing director of VBRSA. The aim of the VBRSA is to provide veld-adapted animals that have been rigorously tested on the veld.
"About 60% of South Africa's red meat originates from feedlots, but the majority by far of the slaughter animals are produced under extensive veld conditions," says Dreyer. "That is why optimal performance on veld is so important."
Dreyer says adaptability, specifically "rumen-fitness", and fertility are crucial selection criteria. An animal with a well-functioning rumen will be able to convert roughage into nutrition effectively.
For instance, fat deposits on the testes negatively affect fertility, as is often the case with bulls that are fattened for auctions. "We have found that using tested, high-scoring veld bulls usually results in increased gestation and calving rates, increasing the production per hectare markedly."
Nevertheless, Dreyer says that a veld test is not a survival camp: the animals are tested under normal conditions on the owner's land or at a central VBRSA location. The tests are planned for the optimal veld growth season, and lick supplementation is allowed.
A calf every year
It is vital that weaners sourced from the veld come from strong, well-adapted mothers that are able to produce and raise a calf every year.
These cows must be able to effectively convert grazing into growth, fertility, milk, and weaners with high weights, amongst others. Campher says high-scoring veld-adapted bulls produce strong, efficient heifers to eventually replace their mothers.
On the veld
Campher says beef cattle production is all about optimal, rather than maximum, beef production per hectare.
Optimal production is about ensuring the best possible outcome using available resources, while maximum production is about output without any consideration of the sustainability of resources.
READ Feeding cattle: learn the basics
Campher, who holds an honours degree in plant biochemistry, says she is "a manager of photosynthesis" so as to derive the optimum nutrition from the farm.
The farm's sourveld grazing consists mainly of perennial tussock-forming red grass (Themeda triandra), and the stocking rate is kept at 1 MLU/4ha. Campher follows a holistic veld management system.
She says constant grazing equals overgrazing; the animals are moved between camps every 10 to 14 days to ensure that there is enough foliage left to produce nutrients for the roots.
Plants thus form the cornerstone of any livestock production concern, and it is vital that the veld is managed in a sustainable manner, she says.
As cattle prefer more palatable grazing, these species could be seriously damaged by continued grazing. Rapid rotation thus allows the more valuable grasses to photosynthesise sooner, Campher explains.
She is in the process of redesigning the camp system on the farm.
"What happens below the surface is more important than what happens above. It makes sense not to destroy plants' roots through overgrazing."
Campher plants cover crops such as oats, ryegrass, sugar graze, cow peas, common vetch and fodder radishes on the 150ha maize and soya bean lands.
These are not ploughed back into the soil, but left as winter grazing. "Last season was the first time I used the cover crops as grazing for first-calving heifers, and I am pleased to say that we achieved a 99% pregnancy rate."
High-quality meat
Campher values the use of ultrasonic carcass scanning for eye muscle and marbling. The eye muscle area is directly correlated with muscling, while marbling is correlated with meat quality. Thus, the higher the marbling, the higher the meat quality.
All the Helpmekaar animals are scanned at the end of the veld bull tests.
"Measure, measure, measure, that is my motto. I annually cull the poorest performing 20% of the stud.
"Without record-keeping it would have been impossible to identify poor performers."
Contact Elsie Campher on [email protected].