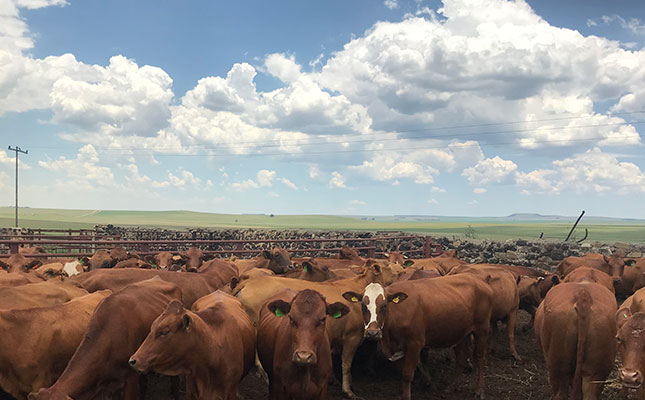 Based near Amersfoort, Mpumalanga, Afrikan Farms is a diversified commercial enterprise, with cattle farming as its core business. In 2000, through the Vusi Khanyile Family Trust, the Khanyile family bought farming land on auction and immediately started their operation.
About two years later, the business corporatised with the establishment of Afrikan Farms (Pty) Ltd.
The business comprises four farms, all sharing boundaries, spread over 4 709ha. They are Zwelihle (the centre of the family's cattle farming operations), Vaalpoort, Zoetfontein and Broederstroom. The last three are used for sheep farming and as grazing land.
The management team comprises predominantly people in their 30s.
"Having diverse skills has helped us to manage the farm better," says general manager Phakade Khanyile, the son of Vusi.
He runs the farm with cattle manager Nsika Shabalala, feedlot manager Sibongeleni Mthenjwa, COO Siphiwe Kumalo, and technical manager Thinus de Jager. The directors of the company are Vusi, Ndoni Khanyile and Mthenjwa.
Not just cattle
Afrikan Farms' activities comprise animal husbandry, crop farming and apple production. This includes managing a commercial herd of breeding cattle, sheep farming and an experimental piggery. A cattle feedlot is a recent addition.
Eragrostis grass is grown for baling, and Kikuyu, clover and ryegrass are planted for grazing. The farms' carrying capacity is approximately 1 MLU/2,5ha.
The enterprise has entered into a partnership with a neighbouring farm, BB Boerdery Agri Trust, to form a subsidiary company called WeGrow Farming Enterprise, mainly for community development.
This plants 1 600ha to maize (70%) and soya bean (30%), which are also used for feed production. Planting equipment is shared by both parties.
The area receives about 600mm of rainfall a year, and rainwater is harvested. Boreholes and dams are used to augment the water supply.
In 2016, Afrikan Farms introduced a feedlot and finishing system to supply abattoirs directly and thus enhance profitability. The on-farm feedlot can carry about 400 cattle at a time, and supplies mainly the Volksrust Meatco Abattoir.
According to feedlot manager Mthenjwa, the enterprise is doing well but there is room for improvement. The feeding period is 150 days, and the gain per animal is 1,8kg/day on average.
Breed type and production system
Cattle manager Shabalala explains that when the family established its commercial herd in 2003, there was a mixture of different breeds on the farm. About 70% were Red Angus type, and the herd comprised approximately 400 cows and 20 bulls.
"We started breeding with Beefmaster genetics in 2010 after the area suffered an outbreak of trichiamoniasis," he recalls. "We had to source bulls from other farmers during that time, and decided to focus on a single breed for our herd. Cattle consultant Barry Symons advised us that Beefmasters are more suitable for the Highveld region.
The breed was chosen for its adaptability to the tough conditions, affordability of the breeding bulls, docile calves and a desired weaning weight.Farming with a uniform breed makes it easier to service the abattoirs we supply."
Shabalala says they started replacing about 10% of the bull herd with Beefmaster bulls annually. Breeding bulls are now kept for five years to improve genetics in the herd and to minimise transmission of diseases generally, as well as the devastating effects of venereal diseases such as trichomoniasis on herd profitability.
Older bulls are sold at auctions.
"Previously, only natural mating was used, but we started implementing artificial insemination [AI] in the spring of 2014 because we wanted to push the majority of the cows to calve early. We inseminate half the herd via AI annually," he says.
The heifer:bull ratio is 1:30. Immediately after AI is performed, the bulls are introduced into the herd to give heifers and cows that failed to conceive another chance, and to service cows and heifers that did not undergo AI.
A single breeding season
''Before 2014, an average of about 460 calves were born each year, and that number has doubled,'' Shabalala says.
The cow herd is currently 1 054 head strong, and there are 60 bulls, 380 heifers and 683 calves.
The herd has a conception rate of about 85%, a calving rate of 80% and a weaning rate of 70%."A single breeding season is best for our environment. The breeding season runs from October to December and calving occurs between July and September.
Calves are weaned around March. This programme ensures that during the calving period we have maize available, and it's close to spring when the grass turns rich and green.
"The average intercalving period is under 400 days. In the past, the calving percentage was very low as we didn't have enough experience of managing beef cattle. No clear records were kept," he says.
About 80% of heifers are selected to join the main breeding herd. After being weaned and backgrounded on the veld for one month, the male calves are sent to the feedlot for four months until they are sold to an abattoir or slaughtered.
The weaning weight for calves going to feedlot is between 210kg and 220kg. The target weight when they leave the feedlot is 420kg to 450kg. The weaning weight for the young heifers is 200kg to 220kg, and they are kept on the veld for a year and mated in autumn.
Heifers need to weigh above 300kg by the time they are mated. The heifers that are not due to be part of the herd are sold to the Highveld Breeders' Group. Afrikan Farms became a member of the Agricultural Research Council's (ARC's) National Beef Cattle Improvement Scheme in 2016.
Following this, it implemented performance testing and recording. Within three days of birth, calves are given identity numbers via tags and brand marks. Two of the farm's personnel were also sent to the ARC to attend a course that focused on the use and implementation of best linear unbiased prediction (BLUP) breeding value technology for commercial farmers.
Through the course, they also acquired skills that enabled them to interpret an auction catalogue when buying stud bulls.
Winning top awards
In 2018, Afrikan Farms won the ARC National Commercial Beef Producer of the Year award. Every year, the ARC aims to recognise a commercial beef producer who participates in performance testing and has made great progress in his or her enterprise through applying performance- recording technology.
Plans for the future
Afrikan Farms sees itself as a developing commercial farming business that uses sustainable agricultural methods, such as appropriate grazing practices that promote a healthy ecology, coupled with sound business practices.
To be sustainable, it recognises that it has to continue employing these practices over the next three to five years to meet the required threshold return on the capital invested.
Afrikan Farms has also adopted a number of ecologically sensitive practices to reduce its dependence on fertilised pastures.
For example, it invests adequately in dam infrastructure to ensure water availability and supply to support the herd and supplement the limited rain in early spring and late summer.
It is also building relationships with stakeholders in the sector to help ensure its success, and is seeking to increase its transformation initiatives involving its employees and development initiatives for the local community.
It is currently expanding its cattle, sheep and high-value export crops, and is establishing a 4ha apple orchard on Zwelihle farm. Through WeGrow Farming Enterprise, the business is in the planning stages of establishing a piggery unit with 1 200 sows. The long-term plan is to farm 9 600 sows.
Email Afrikan Farms at [email protected]