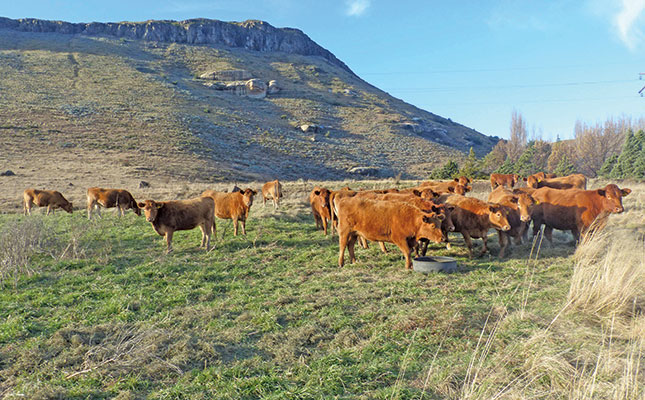 "Our family's long association with the South Devon breed has now been registered
in a system of science and measurement," says PD Roets, the fourth generation of his family to farm these cattle in the Eastern Cape highlands, but the first to register a stud.
This took place five years ago. "I love the South Devon and wanted to better manage the breed's [genetic] potential in my beef operation. There are costs associated [with having a stud], but they're a small price to pay for crucial benefits like being more scientific about selecting cows.
You can't farm effectively by bringing in cows at weaning and culling the poor-looking ones, because they could be the best-producing animals."
Continuing a South Devon Legacy 
Today, Roets's South Devon enterprise consists of 120 medium-framed stud and 80 commercial breeding females. It forms part of an extensive livestock operation, which includes Merinos, on 3 600ha in the Barkly East district.
Part of this area comprises the Roets family farm, Percivale. The South Devons are run exclusively on the veld, while 50ha of pastures are used for the lambing of 900 Merino ewes and to fatten livestock before they are culled for the market.
Roets's great-grandfather, Jannie, started crossing South Devons with Afrikaners on the family farm in the 1930s. This programme laid the foundation for his son, JPJ, and Jannie (his grandson, PD's father) to run hardy and adapted commercial South Devons in the rugged and cold mountainous country of the extreme north-eastern Cape.
"They're medium-framed cattle that can walk the mountains," says Roets. "Also, the cold can be harsh on cattle, but the South Devon has a thick coat, which it loses in summer." Having grown up with South Devons, Roets unsurprisingly developed an affinity for the breed.
This later turned into a dogged determination to be the first Roets to register a stud. After matriculating at Marlow Agricultural High School in Cradock in 2006, he spent a
year on the farm.
He then went to work for an irrigation company in Kansas in the US, earning enough money to purchase 20 top commercial South Devon cows from his father. This investment in 2009 kick-started Roets's journey towards registering the Percivale South Devon Stud within the family farming operation.
Acquiring and marketing genetics
From 2009, Roets began to build genetic diversity in his herd by acquiring bulls from the respected (albeit now deregistered) Andiro South Devon herd of Ian Turnbull near Barkly East. In 2016, he bought his first stud bull, JM 14 1806, from the Miller family near Cathcart, owners of the Winston South Devon Stud.
This animal has proved hugely influential. "Buying him was one of my best decisions. I still use him in the stud and commercial herds," says Roets. Another notable acquisition was the 2018South Devon BLUP Bull of the Year from the Bellary South Devon Stud of Dan Kriek near Tweeling in the Free State.
And in recent years, Roets has also acquired Winston South Devon Stud bulls bred from polled New Zealand South Devon genetics. In addition, he has focused on purchasing quality female animals to boost the genetic depthof his herd.
In 2018, for example, he bought 25 heifers (some fully registered with SA Stud Book, and others Appendix A animals), followed by 20 in-calf stud cows in 2019, all from the Millers.
By 2019, Roets had marketed three performance tested (Phase D) Percivale South Devon
Stud bulls at the annual Winston South Devon Production Sale. This sale has represented a valuable marketing platform for the genetics built up by Roets, and he achieved a top price of R50 000 for a bull in 2020.
He also sells a few bulls annually from Percivale and breeds a significant number of his own bulls for use in both his stud and commercial herds.
Productive female animals
Although he regards the production of top-quality bulls as crucial, Roets stresses the importance of breeding hardy and fertile female animals that produce fast-growing calves. His mediumframed cows, weighing on average 490kg at weaning, are expected to produce on the veld with a protein lick in winter and a phosphate lick in summer.
They are treated for internal and external parasites in July, and six weeks before mating to ensure optimal production. The bulls are put to the cows in single-sire herds in a breeding season starting on 20 November and lasting for three months.
Conception rates of 95% to 99% have been achieved, although in the current season, an outbreak of three-day stiff-sickness pushed the conception rate down to just below 90%. The herd's exceptional fertility is perhaps best illustrated by the fact that it achieved
the best average herd intercalving period of all South African South Devon studs for the past four consecutive years.
This year, the herd achieved an average intercalving period of 368 days. Heifers go to the bull for the first time at two years at an average weight of 400kg, as they require time to grow out sufficiently on the tough, extensive conditions of Barkly East before mating.
Cows wean just over 50% of their own weight, producing weaners with an average weight of between 220kg and 250kg, with the oldest at weaning being seven months and the youngest four months old.
All high-quality weaned heifers are retained in the stud herd, and those that don't make selection are used as replacements in the commercial herd.
To improve selection pressure in the herd, Roets plans to boost his stud to as many as 450 animals at the expense of his Merinos. Asked if he has any regrets about registering a stud, he replies: "I have only one that I didn't start earlier! Managing a stud has been a pleasure, especially as South Devon breeders like the Millers have been so helpfull"
Phone PD Roets on 082 645 9373, or email him at [email protected].