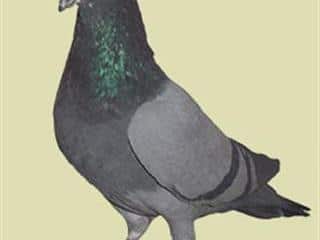 Ben van Greunen was introduced to pigeon racing in 1984 by Ronnie Cooks. He currently participates in the Emfuleni Pigeon Racing Club and the Specialist Racing Pigeon Club. Emfuleni is one of seven clubs that form the Vaal Pigeon Union, while the Specialist Club is one of five that form the Specialist Federation. There are about 80 members in the union and about 50 in the federation.
The average number of pigeons entered into each Saturday race is 700 for the Federation and 1 300 for the Union. These numbers might not be high, but the strength of the competition shouldn't be underestimated. Ben's performance highlights include:
Emfuleni champion in 2011 and 2012, second in the Vaal Pigeon Union and first in the Specialist Federation.

2012 club champion, short distance series.

First and second from Leeu-Gamka in 2012, with a 46-minute lead.

First and second from Leeu-Gamka in 2011, with a lead of almost two hours.

Scored 13 first places in club races in the combined 2010 and 2011 seasons.

2011 club champion, long distance.
Breeding
Ben's foundation stock is based on pigeons from the Gerhard and Oscar Catrysse lines (from Ronnie Cooks), Louis Van Loon (from Remi Pluym), Jeff, Luc and Nadia Houben and pigeons from the Janssens Brothers obtained from various sources. He follows a standard breeding technique practised by champion fanciers worldwide. The progeny of the different lines are first tested for quality and those suitable for stock are first line-bred and inbred to preserve the favourable genes. Cross-breeding is then done to produce hybrid vigour.
The strength of Ben's loft is based on six 'click pairs' that breed winners every season. This is a major advantage and Ben advises fanciers to study the physical conformity and wing structures of 'click pairs' in champion lofts and how they 'knit' to breed extraordinary offspring. "Experiment with different matings in your own loft until you find a match that clicks and put it to good use, building around its offspring," he says.
Training and Loft
When it comes to training, Ben believes in keeping it simple. After gradually increasing the time the pigeons spend on the wing, routine exercise is stabilised to 45 minutes of home training around the loft twice a day. On Wednesdays the race team gets a road training flight of 60km. The pigeons not entered into the Saturday race get a road training flight of 120km.
Regarding the pigeon loft, Ben says: "An ideal pigeon loft does not need to look like a palace. It should simply be constructed to provide effective ventilation and a minimum fluctuation between night- and day-time temperatures." There should also be enough space for each pigeon to allow for comfortable movement in the loft and a stress-free night's sleep.
Tips for beginners
Fanciers entering the sport should seek out a champion in their area who's willing to take time out to teach them the basics of competitive pigeon racing, says Ben. "All in all, success comes with experience and on-the-job training. Look at the results sheet and pick the best-performing pigeon, taking into account the consistency of its foundation stock.
"Testing a couple of youngsters from your best matings in one-day pigeon racing lofts can save you a lot of time and energy," continues Ben. "Don't embark on hasty cullings," he adds, "but give your pigeons a fair chance – some pigeons perform better as two-year-olds."
Contact Thomas Smit on 011 680 4778 or at [email protected]. Please state 'Pigeons' in the subject line of your email.