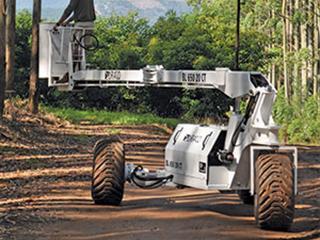 Based in Pinetown, KwaZulu-Natal, Protea Engineering aims to produce a range of self-propelled work platforms to serve citrus, avocado and deciduous fruit farmers. The first of these, the highly versatile Draco, was recently demonstrated on Nic Human's Pigeon Hole avocado farm near Tzaneen, Limpopo.
The unit has a 1 028cc Lombardini LDW1003 19,5kW liquid-cooled diesel engine powering an hydraulic pump. The drive wheels can be slewed sideways hydraulically, allowing the machine to 'crab steer' with the three-wheeled base unit travelling between the rows with the platform to the left or right. This means the centre of gravity is always safely midway between the points where the drive wheels are in contact with the ground.
The drive wheel assemblies can also be individually raised or lowered to keep the unit level when working on uneven terrain. The maximum operating height, to the base of the platform, is 6,5m, while the overall length in the working mode is 8,25m. The unit weighs 1 900kg.
Easily transported
The drive to the wheels can be disconnected so that the Draco can be towed in reverse by a tractor or bakkie, using the drawbar fitted to the rear wheel assembly. For transport, the boom is folded, giving an overall transport length of only 4,59m and a width of 2,4m.
Comprehensive but simple
All the functions of the machine can be controlled by the operator from the platform. The two left-hand levers control the steering through the drive to the individual wheel motors, while various fail-safe mechanisms protect the operator.
For more information on the equipment mentioned in this report, contact Cathy Heyne at Farmer's Weekly on 011 889 0836 or email [email protected]