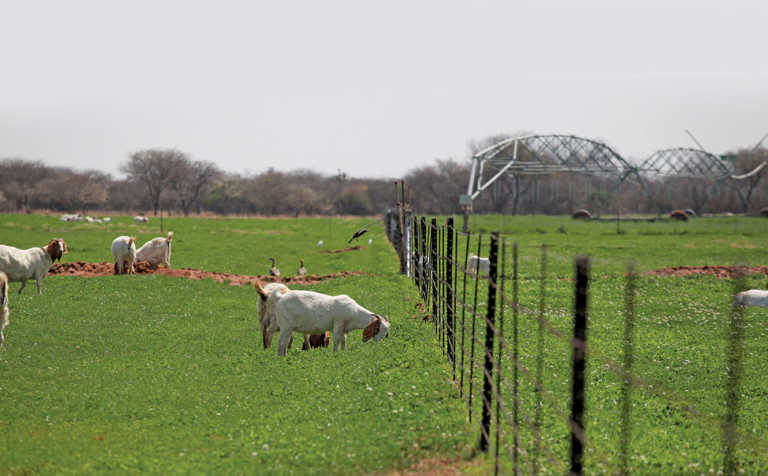 Although common in cattle stud breeding, carefully recorded production data has generally not been a requirement for extensive goat farming.
Eighteen months ago, Johan Boshoff of the farm Elandsdrift near Marble Hall in Mpumalanga, decided that it was time to change this state of affairs – and his decision looks set to have long-term benefits, not just for him, but the industry as a whole.
Johan and a shareholder, Cheem Prinsloo, run 220 Boer goat ewes on Elandsdrift. In 2014, Johan decided to establish the Innibos Boerbokgroep with five other breeders to focus on recording production figures that could serve as basis for their breeding operations.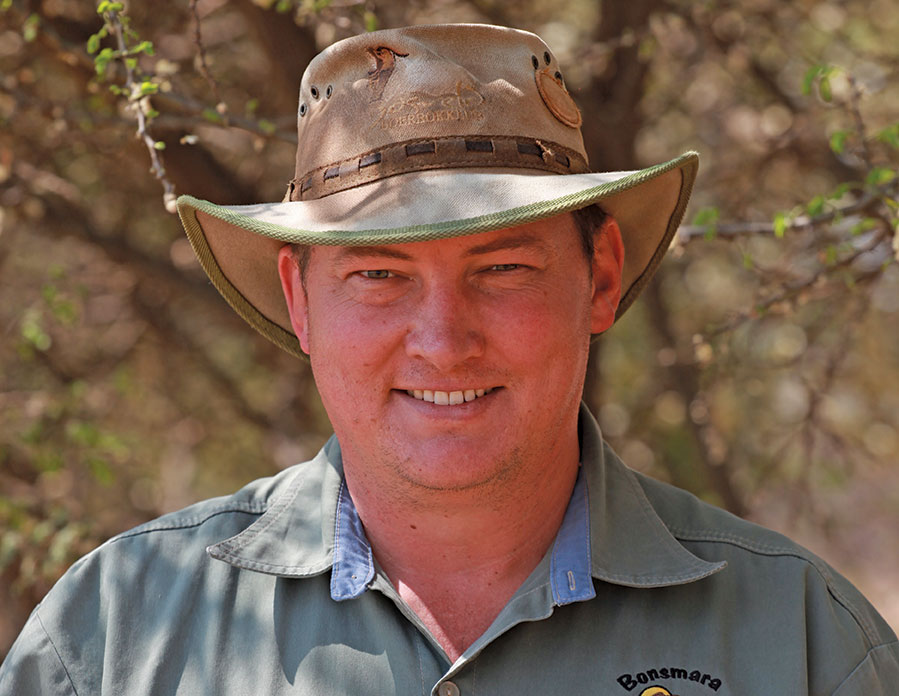 Following dairy farmers' example
Recording mating, lambing, weight and weaning data provides the raw information used to calculate milk production, inter-lambing period indices, and fertility. The objective of the group is ultimately to predict optimal dam-sire combinations.
"We sat down and decided that this is the route we wanted to follow," Johan says.
"One of our influences was Joubert Fourie, a dairy farmer and goat breeder from Limpopo. Dairy farmers are very data- and statistics-orientated. We can't farm without facts and figures and want to show new farmers how important it is to record data.
"Too many farmers only want to breed champion show rams, or the most beautiful ewes. We also want phenotypically sound rams, but our rams must sire ewe lambs with fertility, maternal ability, and good milk production.
The Boer goat is a meat breed and if ewes don't produce well under extensive conditions, we lose out. Although they must be phenotypically correct, quantified performance is what really counts."
Johan stresses that performance figures are crucial to a buyer when choosing between two phenotypically correct rams. "Accurate figures make an informed decision possible."
The Innibos Boerbokgroep held its first production sale on 14 February last year. This was also the first-ever Boer goat sale in which no reserve prices were set, so every goat was sold.
As the sale was a great success, the group decided to present another in 2016 under the same conditions.
Mandatory production data
Making the recording of production data for Boer goats mandatory elicited some resistance. With Bonsmara cattle, which Johan also farms commercially, the breeders' society made data recording and performance testing a requirement from the outset and Bonsmara breeders have always accepted it as the norm.
The SA Boer Goat Breeders' Association, to which Johan also belongs, realised early on that to keep improving the breed, the association had to become a member of SA Stud Book, where records of stud breeder societies are kept.
Unfortunately, the association experienced resistance from a number of extensive Boer goat farmers, some of whom had been breeding without these records for the last 50 years.
"Some don't even put ear tags on their goats," says Johan.
"Mostly, they don't even know the dam and sire of a lamb. Nonetheless, they've taken the breed phenotypically light years ahead. So much so, that there's almost no room left for further phenotypic improvement.
But now performance is starting to make an impact, with breeding ewes improving their milk production and giving birth to heavier lambs. Currently, we're making membership of SA Stud Book voluntary except for farmers who want to take part in the national sale."
Up until 2012, goats presented for sale at national sales were only phenotypically inspected and were accepted if they met the minimum requirements.
Since 2013, all animals offered at national sales must be registered with SA Stud Book. However, there is still no requirement to record production data.
As many goat farmers in the northern regions of South Africa also farm cattle or have previous experience of doing so, they are familiar with the need to comply with production data requirements and realise its advantages.
As a result, they are keen to buy goats that have recorded production figures.
According to Johan, younger-generation farmers are more eager to record production data that can help them select goats according to economic value.
A higher lambing rate
"For me, it's important that an ewe lambs every year," says Johan.
His stud has a lambing rate of 178%. This year 241 live lambs were born from 135 ewes, including several twins and triplets.
"People often say that you must wean a calf at, say, half of a cow's body weight. My goats wean at 70% to 75% of a ewe's body weight, but you only achieve that if a ewe lambs every year," he says.
A ewe will also only achieve this rate if she gives birth to twins. In addition, ewes have to provide ample milk and show good maternal traits.
According to Johan, this can be determined only if a farmer is able to closely monitor production figures.
"Once we've mated the ewes, a vet confirms pregnancy. If a ewe did not conceive, we immediately sell her off to be slaughtered. With a 92% to 93% conception rate, we sell the 7% to 8% ewes that fail to conceive.
However, we occasionally give a ewe a second chance. We once used an old ram and he got only half the ewes pregnant. It wasn't their fault. We usually have 32 to 33 out of 35 ewes becoming pregnant from one ram," Johan explains.

Artificial insemination
"We used AI for the first time this year, specifically to advance the genetic progress of the flock," says Johan.
"Using it just for routine lambing is too expensive. We obtained semen from Ramsem in Bloemfontein and, for this trial, inseminated only 60 selected ewes. We didn't do AI laparoscopically as is recommended for frozen semen, but did it in the same way as with fresh semen and achieved a 44% conception rate.
"This trial was to see what the conception rate with AI would be using a limited amount of semen. When semen is frozen and then thawed, quality suffers. With laparoscopic AI, a vet makes a small incision in the ewe's groin and places the semen directly into the fallopian tube. But this method is expensive."
The conception rate on older ewes was higher, at about 61%, proving that maiden ewes should not be artificially inseminated. The maiden ewes had a 31% conception rate, he says.
"But they were from better genetic stock, so I wanted to use them," Johan explains.
He used a follow-up ram two weeks after AI. "I'll use AI again, but not with young ewes."
Johan says he was familiar with the rams used for the AI as he had used rams from well-known goat breeder Lukas Burger's stud often before and they sired large ewe lambs.
"I like to use rams that sire good ewe lambs that can be used in my flock, as I'm essentially breeding goat production units," he says.
Good nutrition
The challenge of producing feed in the often-dry Marble Hall area is made easier by the center pivot irrigation on Johan's farm.
"The ewes lamb on mixed rye grass and clover pasture," he says. "The rest of the year they graze extensively on the veld.
The Boer goat is a good option for a cattle farmer as it enables a producer to use his veld resources optimally. Cattle graze the grass and goats browse the trees and shrubs. On our farm they browse mainly sickle bush and sweet thorn."
For shows, he rounds off rams on a pelleted sheep-finishing ration. Throughout the year, they graze and browse extensively on the veld, and receive a maintenance supplement.
As for carrying capacity, Johan says it is a tricky question for browsers.
"It depends on the condition of the vegetation. At certain times of the year there is not a single thorn tree with a leaf or pod on it, and then I have to feed the animals. We adapt the lambing season to this so that ewes lamb when there is food on the veld."
A quarter of the irrigated pasture consists of lucerne. This is cut, baled and stored to be fed to ewes and lambs in the kraal, and to rams to assist with rounding off.
On-farm butchery
Johan slaughters only on order. The farm's butchery was established when hunting still formed part of the operation, but since hunting stopped, only game from hunting farms in the area is slaughtered. All the goat meat is, however, cut and packed on the farm.
Johan markets his stud animals in agricultural magazines as well as on Facebook and other online platforms, and does not see the cultural market as viable for his operation, due to the seasonal nature.
"Buyers want a lighter lamb that's not rounded off and are prepared to pay R600 for it," he says. "When a lamb has been rounded off, buyers are only prepared to pay R50 extra."
Feeding and rounding off a lamb to between 45kg and 50kg costs him far more than that, but it helps him to select young rams for breeding as they are then in peak condition. "I select the rams I want and send the rest to slaughter as they're already at slaughter weight, yielding a carcass of around 22kg," he explains.
Bushveld challenges 
Johan established the irrigation infrastructure in 2010, long after he started farming goats. "If I could do everything over, I would first put up the center pivot and establish the pasture to get the operation going on the right footing," he stresses.
"Nothing produces milk like green pasture. We suffered in the beginning, as the animals didn't always have enough feed in late winter.
"Breeding a good animal makes me proud. We achieved the senior champion ram and senior champion ewe at the last Pretoria Show.
It's very different to just being a commercial [producer]. We have Bonsmara cows that produce commercial weaners. These are simply bred and grown to be sold to the abattoir. There is more involved to breeding a good goat that will become part of someone's breeding stock."
Johan advises beginners not to buy an established stud flock to start off with, or pay too much. "Buy cheaper and learn from that flock," he stresses.
"Learn the basics of smallstock farming first. Farming Boer goats is much more intensive than farming cattle. You become more involved. You can't let them sleep outside or you won't have anything left.
Thieves and jackals take their toll. We kraal ewes and lambs every night. When the lambs are very small we transport them by vehicle. The lambing season is very intensive and a lot of work.
"When farming goats, your security has to be good. I have electronic Agri-Alert neck bands, night guards and security lights. These all cost money and I have to sell around 60 slaughter lambs just to pay the security bill. "When starting out, keep your costs down. A center pivot is nice, but the expense is high."
One reason for this, explains Johan, is that with irrigated pasture, animals need to be dosed more frequently as parasites thrive in the moist pasture.

High input costs
"A stud has a large turnover, but with feed bills between R30 000 and R40 000 per month for showing or rounding off animals for auctions, input costs are high. Input costs for Boer goats are not lower than those for cattle – not if you farm as we do," he says.
Smallstock farming is tough, he adds. During lambing a few ewes and lambs are always lost. He advises prospective goat farmers to get a vet to perform a post-mortem after every mortality.
"If you do that, you'll know what's affecting your animals and can treat them accordingly. A post-mortem may cost R500, but if you lose three ewes at R3 000 each by not taking that first animal to the vet because you wanted to save, it can cost you dearly."

Phone Johan Boshoff on 082 377 0290.