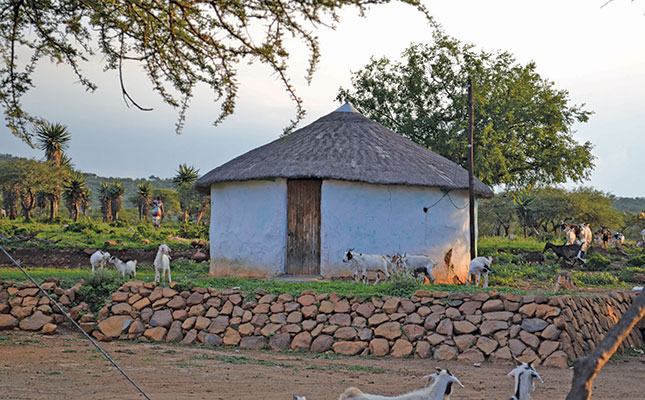 In KwaZulu-Natal, a small free market revolution is taking place, driven by communal farmers in Msinga Local Municipality. And while the scale of communal and commercial farmers' operations might differ, they have two things in common: the inescapable reality that cash is king, and the fact that the health of their animals is vital.
This soon became apparent during Farmer's Weekly's recent visit to Msinga's goat farmers. For the past 47 years, the Mdukatshani Rural Development Project (MRDP), a non-governmental organisation, has been helping these and other farmers to improve their lives, livelihoods and productivity by using locally available resources to ensure long-term sustainability.
"We're involved in 150 communities from Weenen to Jozini," says Rauri Alcock, the project's director.
Alcock has been involved in land reform since the 1980s and believes the fundamental way in which it has been handled is wrong.
"The reality is that we don't have five million farms," says Alcock. "We're living in a post-land-reform world and need to ask: now what? We have educated youths and land available, but our extension services are non-existent."
The value of indigenous goats
Alcock believes that this is where indigenous goat farming can play a key role. In fact, he feels so strongly about it, and has carried out so much research on the matter, that he wrote the master plan for the goat industry that was included in the Agriculture and Agro-processing Master Plan.
"We have a million children coming out of matric every year and they're struggling to find work.
"Goats could be a viable solution [to the job shortage problem] as about 70% of all black people own goats," he says, adding that 80% of all goats in South Africa are owned by this group of people.
For South African goat farming to truly come into its own, it has to be commercialised, he stresses. Herd health also needs to be improved, and this is what he and his team are currently doing by focusing on communal dip tanks and feeding goat kids for the first two weeks of their lives. This, he says "helps them develop faster".
Alcock adds that the long distances that goats usually walk to obtain feed and water, together with high tick loads and feed problems, are the main reasons for the high mortality rates amongst kids during their first three months.
Alcock's strategy of focusing on lamb feeding and dipping is already bearing fruit. Previously, the local farmers would lose seven out of every 10 kids, whereas today they lose only one or two.
"This has allowed our communal farmers to become serious commercial role players," says Alcock. One of the community's producers, Mhambiseni Mncube, was already a farmer prior to joining the MRDP programme, but he didn't have the vision for his farm that he has today.
"Previously, we used a combination of car oil and Jeyes Fluid to eradicate ticks," he explains, adding that this concoction stained the animals' hides. "Buyers don't want discoloured animals."
Proper dip techniques have helped his herd grow, and today Mncube has 200 goats, including kids.
Aside from helping farmers to improve their herds through communal dip tanks, the MRDP has taught them that kids require specialised feed at certain times.
However, according to Alcock, to really get the most out of communal goat farming, it is imperative to reach critical mass. "This is why we'd like our programme to expand to other provinces. But it's crucial for our [communal] farmers to be close to each other, otherwise the system might not work."
Traditional ceremonies
The value of indigenous goats lies in their use for ancestral ceremonies, says Alcock.
"Our farmers cannot keep up with demand. In the Durban district alone, around 2 000 goats are slaughtered every week."
Interestingly, the market doesn't necessarily want bigger goats, but it does want them as white as possible.
"The entire animal is eaten after it's slaughtered. So a smaller animal is better, because nothing goes to waste," he explains.
Whiter animals are preferred, as they are seen as more valuable at a slaughtering ceremony.
Live animals are worth far more in South Africa than they are in neighbouring countries.
"A live goat will sell for R600 in Mozambique, and R1 400 locally," observes Alcock.
Dipping
Every Tuesday or second Tuesday, depending on the time of year, all of Msinga's communal farmers bring their sheep and goats to the local district dip tank.
From 5am, the animals can be found bundled together, waiting to be dipped. Each herd is watched over by women and young children, while the men gather around the tank, where the most muscle is required.
The somewhat casual atmosphere soon turns to one of business, as an MRDP fieldworker arrives with the dip tank. Each herd is then moved into the kraal, the animals are gently guided into the dip, and their heads are pushed under the water to ensure full coverage.
After being dipped, the dripping animals stand in a pressure passage, where they are counted and notes are made before the animals are released. After that, the next herd enters the dip kraal.
According to Alcock, the arrangement at MRDP is that a farmer should only raise the number of animals that can fit inside the pressure passage. That way, the herd sizes remain manageable.
"When a herd becomes too large, we start having problems with pests and diseases," he explains, adding that a herd of between 50 and 100 animals seems to be the ideal size for the region.
This highlights another concern for the farmers: identifying a sick animal as early as possible.
"Often, the people in families who are knowledgeable [about such things] are the men. But they often work away from the homestead. Usually, young children in grades 4 to 6 spend the most time with the herds. We therefore now teach primary school children to identify illness [in the animals]," says Alcock.
Another herd owner, Mvezelwa Mchunu, says it has helped him tremendously that the NGO has been able to provide the farmers with animal health training.
"We're now able to use medicines such as antibiotics, which we also now know can be used only for a short period," he remarks.
Ideal location
Alcock says the district has always been a popular destination for livestock farmers due to its sweetveld. The farmers there formerly employed labour tenants, which meant that people worked on the farms in exchange for the right to live there.
However, inappropriate farming practices led to severe soil erosion. In fact, Weenen, which is part of the Msinga district, was once known as the most eroded part of South Africa, says Alcock.
"Politicians used to joke that they had to divert aeroplanes around Weenen due to air pockets caused by erosion."
After the apartheid government expropriated the land in the late 1940s, extensive soil and wetland reclamation measures were implemented.
Today, erosion is no longer the issue it once was, but this problem has been replaced by bush encroachment, which has created the perfect foraging opportunity for indigenous goats.
Building the goat economy
Alcock admits that the majority of the area's young people have no interest in becoming goat farmers. This is why the MRDP is actively helping local people start small businesses that will support the goat industry.
"We've started training some of the youngsters in basic veterinarian skills, such as deworming animals," he says. They also help them to establish businesses from where farmers can buy food for their animals during times of shortage or when they need specialist feed.
Another issue that communal farmers face is gaining market access. "We helped set up small speculator businesses in order to connect farmers with their markets," says Alcock. These are run via WhatsApp groups, where speculators can request a certain number of goats, or a farmer can advertise the number of animals he or she has available for sale.
"All of these businesses have helped farmers lower the mortality rate of their goats and improve their cash flow," says Alcock.
Mchunu can attest to this: "Previously, I could only sell [my goats] when somebody contacted me directly. I had to wait to sell animals, but now I can sell them whenever I need to."
Community member MaMchunu Yengwa says the main reason she became a farmer was to earn an income. "Whenever I need cash, I can phone a buyer or [MRDP], which is my link to the market." While her family has always raised goats, they now have a way to connect to buyers.
Without government or any outside support, the project has helped farmers grow their businesses to a point where it's possible for a subsistence farmer to earn R150 000 per annum, most of which is profit, according to Alcock.
The MRDP has also helped the goat farmers expand the reach of their products. Mchunu says that in the past, they only ever used goat hides to sit on. "We were taught to add value to the skins, and today we know how to use them to make belts and beshus [traditional 'aprons' worn by Zulu men]."
Barriers to production
Msinga's communal farmers maintain that access to water and feed remains the biggest challenge for producers in Africa. According to them, there used to be protected camps on the government land that they farm on today, and back then, the herds had more protection and could be rotated between camps.
Today, the animals graze where they wish, so the vegetation is not given time to rest and recover.
Mchunu adds that the lack of water in the Msinga area is of major concern. "We don't have any dams, and it's even a struggle just to get drinking water for the community. How do we justify giving water that's earmarked for human consumption to animals?"
Email Rauri Alcock at [email protected].