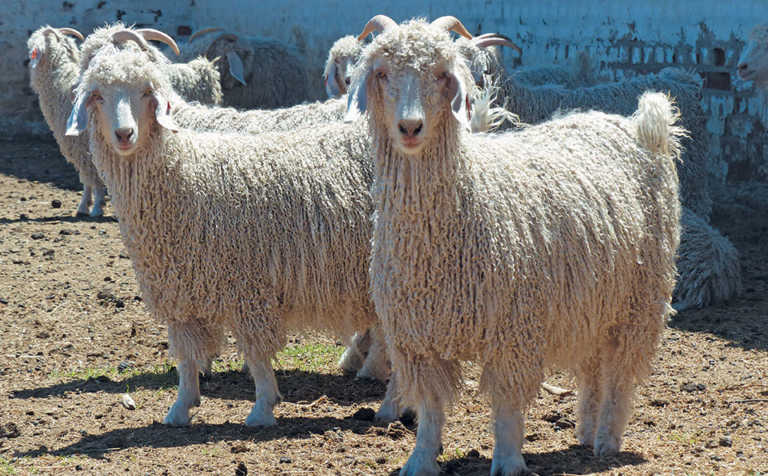 The Grootfontein Agricultural Development Institute (GADI) Student Angora Stud is accustomed to accolades; it produced, for example, the South African Champion Ram at the 2009 International Mohair Summit in Graaff-Reinet.
But it was the National Angora Show in November 2016 at Willowmore that really underscored the esteem with which the stud is held in the mohair industry.
READ Goats: good management = good money
At this event, the stud won no fewer than 51 awards, including the trophy for the most points; the Supreme Champion and Reserve Supreme Champion Ram and Ewe; the Ram and Ewe with the Best Fleece and Conformation; and the Best Angora on Show (the Supreme Champion Ewe).
To top this off, four rams were sold at the conclusion of the show at an average of R17 000.
Hans Greeff, the lecturer in charge of the stud, arrived at Grootfontein in 1994 and has over the years developed two primary passions: Angora goats, and encouraging students to make a contribution to the mohair industry.
Hans explains that the birth of the stud was directly linked to the establishment of the mini-farm system at GADI in 1999.
The idea was to establish flocks of smallstock on the 12 000ha property to complement the switch from a two-year certificate to a three-year Diploma in Agriculture.
"We wanted to be more focused on the practical side of production in the three-year diploma," says Hans.
The stud began with a base of 50 commercial ewes and two rams, which were run on 200ha to 300ha. Less than 20 years later, the stud consists of 300 to 330 top stud ewes on 800ha to 900ha.
Over the years, genetics have been sourced from the best breeders in the country, including exceptional rams from the late Clive van Hasselt (Prince Albert) and 50 influential ewes from Deon Barkhuizen from Uniondale in 2006.
"Deon's ewes did really well here and bred well,'' recalls Hans. "They're still basically the backbone of our stud.''
It is unsurprising, therefore, that another 70 of these ewes were purchased at Deon's dispersal sale in December 2011.
In addition, 46 top ewes were sourced from Mike Hobson (Jansenville) and 70 from Snyberg Angoras (Uniondale).
Fetility and optimal production
Today, self-bred rams are used on all the young ewes, while artificial insemination is practised on mature ewes.
Every two years, an effort is made to buy-in a ram; the most recent was an animal sourced from Jan Lategan near Aberdeen.
According to Hans, the main goal of the Grootfontein stud is to breed a fertile flock capable of producing optimally in Karoo conditions under a semi- intensive production system.
"Fertility is very important to us and we believe in optimal production. So there's a focus on providing feed financed from the sale of surplus animals,'' he says.
The results speak for themselves. Kids are weaned at four to five months at a rate of over 140%, with some rams weighing as much as 30kg at weaning.
Because 240 ewes are artificially inseminated, special care is taken to prepare all ewes for successful conception by feeding them a formulated lucerne cube from Eersteklas Voere near Cradock.
Ewes are given cubes three weeks before and after artificial insemination or being put to the rams. Sometimes, they receive cubes outside this time frame, such as during a dry spell, to ensure optimal conception.
All ewes receive a mineral and vitamin supplement.
The success of this approach is perhaps best illustrated by the fact that the 80 to 100 young replacement ewes put to the ram at 18 months achieve a 90% conception rate.
Young ewes that do not conceive are immediately culled, although proven, older ewes are sometimes allowed to skip if there are extenuating circumstances.
Kidding
All ewes are kidded around a shed fitted with kidding pens. Once they kid they are transferred into the pens where they will remain for two to three days until the kids are strong enough to be returned to the small camps around the shed.
During this period, ewes are again given full access to lucerne cubes to ensure optimal milk production.
After two weeks in a protected environment, the ewes and kids are run on the veld, where kids receive a specially formulated creep feed (also from Eersteklas Voere) from the age of one month until weaning. Access to creep feed is sometimes extended to beyond weaning depending on the quality of the veld.
Marketing
Income from the mini-farm initiative is held by the Grootfontein Education Trust. The Angora operation on Grootfontein has proven to be profitable, especially given the record prices for mohair achieved over the past few years.
Thus, optimism in the industry has also resulted in a keen demand for Angora genetics, enabling the stud to generate significant income from the annual marketing of 100 rams and between 60 and 80 young ewes.
Culls are sold to the informal meat market.
It is, of course, rams that generate the most income.
More than 50 are auctioned off every year, while another 50 are sold informally from GADI itself.
Notable top prices in the 2016/2017 season include:
R40 000 at the Newlands Auction near Aberdeen;
R60 000 at the Graaff-Reinet National Veld Ram Auction;
R40 000 at the Jansenville National Veld Ram Auction.
An average of R11 000 was achieved for all rams sold at auctions.
Shearing
Most of the Grootfontein flock is sheared in February and August, but kids are shorn in March to prepare an 80kg bale of mohair for the annual Ermengildo Zegna Mohair Trophy competition.
A parcel of young Angora ewes is also shorn in November to prepare the animals for auctions and student practicals.
On average, between 1,5kg and 2kg of mohair is shorn per animal, with the fibre of mature animals having an average diameter of 31 microns to 32 microns.
Unseasonal cold snaps pose a threat to the flock after shearing.
These resulted in significant smallstock losses across the Eastern Cape in late 2017.
Weather is therefore monitored on three forecast apps and, if necessary, students bring the animals to shelter. Hans emphasises that stressed animals struggle to cope with extreme weather.
"If they are healthy and well fed, they don't die so easily from the cold," he says.
Phone Hans Greeff on 082 788 0308, or 049 802 6700.