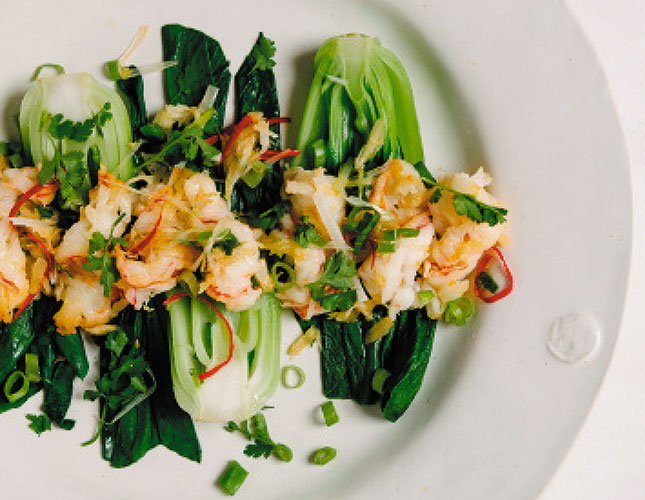 To make prawns with pak choi and five-spice seasoning for four, you will need:
600g of peeled, cleaned and thawed prawns
1 teaspoon freshly ground five-spice powder (see method)
30ml Old Brown sherry
15ml dark soy sauce
5ml sesame oil
1 lime, quartered
8 sprigs fresh coriander
25mm fresh root ginger
3 cloves of garlic
1 or 2 tablespoons of Maizena
4 large spring onions
1 or 2 whole, fresh red chillies
4 to 6 pak choi, or baby cabbages
45ml to 60ml canola, sunflower or peanut oil (never olive oil)
If you are going to cook like this fairly frequently, buy a wok. If this is an experimental once-off, use a skottelbraai fitted to a portable gas cylinder. But a real wok is simply easier to work with and more effective than a skottel.
Pak choi are beginning to appear in local supermarkets such as Woolworths. Baby cabbages make a partial, but workable, substitute.
To make the five-spice powder, use 5ml each of fennel, cloves, cinnamon, star anise and Sichuan pepper. Grind these finely in a dedicated spice grinder. If no Sichuan pepper can be found, add ¼ teaspoon of black pepper instead. This is a partial work-around, but better than no work-around at all.
Finely chop the peeled garlic and grate the ginger. Separate the spring onion bulbs from the greens; cut the bulbs into slivers and finely chop the greens. Cut the chilli or chillies into long strips and dump the pips. Rinse the coriander sprigs to remove all traces of dirt.
Scatter five-spice powder over the prawns, then place them in a bowl with the soy sauce and the sherry. Sprinkle with the Maizena, then stir to coat the prawns. Cover the bowl and let the contents marinate for 20 minutes or so, giving a stir or two as the marinating proceeds.
Cut the pak choi in half vertically. Blanch these in a pot of lightly salted boiling water for 60 seconds, then remove and shake off the residual water. Arrange them on a warmed platter.
Action stations! What comes next is very quick and very hot. Heat the oil in the wok or skottel. Add the prawns in a single layer and fry for 45 seconds a side, turning once. Remove and arrange on top of the blanched pak choi or baby cabbages.
Meanwhile, back in the sizzling wok, add the strips of depipped chilli, the ginger and the garlic. With exceptional care, add the sesame oil, noting that less is a helluva lot better than more. Stir-fry for no more than 60 seconds, then drizzle the contents over the prawns and greens.
Garnish with slivered spring onion bulbs, whole coriander sprigs and a generous scattering of spring onion greens. Serve over rice or noodles, with a quarter lime as the final salute. Phew!
David Basckin is a freelance journalist and videographer.