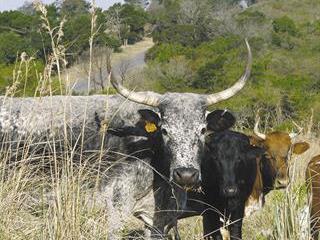 He transferred most of the family's Ngunis to the new farm and improved his herd by introducing bulls acquired from farmers belonging to the East Cape Nguni Club. But without fencing on his farm, that herd's integrity is at risk. Mike Burgess reports.
Zolani Tyali's father Cowet introduced him to Ngunis. "He liked the smaller type of cattle rather than bigger breeds, and many of these cattle have their origin in our old home," Zolani explains as he surveys some of the 130 Ngunis he has on his 202ha farm near Morgan's Bay in the Eastern Cape.
He's justifiably proud of expanding the family's cattle farming operations from communal Elliotdale in the former Transkei to a commercial farming area. But a number of obstacles have made it difficult for him to compete effectively in the commercial sector, and he's had to fall back on communal and emerging farmer markets.The 62-year-old cattleman remembers the superb Ngunis of the area back in the 1950s when he was a herder.
Then breeders started crossing them with larger foreign breeds, and things got out of hand, especially when it came to the Brahmans. "Because of poor fencing, foreign bulls could roam far and wide and there was a lot of uncontrolled crossbreeding," he explains.
"The intention was to get a bigger animal that would sell better, and farmers forgot about the fertility, adaptability and early maturing of the smaller Nguni cattle."
Over the past 15 years, however, the value of the Nguni-type has been rediscovered by communal farmers, thanks to government projects aimed at returning the Nguni to communal areas and helping improve existing herds.In Elliotdale, where Zolani still runs 20 Nguni cows on communal land, the demand for Ngunis has opened up an important market for him, and he now sells bulls and heifers to farmers in the area.
"The Elliotdale farmers are looking mostly for female animals and oxen to use as draught animals," he says. "The Nguni adapts very well to coastal areas and can live under harsh conditions. "These are cows able to give a calf annually and with easy calving as well. They may not fetch the same price when put on the scale, but their profits are higher in the long run."That doesn't mean it's all plain-sailing for Zolani. As yet his Ngunis have no specific breeding seasons, so his herd features various-sized calves, oxen, heifers and bulls, including a tiny calf born in winter."
Farming without fencing
After buying, settling and stocking Brooklyn with cattle, Zolani didn't have the finances to create camps and supply them with water. So in the meantime, he's decided to farm three herds of Ngunis in three areas separated by fenced public roads.It isn't true that emerging farmers have money to take care of development costs like fencing, he adds. "It's frustrating, because if you're a small farmer you have serious financial constraints. And so, because we have no fencing, our cattle just roam all over.
"Many of us get to these farms and there's no proper fencing – be it boundary or camp fencing. If I had the money I would have put up fencing long ago."Farming without as important a management necessity as defined breeding seasons has robbed the farm's Nguni-type herd of its true genetic potential. Two Eastern Cape Department of Agriculture and Rural Development (ECARD) extension officers have been advising Zolani on supplementation, branding and dipping.
But what about fencing? Yazini Fadana says the ECARD is willing to assist emerging farmers, but has a huge backlog when it comes to service delivery. "There are many people who have been waiting for years," he says. "The new farmer who came yesterday has to go to the back of the queue."
Family joining forces
Transforming Brooklyn into an efficient commercially run beef or stud enterprise is now more important than ever for Zolani, as his 28-year-old son Mandange has decided to join him on the farm. Both father and son know that to improve the Brooklyn Ngunis, they will have to adopt commercial principles, mentoring structures and, at some stage, more land to increase the size of the herd. But Zolani already feels he's getting somewhere. "The mere fact that we're here, and having persuaded my son to come farm with me, are achievements."
Finally, support
Zolani's six-year wait is finally over – the ECARD will soon erect fences on Brooklyn and install water-holding facilities. Then there are the new ECARD plans to create black commercial farmers in the Eastern Cape through a focused support service to individual emerging farmers.
"We'll work with organised farmers and, before the end of this year, identify one farmer per each of the six regions who will be placed under incubation for a period between three and five years," says Mbulelo Sogoni, Eastern Cape MEC for agriculture and rural development. "The farmer will enjoy 100% support from the department in year one, and not more than 10% by year three to five. The idea is that by the end of this period, we should've produced a farmer who can easily access credit, who possesses knowledge and farming skills, and who can effectively compete in local, domestic and international markets."
Eyes on the future
Whether or not the Tyalis will be selected as beneficiaries of such state support remains to be seen, but one does get the feeling that Zolani might just deserve it. After all, he's already managed to acquire his own farm and stock. What is certain, though, is if the obstacles in the way of tight management of the Brooklyn herd aren't effectively addressed and eliminated, the Tyalis will find it tough to compete in the Nguni stud industry – a dream Zolani would like to realise in his lifetime.
Contact Zolani Tyali on 083 274 3319. |fw