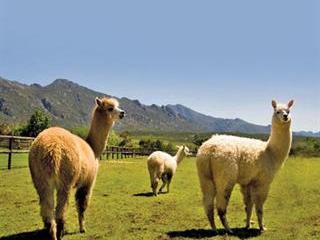 As breeders ourselves, and members of the South African Alpaca Breeders' Society, we are concerned that the main raison d'être for this noble and aristocratic animal's presence in this country is being undermined by its ability to identify with and, with dogged loyalty, guard flocks of sheep against predators. Indeed the alpaca serves this role admirably and conscientiously, but this is not the reason they were first introduced here.
Alpacas were imported into South Africa first and foremost for their exquisite fibre. The alpaca is considered to have the finest animal fibre in the world with qualities and properties outweighing almost all other animal fleeces. It is four times stronger than sheep wool, exceptionally fine, measuring between 14 and 30 microns and has a unique hollow insulating core. There is no lanolin in alpaca fleece, making the finished product hypoallergenic and truly a delight and comfort to wear.
Twenty-two natural colours and shades span the alpaca fibre 'rainbow' which wins it yet another accolade as the most colour-diversified fibre-producing animal in the world. Is it surprising then that knitted and woven products made from alpaca fleece are commanding the top slot in the world of luxury woollens? Mills turn raw fibre into spun yarn and several breeders in South Africa create local employment by reintroducing the age-old art of hand spinning on traditional spinning wheels.
The result? Something so tangibly soft and undeniably unique. South African breeders want to see the industry grow, but it is unfortunate that many articles on alpacas have laid more emphasis on the animal's claim to fame as a herd guard than on its prime asset – that of its ability to clothe, nurture and provide the fashion industry with a world-class workable fibre.
So if you are a sheep farmer and your flock is guarded by our South American friends, spare a thought for the wonderful fleece. More farmers need to take advantage of the gracious alpaca who really is the complete package.