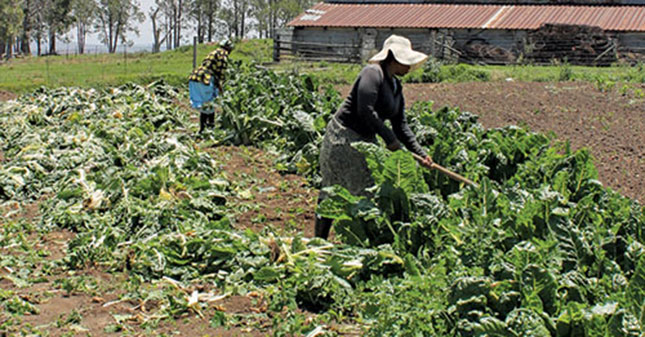 What should African governments focus on in agriculture?
Firstly, there needs to be a vision of converting small-scale farmers into developing farmers. This is the only way that small-scale farmers will start selling, and the only way they will produce quality, build relationships with banks, and become businesses.
Governments need to incentivise this process. This entails capacity creation, but also means investing in education and the value chain.
Globally, approximately 40% of land that still has potential for agriculture is in Africa. If governments do not work with communities and the private sector, this land cannot be developed.
The private sector plays a major role because there must be a business rationale behind changing agriculture. We saw in the 1970s and 1980s that certain Third World policies needed to be refined as it created dependencies, not entrepreneurship.
How do you think the SA government in particular should change their focus?
The first step should be for the government, private business and the farming community to sit down in an atmosphere of cooperation and find common ground on the future of agriculture.
Within the context of a profitable return on investment, we must ask: how can we shape the future of farming? Only after answering this question can we address issues such as land ownership. When we address ownership we can then look at shaping the future of farming to sustain profitability.
There are limitations to how many hectares we have for production, so we must ensure that land value is not eroded in these processes, and that when commercial farming land is handed to a new generation of farmers, they increase the land value, not destroy the farms.
One can understand the pressure of politics, but if we cannot maintain farming infrastructure and productivity, we shall not be able to sustain the supply of food.
I think the government is currently more open to listening. I've been engaging at the level of directors-general, which is the level at which policies are made and can therefore be changed. If we have a common purpose, then policy will have to change.
If it doesn't, the next step – land ownership – will not take place. We also need to ask how banks will assist if redistribution of land does not include title deeds.

Can Africa be the world's biggest producer of food, and, if so, how soon will this happen?
It's a challenging question as Africa is two steps ahead in some regards and one step back in others. The importance is to focus on countries that are relatively stable and have policies that are open for discussion, thereby providing the best chance for an alliance between government, communities, NGOs and private partnerships.
Stability is very important. On the other hand, one cannot wait until a government proves that it can remain stable for five to ten years – one has to contend with a certain level of calculated risk and adjust one's business model accordingly.
We at Bayer have hub countries such as Kenya, South Africa, Morocco and the Ivory Coast. From here, we expand into what we call Wave 1 countries, such as Zambia and Zimbabwe.
We also have intentions to go into Malawi and Mozambique. We are in these countries not solely as distributors, but as an organisation that supports businesses, gains insights and creates relationships.
Do you think that small-scale farmers can increase production to step into a larger market?
Small-scale and developing farmers will always look at minimising costs and this manifests in a negative cycle as they decrease production and never break even. Technology that shows a return on investment (ROI) needs to be introduced. In tobacco, for example, obtaining a better leaf means a better ROI, and thereafter a reinvestment in the farm.
At Bayer, we supply packages of product, such as pesticide, in more compact sizes, so that small-scale farmers can also afford to apply good agricultural practices.

Do companies such as yours truly appreciate the responsibility they have to emerging farmers?
The question to be asked is: are we simply involved in business transactions, or are we in business to shape the future of farming? At Bayer, we set up small focused teams that can partner with communities.
In Zambia, for example, there's good leadership in the form of the Zambia Farmers' Union with its training centres throughout Zambia. Partnering with these allows us to create mentors. We conduct demo trials through such structures so that farmers can see the difference that technology brings.
The process is difficult, of course. Sometimes, we carry out three years of trials and at the end farmers may have to decide whether to reinvest the money earned or to use it to buy food for their families. On other occasions, farmers refer to the 'wonder seeds' because they suddenly harvest 0,5t/ha more due to one seed intervention.
Do you have any advice for government?
Take note of the laws of marketing – they are clear, have continuity and are consistent. Secondly, work with the private sector so that we can develop a common purpose and make progress.
How do you get the technology to the smallholder in the middle of nowhere?
It's a challenge in some environments. For example, you may have a farmer who plants cotton seed that's not delinted. Or a farmer who plants three seeds per hole, and then sits back and hopes something grows.
We say, let's start a shift from three seeds to one seed. Then let's make sure it's a delinted seed. We know the germination period of the seed, and can include a seed growth product for the farmers that protects it for six to eight weeks of growth.
All this may seem insignificant but it's a major shift. Because we don't have infrastructure to sustain and serve large numbers of small-scale cotton farmers, we must begin by looking at cotton traders and providing technology to make processes visible.
Then we can take it further; if farmers see their productivity increase, they may buy more seed. Thereafter, we may include foliar crop protection and demonstrate to them in trials what the results can be. A powerful marketing advantage in Africa is that farmers here who trust a brand stay loyal to it.
How is Bayer helping to develop tomorrow's farmers?
We currently support Future Farmers, an NGO that uses 'capacity creation'. This involves the schooling of future farmers.
The challenge is to identify youngsters who genuinely want to farm and support them up to the point where they are comfortable with the management of a farm.
Future Farmers has a leadership selection programme aimed at identifying those rural residents with a passion for farming.
After being selected, prospective farmers are placed on farms. This is followed by two to three years of intensive mentorship. If successful, the young farmers are placed on farms in New Zealand and the US and put into leadership positions.
These students then pay a contribution towards their learning, to learn that they have to earn what they receive.
The challenge for us and those like Agri SA and Grain SA is how to take this initiative to the next level.
Phone Klaus Eckstein at Bayer SA on 011 921 5911, or visit Bayer.co.za.