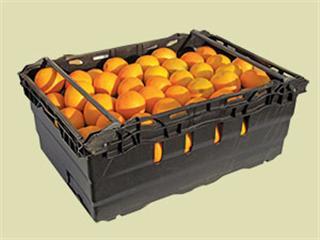 Briefly tell us about Mpact.
Mpact – formerly Mondi Packaging SA – is the largest provider of corrugated and plastic packaging solutions to the South African agricultural sector. Approximately 10% of its sales are made outside South Africa and it has factories in Mozambique, Namibia and Zimbabwe. Mpact Plastic Containers manufactures a range of containers used in the harvesting and processing of fruit and vegetables. Mpact Corrugated produces and sells a wide range of printed and unprinted, converted corrugated products, including board. This is used to make packaging and boxes, die-cut cases, folded glued cases, trays and point-of-sale displays. All packaging is custom-made to customers' needs.
What percentage of a product's retail price is spent on packaging?
Typically, between 1% and 10% of the retail price goes to the cost of packaging. The figure depends on how sophisticated the packaging is, and this in turn will depend on what produce is being packaged and how far it has to travel. For example, the cost of packaging will obviously be far greater if the produce has to be exported to Europe rather than distributed in South Africa.
How important is it for farmers to select the correct packaging?
This is one decision within the farmer's control that could spell the difference between success and failure. Growers depend heavily on the durability of their chosen packaging to protect their produce on the journey from field to shelf.
What impact does the rising cost of packaging have on farming operations?
Farmers who export their produce have recouped the increase in cost through the weakness in the rand and it therefore hasn't had a marked impact. Also, the cost of packaging over the last five years has been in line with inflation.

Ralph von Veh
What are farmers and packaging companies doing to keep a lid on costs?
They're investing in technology to reduce raw material consumption in terms of the actual grammage. This is the process of 'light-weighting' cartons to reduce costs, where we reduce paper thickness but maintain the same strength. However, it's important that farmers don't cut corners. If they try to save 5% to 10% on packaging, and their produce is not packed well enough, they could lose up to 25% of the selling price once the produce reaches international markets. By contrast, farmers can earn a premium if their produce is well packed and they choose suppliers that provide robust, quality packaging. Taking shortcuts with packaging is short-sighted.
Are any farmers manufacturing their own packaging?
There are two co-operatives that manufacture corrugated packaging, but most farmers don't make their own packaging. Packaging companies invest a great deal in research and development, as well as technology, to provide the latest packing solutions. Farmers don't normally have those resources and it makes more financial sense for them to concentrate on their core business of farming.
What are the profit margins of packaging companies and what do they do to stay competitive?
The packaging market is highly competitive, so margins are kept low. At the same time, though, the industry invests heavily in R&D, innovation, technology and lowering raw material inputs, as well as improving on efficiency where possible without compromising quality. At Mpact, we've made big investments in efficient production. Since 2005, Mpact has invested in three high-graphic printing machines and in upgrading its fleet of corrugators. This includes a R50 million investment at Kuils River, where a new high-speed BHS corrugator was installed. It holds the world record for production speeds.
What new trends do farmers need to be aware of?
Point-of-sale packaging, which requires printing in up to seven colours, has become a big trend in Europe. Also, due to the cost of labour there, retailers are demanding packaging that can be taken off the container and packed straight onto the shelves – so-called Retail-Ready Packaging (RRP). This is easy to identify in a warehouse, with the artwork clearly depicting the contents and purpose of the product, and it's simple to open by hand. Large packaging companies such as Mpact have been able to follow this trend because they have the necessary technology. There are also major concerns in Europe about food safety, so we ensure that the paper we use complies with European regulations.

What should a farmer look at when selecting corrugated packaging?
The most important thing is that packaging should be robust enough to protect the produce through to the retailer and ultimately, the consumer. This will ensure that farmers obtain the best price for their goods. Durability is particularly important for corrugated packaging, which is exposed to climate-controlled environments. It must be able to withstand up to six weeks of refrigeration for the export market without compromising strength.
Packaging also needs to have vertical strength when stacked to withstand up to 1 500kg on the bottom layer. This is where research and development is critical – the packaging has to be robust enough for stacking, yet light enough to keep transport costs as low as possible. With transport being such a major expense for the agriculture sector, innovations in light-weighting can make a real difference.
What are the benefits of using plastic over wooden bins?
The use of plastic jumbo bins instead of traditional wooden ones has shown significant financial benefits in the industry.
A study conducted by Mpact for a fruit farm in the Grabouw-Elgin area in the Western Cape revealed total cost savings of R138,69/bin/year by switching from traditional wooden bins to Mpact's jumbo bins. This meant that the payback period was three years.
Plastic bins weigh 45% less than wooden ones, which enables quicker and safer handling and stacking. They can be stacked up to eight units high because of a positive interlocking mechanism – a safer arrangement than wooden bins have. This ensures that more produce can be transported. Other advantages are that their design allows for proper ventilation, which reduces cooling time and saves energy, and they have a nonporous surface that ensures a more hygienic, bacteria-free environment.
Ultimately, all these factors help to ensure that the produce arrives at its destination in a better condition than it would be if transported in wooden bins.
Contact Deborah Chapman of Mpact on 011 994 5500 or email [email protected].