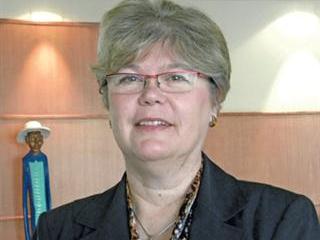 Why is sustainable farming so important to Coca-Cola?
Agricultural products are ingredients in almost all the beverages manufactured by Coca-Cola, therefore a healthy agricultural supply chain becomes our direct concern. Globally, Coca-Cola collaborates with partners in the sugar cane, orange and maize industries to minimise the environmental and social impact of their production. We use high volumes of these commodities in our beverages.
The future of our business depends on a reliable supply of ingredients and the future of farming families and ecosystems depend on crops being grown more sustainably. In South Africa, our sustainable agriculture efforts are currently focused on sugar cane farming as we use cane sugar as sweetener in our beverages, although we also use locally produced fruit such as apples and grapes for fruit juices.
Tell us about your sustainable sugar cane farming programme in KZN.
The programme is near Noodsberg in the KZN Midlands where the principal crop is sugar cane. We are collaborating with the World Wildlife Fund (WWF), Noodsberg Cane Growers Association and numerous other local role players to provide technical farming support to smallholder farmers and biosecurity support to commercial farmers. By training sugar cane farmers on sustainable management practices, the project mitigates the impact of sugar cane production on freshwater resources and ecosystems and creates shared benefits for farmers and communities.
How is the project assisting small farmers?
The Noodsberg Cane Growers Association developed a farm management system called SuSFarMS, which is all about improving farm practices in a sustainable and economic manner. It has also established a mentorship programme to help small farmers implement improved farm management practices. This will help them improve capacity and farming practices to increase yields and income, and reduce their impact on freshwater resources. It is a win-win situation as it looks at both environmental and economic aspects.
Are there any efforts to increase the size of small farms to make them more profitable?
Yes. Typically the smaller farmers are at a disadvantage. Their farms are small, the cost of accessing agrochemicals is high, their knowledge base of best farm practices is not at the same level as commercial farmers, and yields are dropping. Noodsberg commercial sugar cane farmers and the local miller have helped previously disadvantaged smallholders to establish four new co-operatives that organise small farms into larger operating areas, with improved farm layouts and better management practices. One of these has been operating since 2009 and has seen growth in yield and income.
Three other co-operatives are being formed. One of these, Sakokuhle, will employ 75 people and create a 60ha seedcane nursery that will eventually supply propagation material to over 500ha of smallholder farms. The second co-operative, Sphapheme, will involve 47 farmers and benefit 88 additional dependants. The programme started in January 2010 and is estimated to run until the end of December 2014.
Why is water so important to Coca-Cola?
We are a global beverage company and water is a primary ingredient in everything we make. Our business depends on access to clean water, and it is a resource we share with communities. The health of those communities depends on access to clean, safe water. We strive to be as efficient as we can during manufacturing, by treating water that we return to the environment and by investing in initiatives that benefit communities, such as helping them access safe drinking water.
Coca-Cola has conducted two product water footprint assessments: for Coca-Cola, produced by your bottling partner in the Netherlands, and for Minute Maid orange juice and Simply Orange, produced for the US market. What is a product water footprint?
It is the total volume of fresh water consumed, directly and indirectly, to produce a product. It distinguishes between three types of water: green water which is the rainwater stored in soil and used for growing crops; blue water which is water from aquifers, rivers and lakes used for growing crops or in manufacturing; and grey water which is the volume of fresh water needed to assimilate pollutants created by agriculture and manufacturing.
What did the product water footprint assessments reveal?
In the Netherlands, a 0,5l Coca-Cola in a PET bottle has a green water footprint of 15l, a blue water footprint of 1l and a grey water footprint of 12l. Most of Coke's footprint comes from growing sugar: 1kg of sugar beet sourced in Europe has a green water footprint of 375l, a blue water footprint of 54l and a grey water footprint of 128l.
We also found that a 1,8l Minute Maid Original orange juice in a fibre-based board gable-top carton has a green water footprint of 407l for each litre, a blue water footprint of 127l for each litre, and a grey water footprint of 84l for each litre.
What is the largest contributor to Coca-Cola's water footprint?
Agriculture, in growing the sugar or fruit for our beverages. A glass of Minute Maid juice has a bigger footprint than a glass of Coke because oranges require more water to grow than the ingredients used in Coke. We are already encouraging suppliers to use water more responsibly. In Australia, for example, we are working with innovative sugar cane farmers to improve farm management, and to use precision agriculture to reduce the impact of fertiliser run-off in freshwater resources.
What is Coca-Cola's plan for the future?
We have a growth goal to double business globally by 2020. And so we challenge ourselves to think about the long-term health of the agricultural ingredients used in our products. We are moving into an era with scarcer resources, increased volatility and increased demand. We have to do more with less. That is particularly true with agriculture as we try to feed a growing population and deal with climate change and environmental degradation. We feel that the challenges are going to require collaboration and our suppliers are partners on this journey. We want to make them aware of the challenges and work with them going forward.
Contact Coca-Cola head of sustainability communications, Zipporah Mothoa on 011 644 0638.