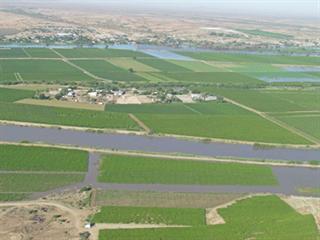 Fourth-generation grape producer Zietsman van der Walt and his father Walt were one week away from harvesting when the flood struck their farm Uap near Upington in January last year. "There was absolutely nothing we could do to prevent it," says Zietsman as he describes how the raging river burst its banks and swept away everything.
The Van der Walts not only suffered serious structural damage to their farm buildings, but lost 75% of their wine and raisin grape harvest. "It's difficult to describe one's feelings, but what do you do? You close your eyes and forge ahead. You have to," says Zietsman.
Then, as if that were not enough of a trial, the flood was followed by a second later that month. Fortunately, the Van der Walts had succeeded in temporarily repairing the flood weirs, which helped to reduce damage this time around. "As farmers, we always have to fight to keep going, and then something like this happens. Lots of tears were spilled on this farm," says Zietsman.
Now, more than a year later, the farmers in the Lower Orange system are facing another rainy season – yet not a single farmer has received a cent of the disaster relief funds promised by government. This amount, a total of R131 million, was allocated specifically for the repair of weirs.
The Van der Walts were forced to sell 20ha of irrigation land as well as a 500ha sheep farm in order to keep going. "That was painful. But we had to repay the 2011 input costs with interest and we had to obtain funding for this year's production. Although the commercial banks treated us very fairly, the debts still had to be covered," explains Zietsman.
It costs between R103 000/ha and R106 000/ ha to establish a new vineyard, he adds, and it takes three years before the vines are productive. "We had to re-establish 3ha. The rest of the vines that were submerged really suffered and we might have to replace some of them too," he says.
The floods also damaged the soil by leaching out the nutrients and causing compaction, and the roots of the few vines that were saved were seriously damaged. "We've effectively lost two years' harvest," says Zietsman.
PROMISES, PROMISES
In his 2011 budget speech, Minister of Finance Pravin Gordhan announced that government had earmarked nearly R150 million for all the flood-stricken provinces. But Hoffie Joubert, Agri Northern Cape's irrigation and water affairs chairperson, recalls that at the time he was extremely sceptical about this promise, as well as a string of additional commitments made by the government.
"President Zuma announced R800 million for flood damage in February 2011. Finance minister Gordhan announced a further R600 million two weeks later, and this was followed by an announcement of R250 million from the minister of agricuture, Tina Joemat-Pettersson. So far, not a cent has materialised," he says.
"To add insult to injury, local agribusinesses didn't want to take up the IDC's offer of R500 million earmarked to tide the flood victims over. The money would have been made available through these businesses at prime interest rate minus 3%, to be channelled to the farmers. Only GWK agribusinesses took up the offer on behalf of its clients. Our local businesses, KLK and Kaap Agri, declined the offer, despite the fact that Kaap Agri, in particular, specialises in irrigation agriculture."
Zietsman is angry that the agribusinesses were reluctant to take up the IDC's offer. "I don't want to name them, but these businesses are milking us dry with high interest rates on credit," he says. "A significant percentage of farmers won't survive this catastrophe financially, and the lack of support from local agribusinesses is one reason."
Zietsman says that while the money promised by government was earmarked for repairing the weirs, farmers also need financial support to get back into business. "Everybody was very sympathetic towards us at the actual time of the flood, but it seems as if the authorities have forgotten about us a year later. Our cash flow was severely compromised, and it wasn't as if we were debt-free beforehand. This disaster has had far-reaching consequences which will be felt for many years to come."
DAM PROBLEMS
Heavy rains in December 2010 and January 2011 in the catchment areas led to the disastrous floods. However, according to Joubert, their effect could have been lessened if water had not been released indiscriminately from the Bloemhof and Vanderkloof dams.
"The Orange River's level was 1,5m higher early in January 2011 than at the same time in 2010. The river's levels at Upington peaked at 7,74m on 14 January 2011. We could have handled levels of up to 6,5m fairly well, but because of the Department of Water Affairs' refusal to release water at different stages to mitigate flood damage, we had to deal with excessively high levels that nobody could manage," he explains.
Zietsman says that he recently met with a departmental official who told him "in no uncertain terms" that the main purpose of the dams was to store water and not to control floods. "I realise that, but strongly believe that the department could have managed the matter much more effectively," he says, adding that farmers had petitioned the department again and again to release water earlier and more regularly, as was done in the past. "For 20 years we were not subjected to floods. Why two years in a row? Remember, we had floods in 2010 as well," he says.
A LONG HISTORY
Zietsman explains that Queen Victoria issued several land and irrigation concessions along the Lower Orange River more than a hundred years ago. His own great-grandfather, Daniel, bought Uap in 1921. "With sweat and tears he carved out a living," he says. "The river banks were levelled and weirs constructed with the minimum of equipment. He produced mainly lucerne through flood irrigation.
This shows that the irrigation along the Lower Orange River is an old and well-established industry. That's why I get upset by claims that we're farming under the flood level and that floods are par for the course. "People have been farming here for many years and can't be expected to merely relocate," he adds. "It's too expensive and besides, where are we supposed to go?"
• Contact Zietsman van der Walt on 082 564 8301 or Hoffie Joubert on 082 805 6565.
'We can't afford to wait any longer!'
The authorities must speed up the support process, says Agri Northern Cape CEO Johan van Rensburg, adding: "We can't afford to wait any longer, since heavy rain is expected later in February and in March."
He says that Agri Northern Cape is grateful for the R131 million disaster relief promised to the province, but that it "must be rolled out without delay". Van Rensburg also questions the conditions attached to the aid, which is earmarked exclusively for repairing weirs. The department of agriculture demands that the commercial farmer who benefits from a weir must carry 50% of the cost, emerging farmers 20% and subsistence farmers 10%.
"This is simply not viable," says Van Rensburg. "Let's take the emerging farming community of Eksteenskuil as an example. The cost to repair their infrastructure is estimated at nearly R6 million. This means that they'll have to fork out R1,2 million. Where on earth will they get that kind of money?
Secondly, how can a single farmer be held accountable for a specific weir while a number of other farmers benefit from it?" Several weirs have been repaired by farmers so far and the Northern Cape agriculture department has already verified the costs incurred. It is prepared to pay back the farmers, but nothing can be done until the issue of the farmers' contribution is ironed out, says Van Rensburg. "It is simply unfair that they will only be paid out 50% of the cost," he adds.
• Contact Johan van Rensburg at 053 832 9595.

Job losses
According to Hoffie Joubert, chairperson of Agri Northern Cape's Irrigation and Water Affairs, the total flood damage in Northern Cape amounts to R932 million. "About 800 commercial farmers in the Lower Orange were hit by the floods, of which nearly 30% may not be able to continue farming. More than 5 000 permanent and seasonal farm workers are affected, and food security is also at risk" he explains.
"Northern Cape is a major producer of crops including wheat, onions, potatoes and grapes. The socio-economic impact is massive. Alcoholism is a very serious problem in the region and one shudders to think what the consequences of large-scale job losses will be. We're in for a tough time. This could have been prevented by timely intervention from the authorities."