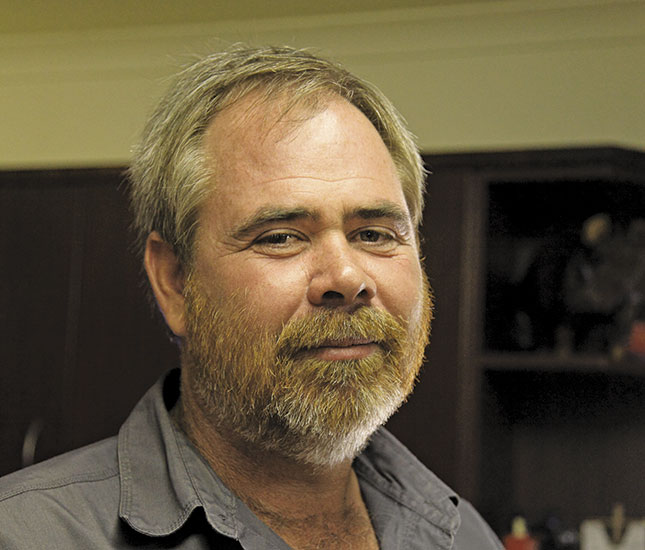 Potato farmers countrywide struggled with low margins due to a record high harvest last year. With prices as low as R28/10kg pocket, many producers were making a loss of R2/ pocket. How did the oversupply affect Sandveld producers?
It had an even greater impact on us. Our soils are poor and sandy, so more fertiliser and water are required to produce the same volume of potatoes as elsewhere. Producers in this region who misjudged the market last year lost more than R6/ pocket. Some farmers also suffered severe loss due to frost damage in June.
What caused the oversupply?
The country as a whole produced a record harvest due to favourable weather. Production in the interior is usually affected negatively by frost towards the end of the production season, but there wasn't any frost in these regions last year.
Could better market information and communication have prevented the situation?
No. Potatoes SA does a good job gathering production and market information, and communicating this to farmers to help them with production decisions. The details include the quantities of specific cultivars planted per hectare, and the markets these are destined for. All this is communicated through various platforms and at regional meetings.
Have the higher prices, which hit over R60/a pocket in January, helped Sandveld producers get back on their feet?
It'll take time for farmers to recuperate, as their production margins have been under pressure for quite a few years. Also, while prices in some markets have reached those heights, we in the Sandveld haven't really experienced them. Prices usually depend on whether there's supply in the market. Whereas production is seasonal in other regions, we supply the market almost year-round. So when prices hit R60 in January, they were still about R12 lower here. Producers are also struggling with rising input costs.

How much has input costs increased?
Input costs have increased by 10% to 15% each year for the past five years. Potato production has become highly mechanised due to labour costs increasing by more than 50% over the past three years. But farming equipment has to be imported, and this has become very expensive, with the rand deteriorating by more than 40% against the currencies of our main supply countries over the past year. The price of equipment increased by 21% between November last year and February this year.
The price of fertiliser and plant protection has also gone up by 20% to 26%.
Then there's the escalation in electricity prices. Farmers, on average, pay about R120 000/ month for electricity, depending on the area under production. Electricity costs about R6 700/ ha, and our total production cost is about R150 000/ ha. When you include marketing, packaging, and all other costs, production costs amount to R177 000/ ha. There are regions with an even higher cost per hectare, but they produce higher yield per hectare to offset the higher cost.
Would switching to solar energy assist farmers in reducing costs?
That would be very expensive. It would cost about R1,5 million to buy a solar pump with the capacity to irrigate 18ha under one centre- pivot. In addition, solar pumps work only during the day, and most farmers have to irrigate for more than 12 hours a day. Farmers prefer to irrigate at the night, as they lose 2mm to 3mm of water through evaporation during the day.
How can farmers further reduce costs?
Most farmers have already cut costs to the bone. We're using variable speed pumps, and highly effective sprinklers. Workers are sent on training courses to ensure they're efficient in their jobs. Farms have become bigger to create economies of scale. There were 224 farmers here 20 years ago, and only 84 are left. Those who remain are highly efficient.
The area planted to potatoes in South Africa declined from 71 600ha in 1989 to about 51 000ha in 2014, but increased to about 54 000ha in 2015. Over the same period, the area under potatoes in the Sandveld increased from 5 400ha to about 7 000ha. Average national output has increased from 27t/ ha to 45t/ha due to better cultivars and improved production management. This has helped producers in the Sandveld to remain sustainable.

Do you think the muncipal markets were to blame for last year's low prices?
No. The markets are doing a great job in moving supplies, especially into the informal market. Of all the potatoes that land up at the Cape Town market, about 67% is sold in the informal market. The market might be able to do a better job if agents could be somehow motivated to become more active, however. It isn't easy for agents to compete with large retailers, and there are also some very good agents with the ability to think out of the box. On the other hand, some simply move the produce given to them; they don't actively source produce during times of shortage, or look for new markets when there's an oversupply.
Perhaps the way in which agents are remunerated should be changed, because they make money regardless of whether suppliers are making a profit or not. When there's a shortage, they make more commission because of higher prices. When there's an abundance, they still profit, as lower prices are negated by higher volume.
Is the Sandveld mostly dependent on the municipal markets?
Municipal markets are important to us, but we're well-diversified. Of the 35 million pockets of potatoes produced here, about 10 million go to the markets in the Western Cape. There's a good demand for our potatoes on the Johannesburg and Pretoria markets, because these regions are associated with good quality. Only niche potatoes are sent there, however, because of the high cost of transportation – they're on the road for 18 to 25 hours. In addition to the high cost of fuel and labour, there are risks associated with such transportation.
About 5,5 million to six million pockets are exported to the rest of Africa. Currently, the low oil price is affecting sales in Angola. And we sometimes have problems with Namibia closing its borders during its potato-growing season in June/July, so we can't transport our exports through Namibia during that time. Many of our seed potatoes are exported to Mozambique, Namibia, Angola, Zambia and Botswana. A great number of our potatoes are also sold via Shoprite Checkers outlets in Africa.
We sent about two million pockets to the Middle East last year, but this region gets most of its potatoes from Europe, so I don't know whether this market has much potential to grow. About a third of our potatoes are sold in the processing market.
Apparently, Simba moved 400t of potatoes into the feed market to dispose of supplies. Is there a problem in the processed market?
If there is, I don't think it's Simba's fault, as they have grown very well over the past five years. With the oversupply, Simba
basically helped farmers move volumes out of the market. The company was even willing to pay the difference between feed and processing prices.
Do you believe that the Sandveld has a future in potato production, with such small margins?
These things are cyclical. The Sandveld, with its sandy soils and warm climate, produces a very high- quality potato. We're also the only region that can supply the market with potatoes throughout the year. I predict that the Sandveld will become a major potato- and vegetable-producing region over the next five to 10 years.
Email Jan van Zyl at [email protected].
This article was originally published in the 18 March 2016 issue of Farmer's Weekly.