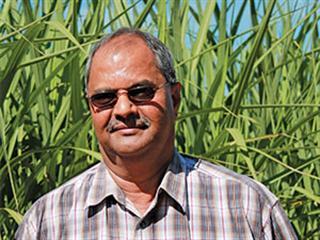 What is your background?
I am a fourth generation South African of Indian origin. I was born and bred on a 10ha farm in Maidstone on the KwaZulu-Natal north coast. I bought the farm from my family in 1978. At the time, it produced vegetables and cane. I expanded it by leasing 30ha from neighbouring farmers in 1995 and bought 93ha from Tongaat Hulett in 1998. In 2005, I bought a further 90ha and today farm 250ha, which is split into three areas not far from the original farm.
When did you become involved in WABCG leadership structures?
My first exposure to WABCG was at their 2000 conference in Durban. I liked what I saw – a gathering of people with common interests exchanging ideas. In 2010, I was elected vice-president at the UK conference.

What is the function of WABCG?
WABCG was formed in 1981. It's a specialised body of the International Federation of Agricultural Producers (IFAP). It provides the only forum where northern hemisphere sugarbeet and southern hemisphere sugarcane growers discuss common interests, problems and solutions.
How will South African farmers benefit from your presidency?
Policy decisions are made via the International Sugar Organisation (ISO) once a year where industry heads and government are represented. We have a close working relationship with ISO and the WABCG president could lobby to raise the profile of issues pertaining to South Africa.

Was the subject of GMO sugar raised at the conference in India?
Yes, it was one of the big topics of discussion. The industry needs to closely follow how biotechnologies may help us respond to the challenges of growing global consumption and demand in the face of greater climate instability and water scarcity. In South Africa, GMO sugar is being trialled under quarantine but growers can't plant it, nor can they do so in India.

What challenges will you be wrestling with at presidential level?
The farmer is not making money at current farm gate prices – the middleman is. Other problems such as global warming and the impact on climate change affect us. Growers will need to adopt better environment management practices to compete better on the world stage and one such sustainable farming tool will be Susfarms, a bench-marking mechanism.
What impact does the imports of cheaper sugar from Brazil and India have on local producers?
As imports take up more of the domestic market, we are forced to export our surplus onto a nonviable dumped market.
However, one cannot blame the Brazilians for putting their sugar on the market. Various trade houses, such as Cargill, have seen an opportunity to import cheaper sugar into an unprotected market. The dollar-based reference price (sugar tariff) is currently at zero and does not give us adequate protection.
What is the scale of imports?
Last year, 180 000t of sugar was imported into South Africa by the trade houses and this number could increase to 200 000t. South Africa produces 2 million tons sugar per year, of which about 1,6 million tons is consumed locally. Next year, we will have a surplus of 400 000t, which will need to be sold on the world dump market at a loss to the grower.
What are projections for global demand?
In the long-term, world sugar demand should increase. World market demand for 2013 is estimated at 172 million tons and is expected to grow by between 2,5% and 3% annually to about 242 million tons in 2025. This is due to growing populations and improving economic conditions of people in developing countries.
Demand will continue to grow because sugar is no longer confined to the role of sweetener. Sugar crops are raw materials with considerable potential to produce ethanol, energy and animal feedstock. With limited global natural resources, one should consider sugarcane and sugarbeet farmers as key actors in the agricultural and energy sectors.
How soon before SA sugar mills can start co-generating power?
Mills are already producing their own electricity and supply power into the national grid in fits and starts, especially Tongaat Hulett and TSB. The problem lies in taking energy production to a commercial level. To get South Africa's 14 mills ready to supply consistently, guaranteed power to the grid will require infrastructural investment of at least R18 billion. They first have to raise the capital, develop the mill infrastructure, perform feasibility studies and tie down agreements on fibre payment. It is happening but the wheels of government grind slowly. Given current prices and cheap imports, sugar is still going to be the main product from cane for a while.
What legacy do you wish to leave after your three-year tenure?
I want to engage more grower participation, especially from small-scale growers. WABCG represents 30% of the world's family-owned sugar farms and we want to grow that to 50%. We also want to sign up new countries as members. There is huge potential for expansion in Africa. As a net importer, it consumes 10 million tons of sugar per  year but produces about 4 million tons. The potential exists to expand production on the continent given the favourable growing conditions.

Why is it important to hear the voice of India's co-operative growers?
India has 50 million small-scale growers who farm multiple crops on 1ha to 2ha plots and grow a significant share of the country's 25 million ton production. The Indian small-scale farmer is humble but is kept sustained on farms. We can learn from them how to make our growers viable and sustainable.
Email WABCG at [email protected] or visit www.wabcg.org.
Email Roy Sharma at [email protected].