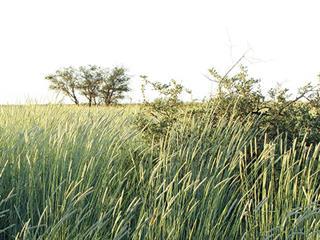 Arnold

Definite goals: "My aim was to improve the long-term sustainable grazing capacity of the land by applying stocking rates according to veld potential and rainfall," says Arnold, who runs Geelbek Elite Merino sheep and a Red Poll Stud on Grootzuurfontein, near Springfontein, Free State.
"I also wanted to limit supplementary feeding and introduced improved, adapted, low-input livestock to increase the gross margin of the enterprise. I'm very aware of the long-term negative effect of supplementary feeding on soil quality."
Grazing system: Arnold follows a three-group camp grazing management system, subdividing each camp into three units. He grazes each unit for three months and rests it for six months.
The stocking rate is continually adapted to veld condition and seasonal rainfall. To accomplish this, he regularly monitors the veld condition by using scientifically-based veld evaluation techniques and fixed observation points.
"I follow a well-defined animal management programme and strive for equilibrium between veld improvement and animal production. Veld condition and animal production have been carefully monitored from inception."
His reproduction records have proved to be acceptable for extensive farming. Weaning rates hover at around 90%, while wool prices for the 19,3µ to 19,5µ range are in the top 10% at CMW auctions. In the cattle division, the Red Poll Stud has won awards for production and reproduction.
Veld condition: This has improved by 20% over the past 10 years. "In affected camps, bitterbos declined from 23% to less than 4%, while palatable Smutsfinger grass (Digitaria eriantha) increased from 3% to 15%," says Arnold.
"In short, over the past 10 years, enough scientific evidence has emerged to show that veld improvement programmes are compatible with systems aimed at higher production from veld-adapted animals."
Training: Arnold sends workers on training courses such as wool marking, sheep handling, intensive and extensive lambing systems, animal health and veld knowledge.
Kobus
Grazing capacity: Kobus Marais, who farms with Bonsmara cattle on Olive Hill, Petrusburg, Northern Cape, and Vastrap, near Olifantshoek, in the Free State, turned Olive Hill into a sustainable beef production unit with 18 camps. He also converted 400ha of cash crop land to pasture subdivided into 28 camps, increasing the overall carrying capacity by 80%.
"I adapt the stocking rate according to the seasonal potential of the veld," he explains. "Adjusting animal numbers timeously is crucial, but can only be done through scientific veld assessment."
Careful with licks: Kobus only supplies dicalcium phosphate lick and selects adapted cattle for their ability to produce and reproduce under his farm's conditions.
"This environmentally-friendly management approach has helped me to improve the veld condition," he says.
Long rests: His grazing system is based on eight to nine camps per herd and is partly aimed at reducing the effect of seasonal drought.
The veld is grazed short within a month or two, after which long rest periods increase plant vigour. Seasonal rest forms an important part of the grazing system in terms of its effect on species composition, quality and amount of plant material.
The Free State and Northern Cape farms are synchronised according to seasonal rainfall and economics. For example, after being weaned in the Northern Cape, calves are finished on pasture at Petrusburg.

Read more about Arnold and Kobus' conservation farming methods in the 10 October 2014 issue of Farmer's Weekly.