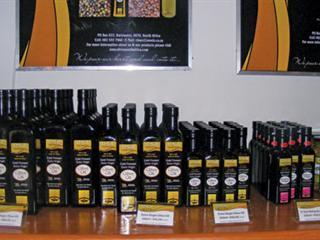 It wasn't all smooth sailing for Northern Cape olive producer, Ben Visser but his persistence paid off and today his award-winning company, Olives South Africa (OSA), sells an exclusive range of olive oil and related olive products. Ben initially farmed with wheat, maize, cotton, barley and lucerne on his farm, Eden Estates in Hartswater, in the Northen Cape.
But 17 years ago he switched to olives. "The economic realities and ever decreasing profit margins of cash crops compelled me to look for an alternative crop, and I decided on olives," he explains.
Challenges
Initially, olive production in this summer rainfall region was difficult and suitable cultivars were hard to find. There is a general perception that olive trees will grow virtually anywhere with very little, if any, input from the farmer. "It doesn't work like that," admits Ben. "Olive production is not a sideline business. It must be managed just like any other crop. Only the best genetic material should be used to ensure profitability."
He initially planted cultivars used in the Western Cape. This proved to be a big mistake and Ben was compelled to pull out the entire grove – at a huge financial loss – and start afresh. After this, he planted trials and soon had an 'experimental grove' of more than 60 varieties. He managed to narrow down the suitable cultivars to about four, but continues his research as new cultivars become available.
Two of the cultivars are Frantoio and Coratina, both from Italy. The highly productive Frantoio bears medium-sized fruit with an oil content of 18% to 20%. Coratina has an oil content of between 19% and 24% with a peppery flavour. On the table olive side, there's Manzanilla, a high-yielding green olive cultivar from Spain, which is one of the most popular green table olives around. Then there's Mission, an American black table olive cultivar.
Soil management
"Although olives thrive in most soil, the pH balance is very important," explains Ben. If the soil is too acidic, the trees can't absorb nitrogen, potassium, phosphorus and other nutrients. Plants are also more likely to absorb toxins leading to the death of some trees. "Soil pH influences the solubility of nutrients. It also affects the activity of micro-organisms responsible for breaking down organic matter and most chemical processes in the soil," continues Ben.
"If the soil calcium levels are low, growth in young trees will be impaired and they'll come into production later. Older trees' production will decrease." Low potassium levels can cause the trees to bear fruit only every second year. Potassium also controls the opening and closing of stomata (pores) in the leaves, very important in drier climates.
High potassium levels, on the other hand, can cause calcium, magnesium, boron and zinc deficiencies. Magnesium is responsible for healthy foliage. Olive trees lose their leaves prematurely when magnesium levels are too low, and this has a negative impact on production. Boron helps the plant to absorb calcium and contributes to cell wall development, pollination and fruit growth.
Tree density
Ben recommends a desnity of 250 to 300 trees/ha. This allows ample space for mature trees to develop a canopy of about 5m. He makes provision for equipment access at least every 500m across the rows. "The right olive cultivar can, with the right climate and care, yield its first commercial crop at year four. Full production is reached at about year seven," says Ben.
Adding value
Ben realised the importance of processing and adding value to his produce very early on. ''It makes financial sense to take ownership of the entire value chain of a product produced on your land,'' he points out. "This has put us at the forefront of olive research and development in the country." In addition, OSA is committed to supporting prospective olive producers.
"We are, as far as I know, the only company that offers assistance to new olive producers via business plans. We also offer a wide range of agronomic expertise that we have amassed over the years," says Ben. OSA has five BEE contract growing projects that supply it with olives.
Shortly after his first harvest Ben manufactured olive oil with a small third-hand oil press. He fondly remembers the days when he and his wife Leandra used to press, bottle and label the oil by hand. It's a far cry from today's modern processing facility and retail outlet on Eden Estates. "We've come a long way since the days we glued the labels to the bottles with Pritt!"
These days, OSA markets about 80 different products, including top quality olive oil, table olives and even an olive oil skin and health care range. In 2003, Ben signed a contract to produce olive oil for Woolworths. "We currently supply Woolworths with cold pressed olive oil, table olives and other olive-related products. We're the sole supplier of all Woollies olive products for special occasions such as Mother's Day, Valentine's Day, Easter and Christmas," explains Ben.
OSA recently launched a range of gifts for the events and hospitality industry. Ben also plans on expanding exports. "Although we're exporting small volumes now we're working hard to get a foothold in the international market," he says. Ben ascribes OSA's success to integrity and tenacity. "The fact that I had to start from scratch again motivated me even more to succeed. My personnel and I work towards the common goal to produce and process the best quality olives and olive products in the country."
Contact Ben Visser on 082 555 7968, email [email protected] or visit www.olivessouthafrica.com.