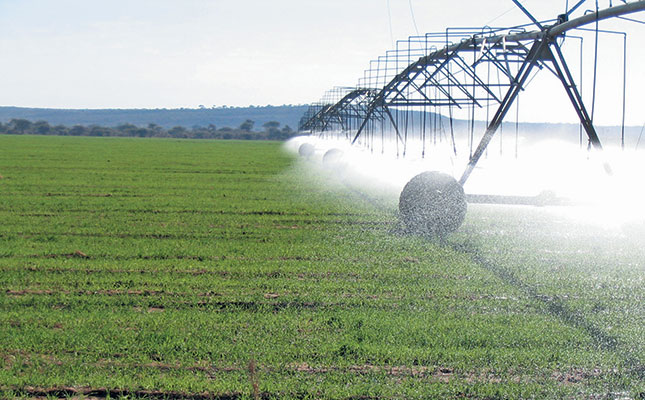 Many of South African rivers from which water is drawn for agricultural irrigation purposes are carrying extraordinarily high pathogenic loads. Produce irrigated using this water are often minimally processed fresh fruit and vegetables or products that are eaten raw.
The risks of using this water to produce edible crops have been weighed against the backlog of providing sanitation services and food insecurity by various local research organisations, including the South African Water Research Commission (WRC).
The WRC, in co-operation with the Department of Agriculture, Forestry and Fisheries (DAFF), published a report titled, 'Scoping study on different on-farm treatment options to reduce the high microbial contaminant loads of irrigation water to reduce the related food safety risk'.
According to the report, in addition to the threat to consumer health, large-scale outbreaks of food-borne illnesses will affect sales and damage consumer confidence in local produce. Such outbreaks could also result in legal challenges that could potentially prevent entry into lucrative export markets, as well as produce possibly being rejected by local consumers.
"The consequences would be disastrous for SA agriculture considering that this sector is one of the largest employers of labour in the country and rapidly increasing in economic importance," the report reads.
Causes of river pollution
According to the study, insufficient sanitation facilities and inadequate sewage treatment works throughout South Africa are considered the primary sources of pollution. Sanitation facilities in rural areas, in particular, are often inadequate for the size of the populations residing in those areas. "Consequently, rivers have become receivers of waste and waste water while still being used for agricultural irrigation," says the report.
In addition to the impact of rural areas established close to rivers, the report names various other sources of pollution of South African rivers. "[There have been reports of] industrial operations such as wineries and food producing factories for instance, discharging manufacturing effluents into local rivers," the report says.
Other factors contributing to insufficient water treatment levels, according to the report, are South Africa's outdated infrastructure, as well as unskilled operators.
The extent of this pollution and the link with food safety was investigated in a five-year WRC-funded study, which concluded that many rivers were of an unacceptable microbiological quality and did not meet international faecal guidelines for safe irrigation water.
"This presents a scenario in which consumers unknowingly face a high risk of being infected with harmful organisms when consuming fresh produce," the authors state.
According to the report, preventing river and irrigation water pollution would be the ultimate solution, but in the interim, cost-effective treatment techniques for irrigation water are required to ensure food safety.
Water treatment techniques
Several water disinfection techniques currently used on-farm are discussed in detail in the report and can be divided into three categories: physical (sand/media filtration and ultrafiltration); chemical (bromine, chlorine, hydrogen peroxide, ozone and peracetic acid), and alternative methods (ultraviolet [UV] and ultrasound).
However, the report says, due to the complexity and variability of surface water properties, not all methods are equally suitable for disinfection purposes.
"Water properties including pH, dissolved solids content, turbidity and colour, for instance, may influence disinfection efficiency and are subject to rapid change with human interference or environmental events."
Furthermore, according to the authors, disadvantages such as harmful disinfection by-products and the extreme resistance of some microorganisms to certain chemicals have been identified. The report further states that when chemical disinfectants are used, additional risks to handlers and the environment, are introduced.
Thus, each disinfectant method has specific operational and environmental requirements with several advantages and drawbacks.
Therefore, before a disinfection method is selected or compared to another, the quality of water and the quality variations over a fixed period must be determined to ensure continuous and effective treatment.
Furthermore, according to the report, when the efficacy of a disinfection treatment method is determined, the type of organism present in a water system must also be identified, as each will react differently to whatever treatment is applied.
Effective solutions
According to the authors, the aim of this project was to conduct a scoping study on different on-farm treatment options to reduce or remove the high levels of potentially pathogenic micro-organisms from irrigation water.
According to the results, resistance variation between strains of potentially pathogenic micro-organisms used in the study were evident for all the treatments (chemical, as well as UV). It was also observed that environmental strains (isolated from rivers and fresh produce) were in general more resistant than reference strains.
This, once again, illustrates the ability of bacteria to adapt to environmental stress. "It was evident from the laboratory-scale studies that environmental
E. coli strains are more resistant to disinfection than reference strains. This implies that the use of commonly encountered indicator microorganisms (such as E. coli) in laboratory-scale investigations may not be the most accurate method for establishing/suggesting parameters for larger scale water disinfection," the report states.
Treatments tested on river water samples also indicated that disinfectant efficacy for all treatments was greatly influenced by water quality.
"Some of these changes could predictably be linked to seasonal factors (i.e. drier summer months with a more concentrated level of pollutants, or wetter winter months resulting in either lower pollution levels as result of dilution, or sporadic increases in pollution and turbidity as a result of increased run-off during rainy spells).
Other differences in water quality could not be linked to seasonal variance, and were probably the result of random pollution from either point or non-point sources."
Water quality, the report says, has a direct influence on the available chlorine, and peracetic acid levels during disinfection, as well as on the degree of photo reactivation that can occur after UV irradiation.
The researchers also found that chemical treatments had disadvantages in terms of their efficacy range, disinfectant by-products, concerns about the safety and effect on the environment, microbial resistance, cost, long contact times, and overall carbon footprint.
Further research
Certain chemical treatments warrant further investigation, namely chlorine and peracetic acid (PAA). UV was shown to have potential as an environmentally friendly and safer disinfection treatment for polluted irrigation water.
"Certain factors still need to be considered, based on the limitations of this scoping study. One of the most important issues to be addressed is how effective UV disinfection of water from other rivers with other physicochemical properties (than the Plankenburg River) would be," the authors state.
According to the report, another important question would be the maximum tolerated limits for quality parameters such as chemical oxygen demand, UV transmission percentage, and total suspended solids within which optimum UV disinfection can be achieved.
"The use of specific pre-treatment technologies to achieve water quality parameters below these limits should also be considered for severely polluted rivers," the report says.
There should be further research on UV treatment of irrigation water to ensure food safety, and a study should be conducted on, among others, the technical and financial requirements for an on-farm irrigation water UV treatment system, as well as choosing and optimising a financially and otherwise viable pre-treatment steps.
This would include a sand/media filtration and/ or flocculation/sedimentation process to standardise the water quality of water from different rivers used for the irrigation of fresh produce.
To read the report, you have to register as a user on the South African Water Research Commission's website: wrc.org.za.