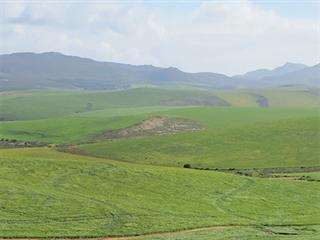 The shift from conventional tillage to conservation agriculture (CA) is a major one. This could be gauged from the presentations of leading farmers and the frontrunners of conservation agriculture at a recent conference in the Strand. Prof Rolf Derpsch, an internationally-renowned CA authority, opened the first annual Conference of Conservation Agriculture in the Western Cape (CAWC), with a definition of CA based on the three principles of the FAO: direct seed planting, permanent soil cover and crop diversity (www.fao.org/ag/ca/).
According to Derpsch, Western Cape farmers have a long way to go before they are true CA farmers, since there is still too much soil with too little cover because of the practice of grazing livestock on stubble. "Decide whether you are a conventional farmer or a conservation farmer and then trust your system. Sell the ploughs and don't stress when neighbours start ploughing after the first rain. There is no easy way out – you need to think long-term and out of the box. Farm without excuses. If your equipment doesn't work, modify it. What you can't find locally, look for overseas," said Derpsch. He encouraged responsible stewardship of the land.
Derpsch drew strong responses from the audience when he advised theuse of disc rather than tine cultivators, and keeping sheep off harvested lands. Several farmers said they had used imported disc planters successfully, while others said they had obtained poor germination with these implements. It is hard to imagine the Southern Cape without sheep. Nonetheless, a number of grain farmers have taken livestock off their lands. After Hendrik Smith presented on Grain SA's work on CA, farmers related their experiences.
Soil improvement
CA pioneer Jack Human of Heidelberg converted to no-till more than 30 years ago after he experienced devastating soil erosion in the early 1980s, describing it as "the biggest natural disaster" he had been through. He spoke of a time when it was standard practice to repair rainfall damage on ploughed soil. "Soil erosion destroys a resource that cannot be replaced in a lifetime. I decided that I could not allow this to happen again and so I sold my ploughs," Human recalled. One of the major advantages of CA, according to him, is its ability to reduce or eradicate erosion.
Other presenters cited soil improvement as a key goal. CA practices treat soil as a living entity rather than as a production medium. Using compost tea and planting cover crops are examples of this approach. Francois Uys, who farms stud Merinos with his brother Cobus in the Bredasdorp area, illustrated the improvement of soil permeability after compost tea applications. "I believe in the life of my soil," he said. "Although I cannot show a massive yield increase or much lower cost, I believe this is the right thing to do and there are benefits in terms of soil health, soil structure and soil life."
Juriann Schreuder of the Hopefield district spoke about the importance of soil structure, showing the audience how wheat roots can penetrate further down to utilise soil moisture when there is no sub-soil shield. WG Treurnicht, who farms the red clay soils of the Red Karoo, near Porterville, illustrated the difference in root development between broadcast crops and no-till crops. He said that wheat seems to develop more uniformly in a CA system than in a conventional tillage system.
Another recurring theme was the incorporation of medics, an annual self-regenerating legume. Cobus Bester of the UD Boerdery near Moorreesburg, where sheep are an important component of the farming enterprise, calls himself a medics farmer who plants some wheat. "If a farmer looks after his medics, good wheat will follow," he said. Richard Krige, a sheep farmer from Boontjieskraal near Caledon, said that medics was "not a bad cash crop either".
He added that farmers should have thorough knowledge of their lands and manage the diverse soil types of the Western Cape by grouping and treating each type appropriately. "Let the land tell you what it needs," he urged. "Don't follow a rotation just for the sake of following it. Experiment with cropping sequences and group the lands according to their potential. Compare your individual lands with the farm average and make informed decisions accordingly."
Moisture
The two central aspects of moisture conservation in CA are soil cover and weed management. Moisture, however, is the primary limiting factor in Western Cape grain farming. Treurnicht quoted yields of below 0,5t/ ha during dry years in the 1990s. Despite being able to seed large areas quickly when conditions were right, his conventional system did not promote germination.
"I bought old trashworkers and trash fieldspans so that we could loosen and sow land faster, but it wasn't working," he recalled. Insufficient rain later in the season would worsen the devastating effect of moisture lost through tillage at the start of the season. "The lack of soil cover caused by ploughing marginal sandy soils causes serious problems for young wheat seedlings," he said. "This is despite the old adage of 'If you want a good crop, disc first then use a share plough. Or use a share plough first, and disc after that'."
CA provides an alternative. As Schreuder put it: "It turns out that our marginal soils may not be that marginal after all, if we keep them covered." Human referred to the value of Australian knowledge of CA. Visiting that country, he learnt that maintaining soil cover and planting directly into this cover was the key to CA. Various farmers spoke about residue management, which should start at the rear end of the combine. CA requires that residue be spread evenly.
Johannes Schoonwinkel, who farms in the Swellendam and Caledon areas, told of a Canadian straw harrow being imported to solve patchy distribution of residue. "Don't moan about things such as not being able to spread residue properly, and don't use them as an excuse for not practising CA," he said. "Retrofit a proper chopper or spreader onto the combine if it doesn't have one.
Plant cover on the soil must be prevented from using available moisture. Schoonwinkel showed the results of a summer herbicide application missed, when a section of the sprayer boom accidentally remained shut off during a night-spraying programme. The effect of moisture lost to weeds in the unsprayed strips of canola was still obvious months later. "This was caused by weeds that had been there for just three weeks between spraying," he said.
An important benefit of the typical knife-point-and-press-wheel CA planter is that it can apply pre-emergent herbicide to deal with the threat of glyphosate-resistant ryegrass and weeds that come up in years with low summer rainfall.
Crop rotation
Speakers emphasised that a holistic approach to weed management can significantly reduce weed pressure or, practically, crop rotation can be used to control weeds. Whether using lucerne, medics or other cash crops as an alternative to wheat, crop rotation is a central element of successful CA. Bester incorporated a medics rotation to solve ryegrass problems caused by years of wheat monoculture, while Human started spraying grasses in lucerne lands in a long rotation after poor barley yields due to ryegrass infestation.
Whatever the reason, the refrain was the same: diverse crops in a good rotation is the key to CA and an important tool in general weed control. In the Southern Cape, a typical crop rotation would be five years of cash crops (wheat-barley-canola/lupins/oats-wheat-barley) followed by five years of lucerne.
In the Swartland, medics is more commonly used in conjunction with wheat and canola: a medics-medics-wheat rotation and a wheat-canola-wheat-medics rotation are examples, with various other rotation patterns being researched. Schoonwinkel and Human stressed the feasibility of a continuous cropping CA system in the Southern Cape. Such a rotation could typically be wheat-canola-wheat-barley-canola-wheat-lupins/oats in a long system, or wheat-barley-canola-wheat or lupins-canola-wheat-barley in a short system. Factors such as the grain price, weed pressure and regional cropping options also play a role.
Schoonwinkel sprays off most of his lupins, retaining only what he needs for the next season's seed. Originally, he left the surplus as a cover crop after being sprayed. It is now what he calls a "break crop" a term used to describe a crop that rests the land. Previously he planted a mix of oats and lupins, but now plants only lupins, as the oats crowds out the lupins, even at a low seeding rate of 15kg/ha. Rotation, adjusted according to the soil type and potential in a farming unit, can include alternative crops such as flax (linseed), coriander and peas. Some crops, used only as cover crops, are sprayed off and left on the land.
Sustainability and costs
The financial bottom line and its contribution to the sustainability of profitable grain production will determine the adoption of any system. CA certainly has its potential pitfalls. Speakers stressed increasing insect and rodent pressure and the increased cost of nitrogen application during the first few years of a CA programme. No-till planters are expensive and combine harvesters often have to be modified or replaced to manage crop residue effectively. The planting process is generally slower than that of conventional sowing, which complicates the timing of crop establishment.
However, every speaker indicated that, in terms of ecological and holistic farming and economic sustainability, the benefits of CA far outweigh its costs. Crop rotation leads to healthier soil and higher yields than monoculture and CA uses less fuel per hectare. Once cover is established and the soil begins to recover, it requires less fertiliser than previously. Planters and crop rotation in CA make for more effective weed management. New approaches, including continuous cropping, potentially improve economies of scale without the need to expand.
CA's future in the Western Cape
CA could easily be touted as the solution to all contemporary grain production problems in the Western Cape. But equally valid arguments, such as destroying weed seeds and insect pests, can be made for burning and ploughing. Whatever their personal opinion, the experience of these expert farmers as expressed in their presentations makes a compelling case for CA in the future of sustainable grain production in the Western Cape. But it requires a decision alluded to by all the presenters: "Decide what kind of farmer you want to be and farm your chosen method properly, with no excuses."
Visit www.blwk.co.za.