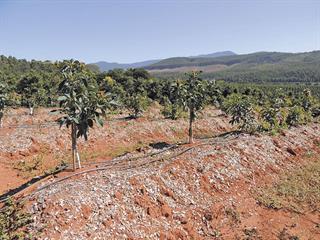 When you walk into the office building at Allesbeste Boerdery, you are immediately struck by the imposing portraits of the farming business's founding fathers. Jointly managed by Dr André Ernst, his wife Liezel, and sons Zander and Edrean, Allesbeste is a true family business.
Once Zander and Edrean start to explain Allesbeste Boerdery's farming practices you soon realise that the pioneering spirit of the founding fathers is alive and well in the current generation of Ernsts.
The first Ernst pioneer
Allesbeste was founded in 1927 when Zander and Edrean's great-grandfather, Adalbert Henry Ernst, a British national who immigrated from Ceylon (now Sri Lanka), bought the farm on which Allesbeste's head office is now situated.
Adalbert's interest in South Africa was first piqued as a young boy when he met Boer prisoners of war who were interned in Ceylon during the Second Anglo-Boer War (1899 to 1902) where his father was stationed as a lawyer. After serving as a medical doctor in the British army during the First World War, Adalbert immigrated to South Africa and used his military pension to buy the 200ha farm just outside Tzaneen in Limpopo.
"My great-grandfather first started out with vegetables but later converted to citrus," Edrean says. "The area became renowned for its citrus."
But by the time André was in high school, farmers in the area started experiencing problems with citrus greening disease. His father, Chicot, had to replant the citrus trees and substituted some of the eucalyptus trees on the farm with approximately 30ha each of avocado trees and banana plants.
Until then, much of the land in the area was uncultivated due to the soil being waterlogged for much of the year. The introduction of stream flow reduction, whereby eucalyptus trees were planted to dry out the swampland, saw much of this highly fertile soil becoming available for agriculture.
Westfalia started to experiment with avocados in the Tzaneen area as early as the 1930s, but the orchards were prone to root rot (Phytopthora cinnamomi), which proliferated in the humid climate and poor draining clay soil found in the area. It was not until the late 1970s, when a treatment for root rot was developed, that avocado production in the area really started to take off. The treatment became commercially available in the 1980s, according to Edrean.
In 1980, when André joined his father on the family farm, Allesbeste was well placed to take advantage of the upswing in avocado production. With a degree in horticulture, André went on to obtain a PhD, and was determined to farm progressively.
He began increasing the number of avocado orchards on the farm and purchased four additional farms between 1995 and 2013, adding a further 225ha to Allesbeste Boerdery, thereby spreading his risk across different geographical areas. "My father believed that better avocado cultivars where needed to improve production," says Zander.
He started to experiment with different cultivars in the Allesbeste nursery and his trials soon paid off when he developed the new Maluma cultivar.
New cultivar development
"Worldwide, the Hass cultivar still dominates, with at least two-thirds of all avocados consumed being from this cultivar," says Zander.
"However, this cultivar is 80 years old and not suited to all climates. My father was experimenting with new varieties of avocados when a farmer contacted him with a request to propagate clonal avocado trees from a dark-skinned avocado variety that a fellow Levubu farmer, Dries Joubert, found in one of his orchards."
André investigated this variety and eventually registered plant breeders' rights for the Maluma cultivar, named after Dries's farm, in 2004. "This cultivar was better suited to Tzaneen's climate," says Zander. Soon Allesbeste nursery could not keep up with the demand for Maluma trees.
The new generation
Today, Allesbeste has 230ha of avocado orchards, 26ha of banana plantations, 70ha of eucalyptus trees, a nursery producing 120 000 trees a year, and a farm stall. The family also owns shares in Afrupro, an export company run on a co-op basis, as well as shares in Letaba packhouse, also owned by a group of farmers.
André heads up the business, while Zander is responsible for production and marketing. Edrean, whose interest lies in the technical aspects of farming, develops and manages the various systems in use on the farm, such as the automated irrigation system. Liezel is in charge of finances.
Innovation and superior genetics
Staying true to the pioneering spirit of the family, Zander and Edrean are not afraid to try out new production methods.
"We need to identify the change that we want to see, and determine how to get there," Zander said at Allesbeste's Maluma farmers' day earlier this year.
"In farming, we experience a great array of challenges [but it is] the problem-solving ideas and innovative methods, superior genetics and advanced research that allows us to become better and outperform these hurdles."
Soil preparation
According to Zander, a big mindshift is taking place in the industry. "In the past, we ripped the soil, and many are still doing so."
However, many avocado farmers are now planting avocado orchards on a mound or ridge. There is an ongoing debate about the farming equipment most suitable to make these ridges and whether they are worth the cost, says Zander.
Some farmers use bulldozers and others uses excavators, while on Allesbeste tractor-loader-backhoes (TLBs) are used. This is because an excavator cannot be used between the rows in the high-density orchards, and bulldozers have limitations with regard to creating a uniform soil profile, he says.
According to Zander, farmers have to be clear in their own minds about why they want to make ridges. "They shouldn't simply want to jump on the bandwagon. For some farmers, it's about uniformity and for others it is about irrigation. For us it is primarily about drainage and better aeration of the soil," he says.
When making ridges, farmers can determine the soil composition, which gives them much greater control over soil uniformity, says Edrean.
On Allesbeste, with its poor draining soil, ridges are the best solutions, used in conjunction with perforated pipes and digging trenches into which water can drain.
A drawback of the ridge system is that it can be difficult to prune, spray and harvest the trees if the ridges are too high. Ridges are also not suitable for steep lands.
"My greatest worry is that ridges dry out quicker during a drought. Therefore one should think carefully about how high they should be," says Zander.
He prefers ridges of between 400mm and 800mm in height and 1m to 1,2m in width when first formed, at a spacing of 4m x 2m with 1 250trees/ ha. Some ridges are covered with woodchips to minimise moisture loss and heat from the soil.
Planting
The Ernsts try to use only clonal trees grown in their own nursery. "This ensures control over the quality of our trees right from the start," says Edrean.
Traditionally, the planting density of avocado trees is 408 trees/ha (7m x 3,5m). This ensures easy access by tractor for mechanical pruning and allows adequate sunlight to reach the fruit.
During the 1980s, research was conducted into the viability of increasing the planting density of avocado trees. However, the Hass cultivar's fast growth rate did not justify the higher input cost of high-density plantings.
With the introduction of the high-yielding, dwarf Maluma cultivar, the Ernsts decided to make another attempt at introducing high-density planting.
A trial to determine the break-even point of the capital outlay for ultra-high density plantings, compared with that of traditional 408 trees/ ha plantings, is currently in its third year. It is hoped that the trial will also determine the effect of higher density on long-term yields and income compared with the benchmark group.
The control group of 408 trees/ha is compared with experimental groups of 800 trees/ ha, 1 250 trees/ha and 1 600 trees/ha respectively.
According to Edrean's initial calculations, the 1 250 trees/ ha trees caught up with the traditional density trees by the third year.
"From then on, the profitability of the high-density plantings should start to overtake that of the normal-density plantings, due to the higher yield per hectare," he explains. "Although yield per tree stabilises earlier with higher densities, significantly higher yields per hectare should be achieved consistently."
Zander stresses that when looking at the results of their trial, one needs to keep in mind that the trees on Allesbeste are pruned vigorously. The farm's orchards may therefore take longer to reach their optimal/mature production rate than orchards that are not pruned as vigorously.
Apart from the obvious advantages of higher yield per hectare, keeping trees at a manageable size makes them easier to spray and harvest, says Edrean.
Trellis experiments
Looking for a way to prevent trees from being cut back smaller with each pruning, Zander started experimenting with trellises. He explains that with high-density orchards, the trees cannot be pruned in the same way as before, so new ways have to be found to open up the trees.
"For high-density [orchards] to be successful, we need to have an understanding of the tree and its complexities, so that micro-management principles can be applied to improve production and limit alternate bearing," Zander says.
"One such method would be installing trellis systems. Cultivar selection is crucial to the success of such systems, as the growth characteristics, such as dwarfing, are fundamental."
Maluma branches grow at a 90° angle from the trunk, unlike cultivars such as Hass. Maluma trees also start bearing fruit from as early as 18 months. Young branches are consequently pulled downwards and can even break under the weight of fruit.
"As in other fruit industries, as soon as a branch bends beyond 90° you start to lose production because the fruit doesn't get enough sunlight."
According to Zander, his experiments with trellises are still in the early stages and are cultivar-specific. "There are many variables to take into account. How high should the trellises be? Should they be linear or set up in a Y-formation? And how should pruning be adapted?"

Irrigation frequency
Allesbeste currently uses 40l/ hour micro sprinklers, but with higher density plantings, drip-irrigation becomes more cost-effective and efficient.
"We're lucky that we don't have to irrigate very often," says Zander. "We only need to irrigate two or three months of the year in a normal rainy season. We have to be careful about over-irrigating, thereby increasing the chances of root rot when the roots are constantly covered in water."
Avocado farmers usually irrigate three to four hours, once a week. On Allesbeste, irrigation is undertaken for shorter, more frequent intervals of 15 to 30 minutes, three to four times a week. Soil moisture probes determine the water content of the soil at root level and below. "We try not to touch the lower layers of the soil," says Zander.
According to him, the protocols and best practices for the avocado industry are not as well developed as for other fruit industries.
"We need to look at other industries and learn from their examples. There's a lot still to be learnt, especially when it comes to new cultivars such as Maluma. We'll just keep on trying different things and see what works for us," he says.
Phone Allesbeste Boerdery on 015 307 3076 or visit www.allesbeste.com.