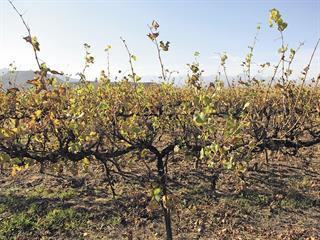 The vertical shoot positioning (VSP) system has long been seen as the only trellis system suitable for the production of good quality wine. As a result, most of South Africa's wine grapes have until now been produced using this system.
The top three farmers in this year's VinPro/Winetech Block Competition in Robertson have, however, shown that alternative production systems can be just as good or even better than VSPs.
Double-cordon system
Hannes Erasmus of the farm Wansbeck Clarence Wold won the competition with a block of Sauvignon Blanc grafted on a Ramsey vine.
The vineyard is mechanically harvested and trained on a double-cordon system, consisting of 2,1m Class 3 poles with two 3,06mm support wires spaced 20cm apart. It has been producing between 25t/ ha and 35t/ha wine grapes since its third year of production and generates a net farm income of about R90 000/ha per season.
Hannes switched to the double- cordon system 17 years ago due to extensive frost damage. "Briaan Stipp, our viticulturist at Robertson Wine Cellar, suggested a switch to mechanical pruning. He reasoned that mechanically pruned vineyards had significantly more latent buds than vines on a VSP system, suggesting that these vines would be able to better recuperate from frost damage," he explains.
To ensure he was doing the right thing, Hannes and Briaan visited wine farms in the Riverland region along the Murray River in Southern Australia, where farmers have been using mechanical pruning with great success.
During these farm visits, Hannes viewed a few vineyards that proved Briaan's theory. Acceptable harvests were produced in these vineyards despite severe frost damage earlier in the season.
On his return, Hannes introduced the Australian double-cordon mechanical pruning system in his vineyards. However, it occurred to him that it was not really necessary to use 2,1m poles to support the system, as vines grow so prolifically in South Africa that he was not able to use the 'no-pruning practice' prevalent in some parts of Australia.
To reduce costs, Hannes developed his own Era system, which has since been adopted by many farmers across South Africa.
The era system
The Era system uses 1,8m class three poles, through which holes are drilled about 7cm from the top. A single-cordon wire is then threaded through these holes to support the vines, while a foliage wire is attached to the top of the poles to protect the vines from wind damage and prevent soft shoots from tumbling over.
The vines are planted 1,4m apart and with an inter-row spacing of 2,8m, as is done with the double-cordon system. Hannes has been achieving the same high yields with his Era system, as with the double-cordon system, averaging about 18t/ ha for Cabernet Sauvignon, 51t/ ha for Collombar, and 37t/ ha for Sauvignon Blanc, without increased irrigation or added nutrients.
Although Hannes points out that these systems are more labour-intensive during the first three years of production and initial set-up costs are also higher, he says that farmers would break even quicker with the double- cordon and Era systems due to lower maintenance costs.
This is because it is not necessary to perform certain vineyard manipulations such as breaking out leaves and suckering (removing the shoots that grow from the trunks of the vines).
The grapes are mechanically harvested using either Hannes's Gregoire or Naïrn harvesters. The machines are set to run with their "heads slightly down" so that they can pick up shoots as they move through the vineyards. The vines are pruned into a box shape of 20cm x 20cm from the fifth year after planting.
According to Hannes, his Ledguard pruning machines can perform the same amount of work as 24 people during an eight-hour workday, and can also work for longer periods. The vines are topped with a Colombardo top machine, just before the vines start to "take hands" or drop.
"Timing is critical when it comes to topping, as you'll have a hard time getting the vines back upright once they've dropped," he says.
Hannes has seen many farmers using the system incorrectly. "Many farmers take shortcuts. For example, they allow the shoots of the vines to hang down, which has a negative impact on light penetration, resulting in poorer yield.
They may also use contractors to prune the vineyards. This is a huge risk, as contractors tend to rush the job [because their remuneration is based on their level of productivity]. The 'box' has to be pruned very precisely and well if you want to reap the full benefits of the system," he says.
While there are people who think that high-producing vineyards have a shorter lifespan than lower-producing vineyards, Hannes believes his vineyards will last just as long as any vineyard on a VSP, under the same production conditions. "They just need to be managed correctly. This is true for all production systems," he says.
The lyre system
Graham Beck Winery took second place with a block of Pinot Noir (Clone 52) grafted on a US8-7 vine, trained on an adapted Lyre system. The Winery has 7,5ha under Lyre and 133ha under VSP.
Production for the winning block ranges from 30t/ha to 40t/ha, but was 43t/ha this season. Average production for the estate's Pinot Noir vines on VSP is about 18t/ha.
The Lyre is a trellis system in which the cordons (arms) of the grapevine are trained horizontally along wires. Pieter Fouché, farm manager of Graham Beck Winery, says they use 2,7m long, Class 5, nanolite aluminium poles planted 90cm into the ground.
Two poles are planted on each side of the trellis system at 7m intervals. Two cordon wires are attached at a height of 1,1m on both sides of the pole to support vine cordons. Six foliage wires are also attached to each pole, three on each side at heights of 1,2m, 1,5m, and 1,75m.
Pieter says the Lyre is ideal for soil that promotes vigorous growth and farms with limited land. Yields on this system are 30% to 50% higher than those achieved with Pinot Noir on a VSP, depending on the soil.
The quality of the grapes also compares well with that produced on VSPs and in some cases it is even better. The grapes harvested from these vines are used to produce Méthode Cap Classique sparkling wine.
Pieter warns, however, that this production system is highly labour-intensive, as vines cannot be pruned or harvested by machine. It nevertheless increases production efficiency due to vines bearing greater volumes of fruit, allowing farm workers to harvest more grapes in a smaller area than is possible with a VSP.
Establishment costs are also almost double that of a VSP at about R300 000/ha, but higher production volumes and good quality wine make up for this.
The ballerina system
Louis Loubser of Vinefera took third place with a five-year-old Chenin Blanc block grafted on a USVIT8/7 vine on a Ballerina system. The vineyard produces about 58t/ha at a net farm income of R120 000/ha.
According to Louis, the Ballerina trellis system saved his farming career, as it allowed him to double production volumes. This switch was inspired by JP de Villiers and Carl du Toit, who pioneered the system in the Robertson Valley.
"I have great soil, but only 26ha are available for production, which isn't enough if you're farming wine grapes on a conventional VSP. With the Ballerina system, I managed to push the farm's production up from about 500t to 940t per year. Production averages about 35t/ha depending on the cultivar produced," Louis says.
The Ballerina trellis is similar in appearance to the VSP system, except that the shoots on both sides of the cordon are allowed to droop downwards. One dense canopy is therefore divided into three sparse canopies to allow more sunlight to reach the vines.
Preparation of the soil and the trellis itself is also the same, except for the use of 2,4m Class 3 poles instead of 2,1m poles. The cordon wires are threaded through the poles and the system needs to be anchored well to support the high volume of grapes.
Louis has experimented with the height of the cordon and has established that it should be at least 1m in length. "The foliage of the mature vines start to flop down and get in the tractor's way when the cordon is only 90cm above the ground."
The grapes are harvested and pruned by machine from the beginning of June, leaving one shoot per bearer. Louis points out that he does not force the pruning; shoots that are inclined to hang downwards are left, making the system less labour-intensive. Vigorous growth is a non-negotiable component of this system.
"Good quality soil and vigorous rootstock are needed if you want the Ballerina system to work for you," he explains. "In addition, farmers need access to sufficient water to support higher yields, as the vines can require more than 30% more water.
More frequent irrigation is also needed, as these vines are sensitive to stress, and fertilisation needs to be increased to accommodate higher production volumes."
The system's secret is that it ensures everything is done right from the start, says Louis. "Don't try to switch from a VSP to the Ballerina system if you don't have the right trellises, as the vines will become too heavy for them. It'll also become difficult to bend the canopies up and down," he adds.

Email Hannes Erasmus at[email protected], Pieter Fouché at [email protected], or Louis Loubser at [email protected].