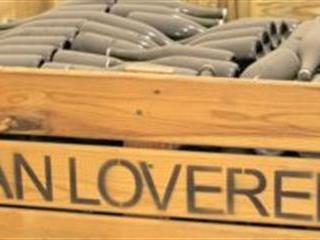 The old adage would have us believe that dynamite comes in small packages. But this has not been the case for one of South Africa's best known and most successful wine brands. For the Retiefs from Van Loveren Family Cellar in Robertson, success came in very large bottles. Cousins Hennie, Bussell, Phillip and Neil Retief's Four Cousins wine range, a selection of value-for-money wines sold in generous 1,5l glass bottles, is probably the best known brand in the country and has achieved iconic status by becoming the best seller of all glass bottle brands in South Africa.

Winners of the Agricultural Writers Farmer of the Year Award 2012, South Africa's favourite four cousins (from left) Hennie Retief (viticulturist), Bussell Retief (cellar master), Neil Retief (viticulturist) and Phillip Retief (CEO).
Growing the business
The family business dates back to 1937 when their grandfather Hennie Retief farmed on 22ha of land. Since 1992, the cousins systematically joined the business. By 1998, all four of them were working together, Neil and Hennie as viticulturists, Bussell as the cellar master and Phillip as CEO of the business. They have managed to increase their turnover by a massive 1 300% since 1998.
During the past 15 years, they have increased cellar capacity from 2 million litres to 7 million litres and much of the growth happened during the past three years when cellar capacity doubled. A lot of the vineyard plantings were also done during this time. According to Neil they have planted 150ha of new vines in the past three years. In 2011, they harvested about 5 500t and this increased to 7 500t in 2012.
In 2013 they hope to harvest 8 000t. "These days we farm with 350ha of vineyards, of which 300ha is in full production. By 2013 we will be harvesting from all 350ha. "The vineyards are planted on 12 farms situated within a 50km radius of each other," says Neil. "The geographic spread of the farms is a challenge, but it allows us to benefit from planting vines in a variety of macroclimates, which ultimately ensures greater complexity in our wines."

Inside the Van Loveren cellar. Van Loveren produces five wine brands: Van Loveren, Christina Van Loveren, Papillon, Five's Reserve and Four Cousins, offering wine lovers a broad range from everyday drinking wines to award-winning, hand-crafted reserve wines.
They plant 17 different wine grape cultivars, about 50% red and 50% white varieties. Despite the massive increase in yield, the cellar still has to buy in 7 000t of grapes to meet demand and they hope to plant more vineyards in the near future which will enable them to become self-sufficient in grape production. It is cheaper to produce the grapes themselves than it is to buy in.
Neil says wine grape prices have escalated lately due to a worldwide shortage. "European wine countries have had one of the worst wine seasons in recent history and production in that region is projected to decline by 27%. As a result, the producer price for white wine has increased from around R2,50/l to R4,50/l, says Neil.
"We have already acquired the land we need to expand our vineyards, but we are involved in an ongoing battle with government to get water rights that will enable us to establish vineyards on this land. "At the moment, we are running into walls and government is making life very difficult for us despite the fact that this 500ha expansion could create hundreds of jobs." Neil explains that every 4ha of vineyard creates at least one permanent job.
Wine quality and grape yield
"Our whole business is about achieving value for money. So each vineyard block is strictly managed according to its purpose. "For our premium wines, we thin out the grape bunches carried on the vines by about 60% to ensure greater concentration of flavours in the grapes, but in the blocks where we do not see the potential for premium wines, we drive higher production.
"We do trials on all the vineyard blocks and we evaluate the performance of a block over a three-year period before we decide how we can best utilise the grapes produced in each individual block." The average yield across all 12 farms is 17t/ha. For the premium wines, they aim to achieve a yield of about 6t/ha to 9t/ ha, but for the popular, high volume wine ranges such as their iconic Four Cousins range, production can go up to 40t/ha.

The Retiefs spray as few chemicals as possible, but they do believe in following a preventative spraying programme.
"This may seem extremely high, but I believe that as long as the vine is happy and healthy you have no reason to do excessive bunch thinning unless you are aiming to produce absolute premium quality wines. "In spring we do shoot thinning in which unnecessary and unwanted shoots are removed by hand to create a canopy microclimate that will benefit wine quality."
Other canopy management activities towards the end of spring include shoot positioning and topping the growing tip of shoots to control growth vigour.
Irrigation
Neil says that controlling irrigation throughout the growth cycle is the single largest production factor that will have an influence on the quality of the grapes and therefore also a direct impact on the quality of wines produced. All of the Van Loveren vineyards are planted under drip irrigation. "We receive on average about 250mm of rain a year and it would be impossible to farm here without irrigation.
"Irrigation ensures optimum growth of the vines and high quality grapes. We apply a lot of water during the growth phase to ensure abundant foliage growth and to encourage good fruit set, but when the grapes are about pea-sized we stop irrigating until the grapes start colouring or ripening. This is done to encourage more flavour to develop in the grapes.
"As soon as the grapes start ripening, they need water to aid the ripening process and then we continue to irrigate until about two weeks before harvesting to prevent the grapes from being too juicy at the time of harvest." Total irrigation for a year amounts to between 6 500m³/ha/year to 7 500m³/ ha/year and almost all the water is applied during spring and summer.
"We have had three consecutive dry winters so we irrigated in winter because we believe it is essential to start summer with a good water table."
Applications
Needs of the vineyards are determined according to soil and leaf sample analyses of samples taken just after harvest.
"The most important round of fertilisation is done during soil preparation when establishing new vineyards and since a vineyard gets replaced only once every 20 years or so you might only get one chance in your lifetime to get it right.

Van Loveren prides itself on producing the very first wine from the new vintage every year in South Africa, making its wines the first to be on the shelves.
"Apart from putting in a proper drainage system during soil preparation, it is also important to correct the soil pH level by applying calcium- and magnesium-rich materials through liming. "Phosphate levels must also be corrected and we apply gypsum to correct the sulphate levels."
When the vines enter the production cycle they receive 100kg/ha of urea a year, half of this about a month prior to harvest and the other half a month after harvest, to supply nitrogen that is essential in ensuring healthy plant growth. If needed, calcium and sodium levels are also corrected after harvesting. The fertiliser is applied via drip irrigation, including micro-nutrients such as boron and zinc.
"We follow a preventative spraying programme for pests and diseases. I believe it is much cheaper to prevent outbreaks of disease than it is to try and rectify the situation once it becomes a problem." When shoots are about 10cm long, they start a two- to three-week spraying cycle. "We spray for a number of diseases until December, then we start spraying every third week. We mainly spray to prevent the spread of fungal diseases such as powdery mildew. "The vineyards are continually monitored for pests such as mealybug and fruit fly and we spray when needed."
Wine by the bottle
Neil admits that the local wine industry is going through some tough times, with most producers suffering due to the cost-price squeeze, but he believes the wheel is slowly turning. "We are very optimistic about opportunities in the local market and to export more wine into the rest of Africa, but producers must get well acquainted with the markets that they wish to supply.
"Make sure you produce wine that people want to drink. "We believe wine should be made to be enjoyed by the bottle, not the glass, that is why our focus is value for money, easy-drinking, crowd-pleasing wines."
Contact Neil Retief on 023 615 1505 or at [email protected]