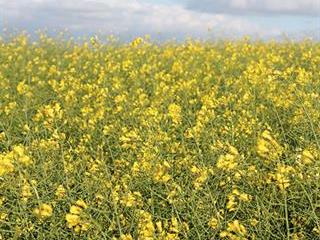 Canola farmer Boet le Roux is quick to extol these benefits. He says that canola not only offers better returns over traditional grain crops in this region, but also improves weed management and soil health.
"We have to conserve and build on our assets, not squander them with no regard for those who'll come after us," he adds.
Boet farms on 1 200ha along the Berg River in the Porseleinberg area near Hermon. He follows an eight-year rotation cycle: medics-wheat-medics-wheat-canola-wheat-canola-wheat-medics.
READ: About canola
Incorporating canola can reduce the severity of certain plant diseases that affect grain crops. This is because canola is not a grain crop. It's an oil seed crop and a member of the family Brassicaceae, therefore it does not serve as a host for pathogens affecting wheat and oats.
In short, canola breaks the disease chain.
It also enables a more sustainable and effective weed management programme. Different types of herbicides can be used on canola, which is a broadleaf crop, and cereal crops. This variation helps to prevent herbicide resistance in weeds.
It is here where cultivar choice becomes important. "We select canola cultivars that best aid our weed management objectives," says Boet.
Boet le Roux
He plants a Triazine- tolerant cultivar such as Hyhola 555TT where he needs to control broadleaf weeds and grasses. On lands where there are few or no broadleaf weeds, he plants conventional varieties such as Agamax and Garnet.
READ: Canola pests
One of the most common mistakes farmers make when planting canola is to select the wrong cultivar, says Boet.
"To learn about the newest cultivars farmers need to attend farmer information days," he advises, adding that they should also carry out trial plantings of new cultivars. He does so himself every year.
Boet adds that yield is not the only factor to consider. "Some cultivars that offer higher yield also require more inputs, so rather look at overall profitability."